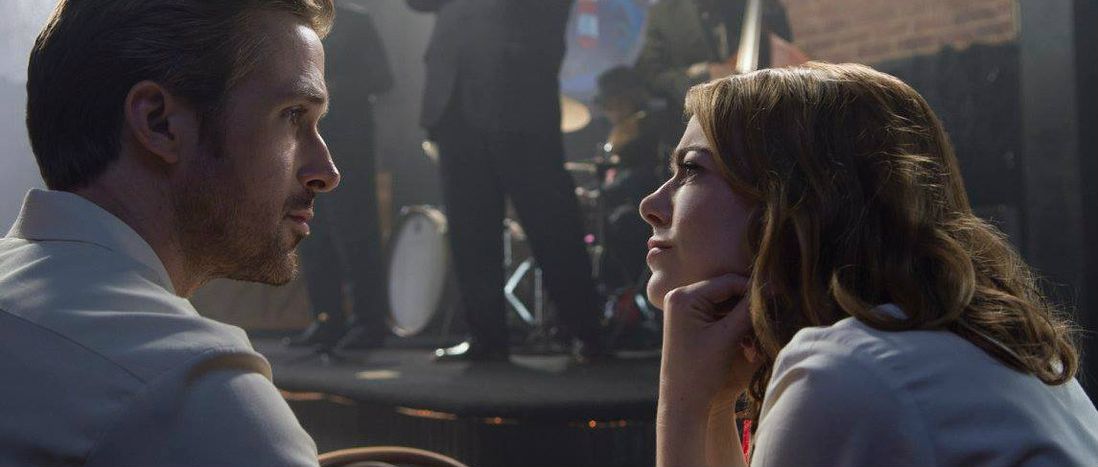 What does La La Land really say about Millennials?
Published on
Modern musical La La Land is already a hit with audiences and critics. Yet there is a gap between those who just love the tale and those who criticize the message conveyed by the movie, despite its undeniable artistic quality. [OPINION] 
This article contains spoilers for La La Land.
Boy meets girl, girl meets boy. They meet during parties in gardens with swimming pools, hang out a few times, walk until dawn, laugh under the starry sky of Los Angeles and kiss along to a fantastic soundtrack. Gorgeous gowns for Emma Stone and a stylish suit and swing shoes for Ryan Gosling. This is the start of La La Land.
The musical romance, inspired by classics such as Singin' in the Rain or Moulin Rouge!, is currently dividing audiences between those who identify with it and consider the movie emblematic of this generation, and those like me who found it a beautifully produced and directed musical with an off-the-wall argument.
Publications like Vice, Vanity Fair and Vagabomb have hailed the movie's audacious success in redefining our generation's biggest dilemma: fighting to pursue our dreams while maintaining an emotional and romantic balance. So far, we all agree. Long-distance relationships, with couples thousands of kilometres apart, are more common than ever. We, the Millenials, go from town to town to get a better job in a hugely difficult economical and work context, leaving out other passions. La La Land depicts this situation through Mia (Emma Stone), an unsatisfied, ambitious and incomplete character. She sounds all too familiar to many women. For us, professional success often goes along with emotional defeat, and it's precisely in this area that women are not allowed to fail.
Let the show begin
Writing this feels like walking on eggshells, since divergences of opinion around La La Land are likely to bring you lots of criticism. Ask writer Paulo Coelho, who came under fire on Twitter - even though he is usually very influential on social networks - after he declared the movie was boring. He deleted the tweet, but the damage had been done. Other critics, like American musician Rostam Batmanglij, complained that the movie is far from what Los Angeles really is. Under the hashtag #NotMyLosAngeles many people express discontent at the lack of sexual diversity and black characters. Something unforgivable for Batmanglij since, as he puts it: "black people invented jazz."
Despite the controversy, the musical already set record for most Golden Globes won by a film, with seven awards.  Nothing can stop the film's successful path, which reaches for the stars with 14 nominations at this year's Academy Awards. The film's director, Damien Chazelle, who is barely over 30, cements his reputation after winning the Grand Jury Prize and the Audience Award at the 2014 Sundance Film Festival for Whiplash and after receiving five Oscar nominations and three wins in 2015.
Here's to the ones who dream?
Back to the movie, where we left Mia and Sebastian sharing a kiss. So far, so good. But this is in this exact moment that Millennials should be hearing alarm bells. The American Dream, the "we can do it" culture, ends up losing its entire symbolism, but not equally for both characters.  Even though the two lovers are both pursuing their dreams and have to face the dilemma between their professional success and the stability of their relationship, Mia is the one who ends up giving up her dream for Seb's sake.
Only in the end do we find out the details of her new life. We learn she has a daughter and that a nanny takes care of the child, she's successful, acts like a diva and, most importantly, she's started a new life.  Of Sebastian we know very little. Only that he succedeed in opening his jazz club. But no sign of any private life. Nothing. A nothingness and emptiness that seem to indicate he stood there waiting while she, the ambitious one, got it all; she started over but she's not happy. A two-minute shot, introduced as an insight into Mia's imagination, tells us an idyllic alternate vision of what could have happened if they had chosen the other path, if they had stayed together. 
What could have been a remake of the Hollywood musicals of the 50s, a 2.0 version of the seventh art's greatest expression, is indeed the repetition of a message which puts more pressure on women than on men. Is it coincidence that she's the one breaking up with him? Is it coincidence that a woman's success is closely linked to renunciation and infidelity, to emotional incompleteness?
We should be able to answer each of these questions individually, but, as far as I'm concerned, our generation - should you call us Millennials or Generation Y - should have already overcome this type of associations. That's why I think that before allowing those to tell us a story supposed to be a symbol for our generation, we should listen to the message it's really trying to get across to us.
Translated from La La Land, ¿retrato de la generación millennial?