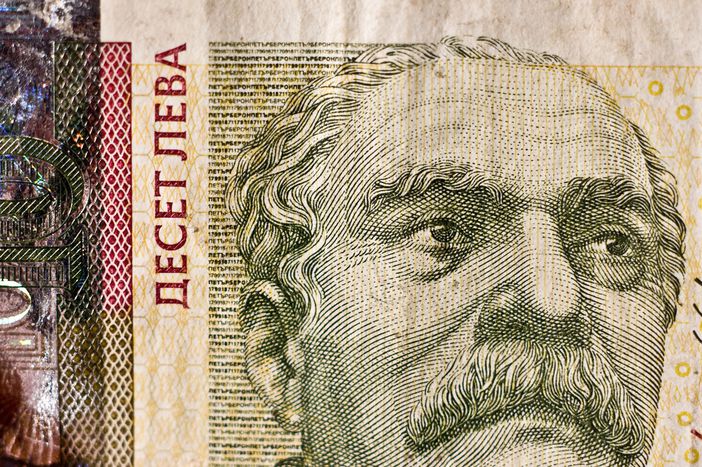 What crisis? Scouring for entrepreneurs in Bulgaria
Published on
Bulgaria's GDP growth slowed, but nowhere close to the levels noted west of Sofia. The new coalition government has inherited nearly empty treasury coffers from the previous 'corrupt' administration. In the European Year of Innovation 2009, funding for start-ups was cut. Yet stories of determination prevail. Part three in a five part 'EU crisis on the ground' city series
Philippe Ougrinov's office is in a glass structure above an old bus station. 'When you call Europcar to book a car, you speak with us.' Language and countries were the 41-year-old's vague goals to start a business, and earnt him his first contract a month and half before his call centre was even established. From a few clients in Germany and a staff of 25, CallPoint New Europe has grown to almost 500 employees, 15 languages, 3 sites in Bulgaria and Romania and has become a top 3 independent outsourcing company in Bulgaria. With aggressive talent development programmes like internships which have created project managers in 3 years, they are fast approaching the goal of 2, 000 people.
Ivaylo Iliev chose to improve upon baseline industry knowledge after four years at a large firm. His office is too small to welcome a guest, so we have coffee next to the Russian church. The 28-year-old invested about 3,000 leva (1, 524 euros or £1, 374) in a communications and leadership consulting shop, Encounter Consult. He works 50 hours a week and plans to hire 10 more consultants. What crisis? It's relationships and a new approach – he works with clients to define long term objectives – which have helped him succeed, he says.
George Minchev, 48, started his venture in 1992, selling honey-based aphrodisiacs to Libya - until the embargo. In 1996 a new idea came to him, torti, or 'multilayered cream cakes'. After almost 13 years in business, he still has no business card, but invaluable pieces of advice. 'You can earn as much as you want, but time will never come back. What you want is to buy yourself some more time. Work more with your head, less with your legs.' This inspired him to start his own business and use a snail as a symbol in his marketing materials for his company Nedelya. However, what if you need a helping hand?
Obstacles to great initiatives
'If you can't do it without EU funding, don't do it,' advises Vihar Georgiev, 29, a business development manager at Cibola, a ten-year leader in EU funds consultancy in Bulgaria. Managed through a system of indexes and anti-discrepancy procedures, EU funding can cause more harm then good. 'If there is a discrepancy with your application, your account may be frozen until you repay the subsidy thus far received in full,' he adds.
'If you can't do it without EU funding, don't do it'
One great initiative stuck in a legal hiccup is the job opportunities through business support (JOBS), which fosters job creation in regions with high unemployment. Over eight years, the UNDP-run project has spawned a network of 42 business centres and incubators. It's created many a company via leasing schemes, one-time grants and support programmes for aspiring entrepreneurs. While the average overall rate of failure of small businesses is 75%, only 20% of start ups set up through the JOBS Project 100 fail in the two years after their creation. Teodora Hristoforova, 42, recalls her favorite grant winner. 'He did not have the 1, 000 leva (510 euros or £458) of own capital to be eligible for the grant, but his entire village of Stefan Kardjovo, mayor included, pitched in. A year later, the shy unemployed forestry worker had become a confident entrepreneur with more work requests that he could handle.' At the end of September, as banks reclaimed the monopoly on credit-giving abilities, the financial leasing scheme had to close. JOBS is now being integrated as a part of the national development bank's activities, but the process is likely to take time. Project 100 was also cancelled due to a black hole in Bulgaria's budget. Despite a special written request from the economy minister to the finance minister, the money won't be available until 2010. 'It's a pity, because we work with the poorest people in small towns,' explains Hristoforova. 'We help them create sustainable businesses. They're the most affected by the crisis.'
Generation 80s – new entrepreneurs
Together with the technology transfer office of the Sofia university, Zlatina Kareva organised the 7th edition of the European day of the entrepreneur in 2009. 250 participants, including 80 students, attended. The winners of the student start-up contest will receive training and support of the more experienced specialists, like partners association of Bulgaria business angels, SEED Bulgaria and the American foundation for Bulgaria. But nobody is willing to put forward any money. However, the step for Bulgaria foundation shows that you can get a lot accomplished with just a good idea, volunteers and partners. 'I wanted to focus on supporting underprivileged young people living in social institutions, who have little to do during the summer,' says Evgenia Peeva, 22, a former Harvard university student. After being set up in 2007, the summer academies grew into full-year programmes. Now, 40 youngsters a year are trained by students and professionals on subjects including English, computer literacy, empathy, human rights and leadership.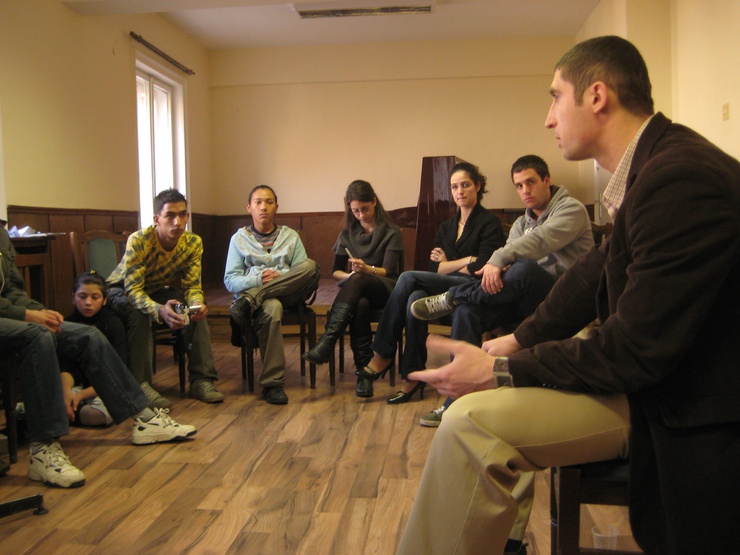 One of the programme volunteer speakers is Lyuben Ivanov, 26, a local celebrity who starred in the third reality TV edition of SurvivorBulgaria. Sitting in a lecture hall of a public library, the kids listen hypnotised to a guy who flew three planes, took a bus and a boat to get to a secluded island in the Philippines. He is also an economics teacher at Sofia university – apparently, anything is possible. The leadership programmes especially inspire the kids from the orphanage. Victor Porvakov, 17, wants to launch a career in design and is beginning his career as a male model. Another Victor, Byrlalov, 16, wants to make a career as a drummer. Again, apparently, anything is possible in Bulgaria.
Many thanks to the cafebabel.com team in Sofia. Read their blog here
Image: Lyuben Ivanov at Step ©Hanna Sankowska
Translated from Jaki kryzys? W poszukiwaniu bułgarskich przedsiębiorców