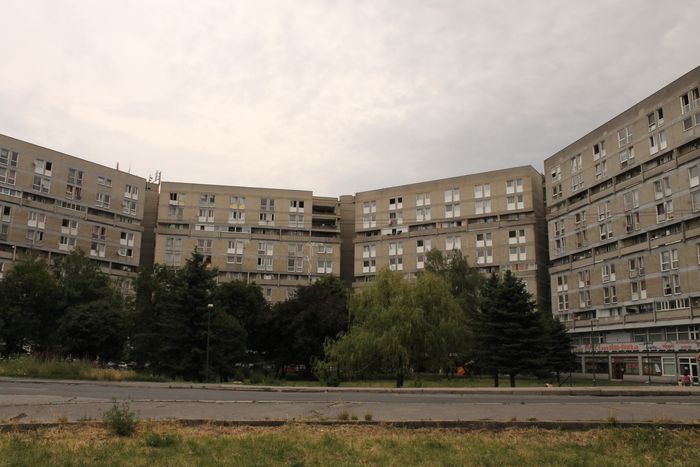 Welcome to Pentagon: Bratislava's mythical junkie lair
Published on
The beauty of a city pul­sates not only in its touris­tic ar­ter­ies, but also in the places where one should not ven­ture with­out a knife. The lat­ter are erased from guides and post­cards. For many years, Pen­ta­gon, the myth­i­cal junkie hol­low, has been a dis­fig­ur­ing scar on Bratislava's cheek. What does the dis­hon­oured drug su­per­mar­ket of the Slo­vak cap­i­tal looks like today?
Be­fore my trip, I put two extra packs of Camels in my bag — this is what I'm plan­ning to re­gale drug ad­dicts with when they will be con­fid­ing to me about their lives. Young jour­nal­ists tend to be ro­man­tic, and I do not yet know that the hero­in ad­dicts from Pen­ta­gon are not as friendly as the squat­ters from War­saw with whom Pol­ish jour­nal­ist Cezary Ciszewski fa­tally frater­nised.
Tomáš, a mem­ber of our local team who promised to keep me com­pany dur­ing the ex­pe­di­tion, hopes until the last mo­ment that I change my mind and give up on the visit to the in­fa­mous Pen­ta­gon in Vrakuna (a dis­trict of Bratislava — Ed.). When I call him in the morn­ing, on the other end of the line, I hear: "So you still want to go there? Doesn't the rain bother you?" Noth­ing both­ers me.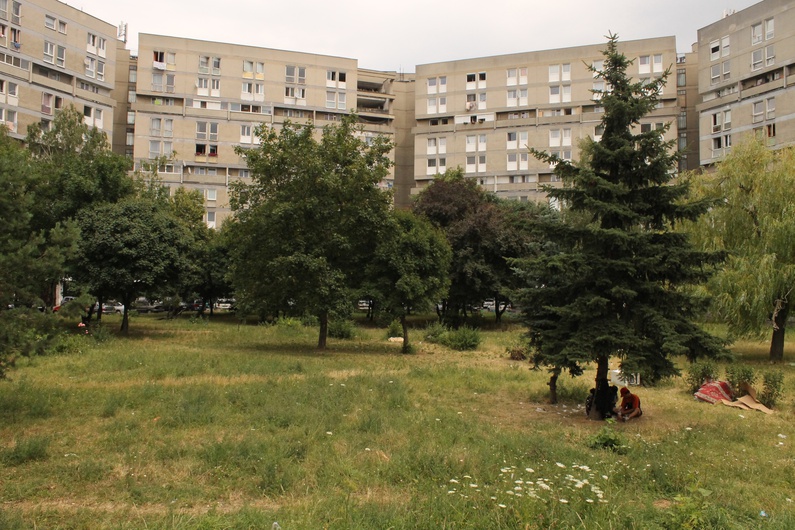 Bratislava is a small town; al­though Vrakuňa is lo­cated just 20 min­utes from the down­town by trol­ley, I feel like I am going deep into the sub­urbs. The land­scape changes grad­u­ally — beau­ti­ful Slo­vak build­ings begin to give way to vast car parks, garages and su­per­mar­kets. How­ever, con­trary to my ex­pec­ta­tions, on the site I find no slums, but a post-com­mu­nist, though pretty neat res­i­den­tial area. I get off at the stop To­ryská, where Tomáš is al­ready wait­ing for me. When he sees me, he im­me­di­ately points his fin­ger at a build­ing dis­tinc­tive from the oth­ers. So, this is Pen­ta­gon — a grey cry among  set­tle­ments col­or­ful like kinder­garten walls, a tat­too with a spelling mis­take on Vrakuňa's arm. The enor­mity of livid con­crete over­whelms me and the wing struc­ture of the build­ing gives me the im­pres­sion that it will de­vour me like an in­sec­tiv­o­rous flower. The build­ing's walls are stud­ded with white satel­lite dishes, a breath of post-tran­sfor­ma­tional il­lu­sory pros­per­ity. Ply­wood and card­board peer from some of the empty eye sock­ets of win­dows. In oth­ers, I glimpse dry­ing chil­dren's cloth­ing. We have al­ready been no­ticed. Skin wrin­kles on our backs under the fire of a thou­sand glances of watch­ful eyes — in­vis­i­ble, but sharp as nee­dles.
"Heroin? Fourth floOR, to the right"
The prob­lems in Pen­ta­gon began after the fall of com­mu­nism, when the ap­part­ments in the build­ing passed into the hands of pri­vate own­ers. As a con­sid­er­able num­ber of the new own­ers were drug deal­ers, over time, the for­mer stu­dent dor­mi­tory turned into the biggest su­per­mar­ket for hard drugs in Bratislava. Ac­cord­ing to Milan Čupka, the au­thor of an ar­ti­cle about Pen­ta­gon which ap­peared in 2010 in Pravda, the build­ing had floors, where out of eight flats, three were drug shops with a ca­pac­ity of more than fifty cus­tomers per day. To this day, the cus­tomers are di­vided into those who take Mrs Brown to go and those who con­sume the drug on the spot and linger in the stair­wells for hours, to the hor­ror of some ten­ants. Pen­ta­gon drug hol­lows are sup­pos­edly fam­ily busi­nesses, so even if one per­son goes to prison, the rest makes sure that there are no in­ter­rup­tions in sup­ply. Some local traders live with peo­ple with dis­abil­i­ties, whom city hall can­not evict, to se­cure their busi­ness.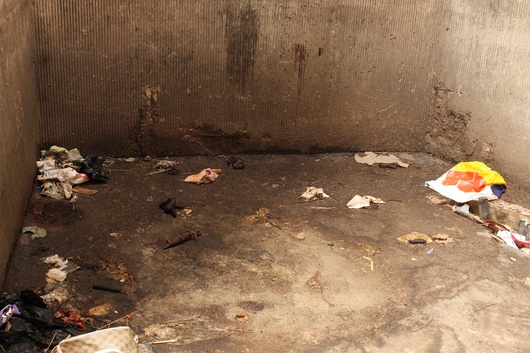 At first glance, we have an im­pres­sion that there is some kind of a grand neigh­bourhood pic­nic or­ga­nised on a large grassy court­yard in front of Pen­ta­gon. How­ever, when we ap­proach it closer, we re­al­ise that the peo­ple lying on blan­kets are un­con­scious and those who sit­ting are just look­ing for a vein to in­ject. There is a mag­nif­i­cent blos­som­ing rose next to one of the trees. In its shadow lies a woman, about 40 years old, deeply im­mersed in a heroin-in­duced lethargy.  
The stench of a urine ni­tro­gen cloud hov­er­ing in the air en­velopes the build­ing. In the cor­ners of one of the walls, I no­tice a niche. I im­me­di­ately let my­self be dri­ven by cu­rios­ity to dis­cover what it hides and be­fore Tomáš stops me, I tres­pass into the abyss of hell, full of sy­ringes and human ex­cre­ment.
NEE­DLES AND Ar­gen­tin­ian tan­gos
In ad­di­tion to ad­dicts and drug deal­ers, the pen­tag­o­nal shame of Vrakuňa is home to more tra­di­tional ten­ants. In the park­ing lot at the court­yard, we see a fam­ily pack­ing their shop­ping out of the car and an old lady throw­ing away some garbage. In one of the win­dows, there sits a fa­ther with a child of about two years. From an­other comes some music, maybe even an Ar­gen­tin­ian tango. How­ever, these res­i­dents are not the most con­spic­u­ous rep­re­sen­ta­tives of Pen­tag­on­ian so­ci­ety. In one of the cor­ners, junkies are suss­ing out fur­ni­ture left by some­one out­side of the build­ing. The sink will go to the scrap yard. Boards will sell. One of the men ner­vously tugs cup­board doors that will not open. When I look at him closely, I no­tice a dirty bra strap stick­ing out from under his t-shirt. I re­al­ise that this man is a woman. All three mem­bers of the troupe are vis­i­bly upset about some­thing and we de­cide not to stare point­edly at them, pre­fer­ring to van­ish. The Pen­ta­gon's ad­dicts are dressed as if they still lived in a pre­vi­ous era. Base­ball caps. Sweat­shirts tied around waists. T-shirts printed with Rambo, Mickey Mouse, the Uni­ver­sity of Ok­la­homa and Hello Kitty. It makes me sen­ti­men­tal for a mo­ment.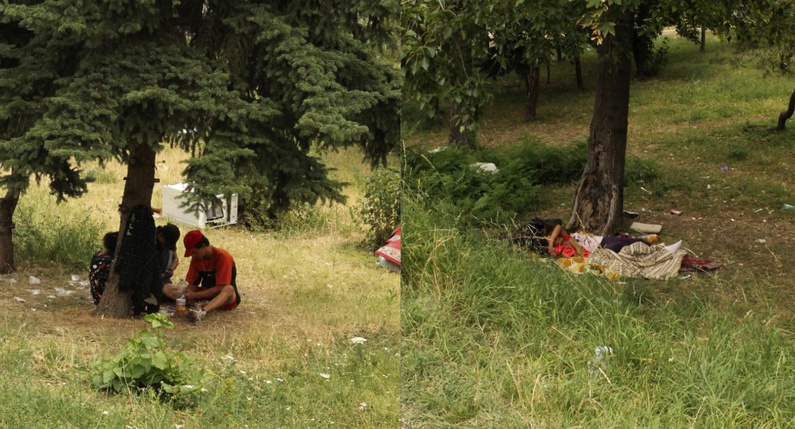 We want to talk with the res­i­dents Pen­ta­gon, but ap­par­ently our mag­netic field re­pels them. After a long search, we come across two young fel­lows. I ask Tomáš to ask them in Slo­vak about the myths as­so­ci­ated with Pen­ta­gon. They say that once the place was ter­ri­ble and dan­ger­ous, but today, the sit­u­a­tion has im­proved sig­nif­i­cantly. Street fight­ing was the worst thing here. We ask about the fame of a drug su­per­mar­ket. They say that if we want to buy hard drugs, we are in a per­fect place. "Is true that the build­ing is mostly in­hab­ited only by drug deal­ers and junkies? We have also seen some fam­i­lies" - we ask. "Half-half" - they say. "Half of the build­ing is in­hab­ited by fam­i­lies that pay rent, the other half is oc­cu­pied by junkies, who not only do not pay rent, but shit on the side­walk" - they re­spond. And what's the city's re­ac­tion to this? They don't know.
The Slo­vak side of the In­ter­net pro­vides in­for­ma­tion that the au­thor­i­ties of Vrakuňa have un­der­taken sev­eral ini­tia­tives to im­prove the sit­u­a­tion in and around Pen­ta­gon. In the frame­work of one of them, so­cial work­ers clean the area of nee­dles and sy­ringes to pro­tect chil­dren who play there from dis­eases. All this has greatly im­proved the safety out­side the build­ing and re­duced the num­ber of fights and shoot­ings, but did not af­fect the dread­ful bow­els of Pen­ta­gon. On Slo­vak fora, I read that peo­ple dis­cour­age oth­ers from pur­chas­ing apart­ments in this area, list­ing the pres­ence of 'rep­re­sen­ta­tives of so­cial mar­gins' as the main rea­son. These warn­ings are prob­a­bly ef­fec­tive be­cause rent in Pen­ta­gon and on the whole Stavbárska Street is half of any other part of Bratislava.

We are not given a chance to spend more time at Pen­ta­gon, be­cause our pres­ence, and es­pe­cially the pres­ence of our cam­era, be­came un­bear­able for the in­hab­i­tants of the build­ing. Our cu­rios­ity has caused a fatal re­ac­tion with their ha­tred for day­light and vis­i­tors from the real world. When a man with tribal tat­toos on his shoul­ders and calves starts hurl­ing threats in our di­rec­tion and starts to come our way, ex­claim­ing that as soon as reaches us, he will 'smash our fuck­ing cam­era into shreds', we fully re­al­ise that it's time to go and to go fast. And yet not a sin­gle Camel has been smoked.
Translated from Witaj w Pentagonie - mitycznej ćpalni Bratysławy