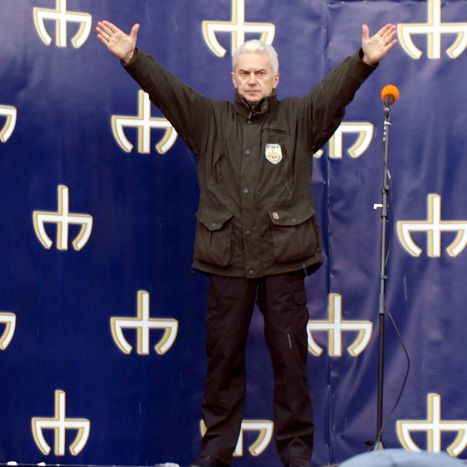 Volen Siderov: Bulgaria's far right psychopath
Published on
Volen Siderov's Ataka party is anti-semitic, anti-Roma, anti-Muslim, anti-Turkish and anti-globalisation. It seems the only thing they're pro is Bulgaria. Worryingly, their ultra-nationalist policies have gone down well with the electorate and they got 12% in the 2009 European elections. But who is Volen Siderov and what exactly is he up to?
Volen Siderov: is Bulgaria's furthest-right politician alright in the head?
Volen Siderov, leader of the Bulgarian ultranationalist party Ataka (yes, Ataka means attack), was charged with hooliganism on 12 March after having started 2014 with a bang. On 6 January, he was having a very bad day. During a flight to a meeting in Varna, Bulgaria's third city, he verbally assaulted a French diplomat. So far, so undiplomatic.
However, that was only the beginning. Once off the plane, he assaulted a member of the public, and when shown opposition from the police, attacked a policeman, too. Although in his version of the story, none of this happened: he was simply the victim in a long series of unfortunate events. The policeman was 'behaving arrogantly' towards him, and it was in fact the policeman, Kolev, who started the fight. Similarly, it was the diplomat on the plane who hurled the first insult, and the young man, too, who had been the antagonist in the situation. Not to mention the media, who covered the event misleadingly and aggressively. Clearly, the whole world was against him.
Bulgarian chief prosecutor Sotir Tsatsarov, however, was not convinced, and as such, asked that Siderov be stripped of his parliamentary immunity from prosecution. Presenting a strong contender for the 'most sarcastic speech 2014' award, Siderov ceded his immunity, as did the rest of his party – regardless of the fact that this act of relinquishment holds no legal standing for anyone but himself. What the result of the trial will be, we can only guess at this stage. It is safe to say, though, that Siderov has led a less than bland life during his time on the political stage.
The bad, the worse and the downright bizarre
This isn't Siderov's firs run-in with the law. In 2006, after a minor collision, Siderov was convinced the other car (containing a 22-year-old student and his 75-year-old ill grandfather) was trying to assassinate him. He had the student beaten up and the car's tyres slashed. Charges were originally against Siderov's deputy Chernev, who later claimed he was pressured to act by Siderov himself.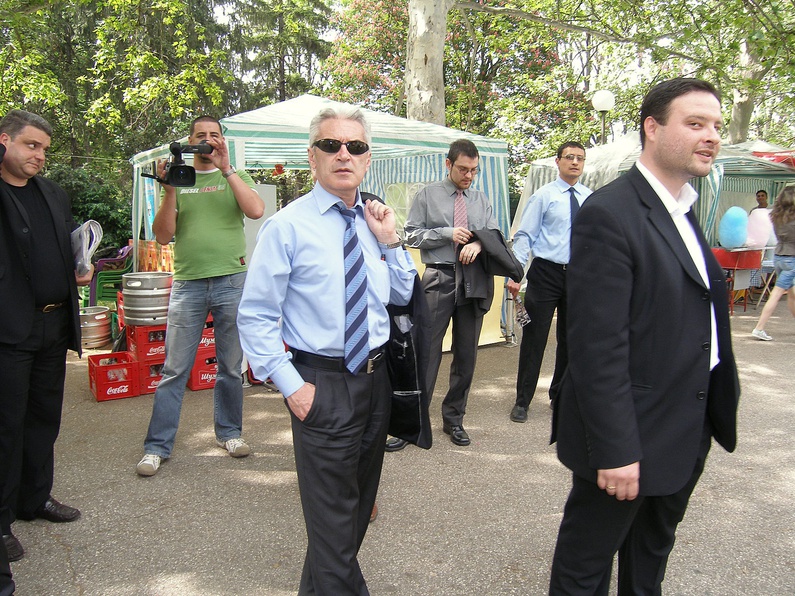 In autumn last year, it was not just Siderov, but his whole party who caused a ruckus, with twenty Ataka politicians being drunk and disorderly and refusing to pay their bill in a top Brussels restaurant. They 'threw champagne corks at employees and destroyed food that was prepared for other customers'. Sounds like a typical night in the Bullingdon club. He once insulted an MEP with Roma heritage, walked around during protests armed with a police baton and claiming the need to make citizen's arrests, and he has even compared himself to Nelson Mandela. Not the first comparison that springs to mind.
The Media: Siderov's way in, or his way out?
Siderov's move into politics came after a decade in journalism, when he presented a TV programme called Ataka, which he liked enough to keep as the party name. Heavily criticising the political state of Bulgaria at the time, Ataka became the perfect meld of politics and media, immediately gaining 8.7% of the vote in the 2005 general election. Funny, then, that Siderov now likes to indulge in that favourite occupation of public figures: calling journalists every name under the sun. Let us not forget that Siderov himself won a prestigious journalism award in 2000.
Siderov's hypocrisy and violence is shocking in its own right; what's worse, however, is the acceptance his behaviour has found. French politician Jean-Pierre Audy released an official statement following the incident with the French cultural attaché, expressing his horror that the Bulgarian government had not condemned Siderov's actions. Ataka currently holds 23 of the 240 parliamentary seats, and the fragmented and delicately balanced coalition relies heavily on the unofficial but steady support of Ataka's MPs.
Support from all around
It is not only the government who have given Siderov carte blanche. The increasing popularity of this neo-fascist party earned them second place in the 2006 elections, and allowed the party's MEPs to form the furthest right political group in the European Parliament's history: Identity, Tradition, Sovereignty. It is never surprising when countries suffering from economic and social crises lean towards nationalism or even fascism, but Siderov's charisma and media presence take credit for his success before external social factors.
However, there is still hope; last month Bulgarian MPs rejected Ataka's motion to impose a prison sentence or hefty fine on anyone 'publicly manifesting' homosexuality, whether their own or somebody else's, in rallies or online.
Siderov is a scary man. He is well-dressed, well-spoken and well-liked. The rise of his party is an excellent lesson in media politics, and an important reminder for us all that no nation is safe from politicians with more charisma than humanity.