Vintage item shopping in Lyon
Published on
Vintage can be trendy, boring, hipster or fake. But what does the term really mean - does the new version of Fiat 500 or a super trendy Mini car qualify as vintage?
Is it a trend, lifestyle or an answer to reduce Europe overgrown consumption, asks Artur Krzykowiak
What would you call a person who is shopping in a vintage styled shop such as the British retailer All Saints where the only vintage items are decoration (see: sewing machines in windows worldwide)? Everyone accepts the fact that clothes are designed and produced today only to look like they were old. It's also often more expensive than buying something from an actual original vintage store. Even there nothing is sacred: in the most authentic vintage bazaars and shops there are number of vintage collectables that are simply fake copies from recent years. Why are so many of us obsessed with the vintage styling when so few actually understand what it is, or know how to seek the real old stuff?
Inside Les Ateliers de Marinette
In Lyon, central-east France, I found around 30 vintage shops and a number of successful businesses that pivot around the vintage concept. There is a vintage hostel and bars filled with items from previous decades. You can even do a city tour on old French mopeds called Solex.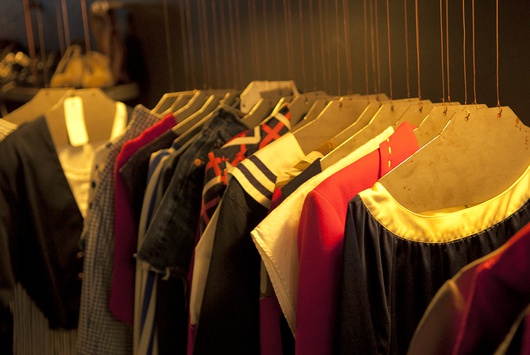 In France 'vintage' is not just used for marketing stylised goods, but is a concept which is very alive in many parts of everyday life. In the rare vintage collector's shop Les Ateliers de Marinette, vintage passion is a lifestyle for Gerard Murat, who has been collecting various items for over 30 years. His passion was passed onto his son, Thibault, who now helps run the shop and also the recent addition to their family business, a vintage bistro / coffee shop next door. Here, Murat's collections of vintage food and drink packaging decorate the walls.
Inside you are transported to the sixties or seventies. As well as being a tourist attraction and local treasure hunt spot, customers pop in to talk about the old times, and show their kids what they used to eat and drink when they were young. Murat's collections are innovative education materials not just for oral storytelling, but in practice, for various workshops that are run in the atelier. The participants, mainly students, use the rare opportunity to learn about history of product production, marketing and packaging design. Murat and his son say they will try to involve other collectors across France to share their treasures for education purposes. If they succeed they will create a very unique way of learning about the past. Les Ateliers de Marinette prides itself on being something between a museum and a shop, with an amazing collection of rare vintage brands such as Michelin, Ricard and La vache qui rit. Some items have been used in famous Lyon's film industry to create realistic looking sets.
Modern take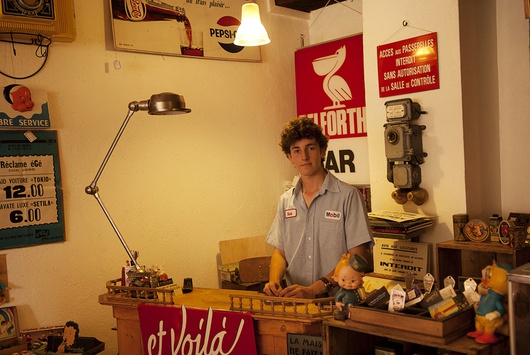 'Vintage is a way to reduce the consumption and production of goods,' adds Thibault. 'It's reusing and recycling. Europe produces too many unnecessary goods, and most of it can be found in vintage stores, attics, cupboards, cellars or even junkyards. It's incredible how much energy is used to produce new items. All of them should be better, faster, more functional and more colourful.' Perhaps thinking a little more like Thibault can help reduce the carbon foot print of our generation. We don't need to love vintage; we don't need to wear used clothes; but there are so many things that can be reused and recycled. A number of old items can be given a new use far from its original design concept; in one flat I visit in the centre of the city, I learnt that all of the lighting fixtures were used from old factories. It looked fabulous, cost next to nothing and helped the environment.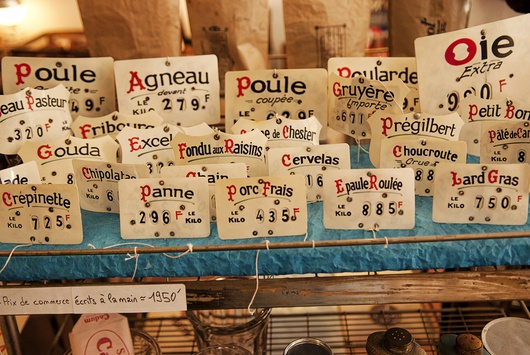 Watch this space for the 12th annual vintage fashion fair (Marché de la Mode Vintage), which takes place on 13 and 14 April 2013 in Lyon. In 2010, 25, 000 people descended onto the event. That's not bad in a city of almost 500, 000!

In partnership with the Paris-based Franco-German office for journalists (Ofaj), this article is a part of Orient Express Tripled, cafebabel.com's 'return journey' series of articles with journalists resident in the Balkans, Turkey, France and Germany