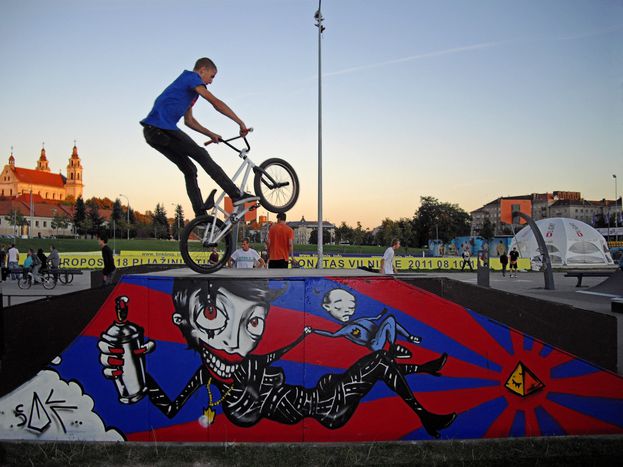 Vilnius - the most friendly city for bicycles
Published on
We should be happy to see that Vilnius is on the way on become the Europe's friendliest city for bicyclists : the self government refused 3 million Euro for building new bicycle-tracks. We are also traffic so there is no need to be separated from cars traffic and drive in some narrow tracks. In purpose to make our trip safe, it was decided to ask us to wear special helmets and yellow light-reflecting vests.
But in my personal opinion, this is not enough and I have a few more suggestions how to make Vilnius more bicycle-friendly city (and, what is most important – safe for us ! ) 1. To be sure it is safe to ride a bicycle, . I suggest an annual compulsory bicycle technical check for the beginning of warm season : brakes, tires and the rate of vest light reflection (it is important to have a new one, isn't it ? ). I think these criteria are enough to evaluate state of bicycle safety.
everyone should check its technical state 
Every two years everyone should pass an exam to check their theoretical knowledge and practical skills
Government should fund the driving exam and there should be no taxes taken for driving lessons. As a result there will be more people driving a car. More cars – less bicycle drivers – less bicycle accidents !
Let's reduce the price of getting the first car
Especially those which are on streets – they just take an unnecessary space !
All few present bicycle tracks should be removed
Each time when buying a bicycle, it should be registered by police and National Vehicle Registry so it is easier to find it after stealing. 
Every bicycle driver should have an accident insurance.
Younger than 18 years old should have additional wheels for making the vehicle more stable. It should be forbidden to ride a bicycle under 16
I think these implementations would help Vilnius to become even more bicycle-friendly city than ever !
By the way, there is an alternative
Let's take European Union money (and add some ours) and build a lot of bicycle tracks so there is no need drive surrounded by cars. Then neither helmet nor vest is needed. Oh… but maybe not – everything is too complicated here… A suggestion for discussion : what more can you add to these 7 suggestions to make Vilnius even more bicycle-friendly city than now ?.
Some information about current situation in Vilnius
Currently Vilnius bicycle riders got two happy newsThe first – on the 1st of July the new law will start working which tells that every bicycler have to wear a helmet all the riding time and a light reflecting vest during the dark time of day. Implementation was taken without any research (at least there is no information about that). Lithuania bicyclers are against it because this decision will reduce usage of this, already rarely used, vehicle popularity. What else can happen – there are already lots of people who refuse to ride a bicycle just because of being sweaty and winded. How will we look after wearing helmets ? The second happy new is that Vilnius refused to use 9,4 million Litas from European Union to build a bicycle track EuroVelo11 which should have crossed all Vilnius. It would have been a great bounce to the renovation of city bicycle track net. By the way, few politicians speak that it is possible to build the EuroVelo11 track for 3 million Litas and they plan to do that. But the reason why those 9,4 millions were not taken is that those money are not enough and government should have found much more. So where is the logic ?. . We should be happy about the fact that government is trying to take care of bicyclists'safety. And we really want to believe in promises to fix the situation of bicycle track net in Vilnius. But when starting to think sane, it becomes impossible. It even starts looking like politicians are trying to expel bicyclists form the city – they not only refuse to develop the infrastructure but are also trying to transform us to Christmas trees… Domantas ŠirvinskasEziukasVilniuje
< ; a href= » http : //app. nextstat.com » > ; < ; img SRC= » http : //dce. nextstat.com/logging. php ? ac=896& ; ns=1 » border= » 0 » alt= » Realtime website analytics » /> ; < ; /a> ;