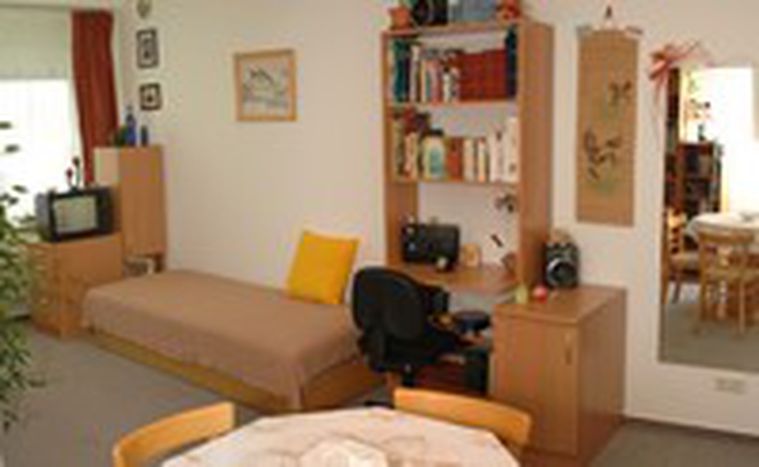 Vendors of Paradise in district XVI
Published on
Translation by:
corina gafner
Jehovah's Witnesses (JW) are seeking new recruits in Eastern Europe. In Budapest they already have their own parish hall, paid for by the Watchtower headquarters in New York.
District XVI of Budapest, looks like a ghetto in the middle of nowhere. When a stranger walks by, all that can be heard is endless barking from the courtyard and growling dogs bare their teeth. This is home of the Jehovah's Witnesses, or the 'Bethel', which means 'house of God' in Hebrew. The building was constructed at the site of a former Russian barracks. It comprises an administrative building, lodging for the 75 members, a kitchen, dining room and a laundry room. The buildings are surrounded by a garden with a pond, lush greenery, and birches. It is not difficult to believe you are in Paradise.
Clean, neat and tidy
In the home, there is a reception area where residents alternate between answering phones and working as a porter. The décor reminds one of 1980s German mail-order catalogues: white walls, light tiled floors, royal blue leather upholstery, an oval glass table and house plants. Before, Russian soldiers would come and go. Now pictures of biblical scenes hang on the wall. Everything is neat and organised.
We have a meeting with two representatives of the Hungarian branch of Jehovah's Witnesses, the German Karlheinz Hartkopf and the Austrian Bernhard Dorfner, both press relations officers of the Hungarian community. According to Hartkopf, they were elected members of the board of directors by his seniors, the 'apostles' of the JW headquarters in Brooklyn, New York. Both are used to talking to journalists. In 2005, 687 Witnesses were baptised in Hungary and there are over 40,000 interested people. According to the Watchtower, there is a total of 22,085 JW in Hungary. They quickly change the subject of conversation to the JW martyrs under the Nazi regime. At this time, many members had been put into concentration camps for refusing to undertake military service.
'A faithful and informed slave'
Zsuzsa Tóth is 29 years old and comes from Szombathely, a small town in the West of Hungary, near the Austrian border. She has been living in the Bethel for five years now. 13 years ago she was looking for the 'meaning of life' and got to know different religions which called out to young people, including Hare Krishna. 'By accident', a Jehovah's Witness spoke to her about the message of God. Zsuzsa Tóth's voice is calm and she seems happy when she speaks. Today she sees herself as a 'faithful and informed slave' found in 'the Truth', both of which being concepts of the JW terminology.
Board and lodging, laundry and hairdressers are free, and every resident receives 17,000 forints (roughly 70 euros) as monthly pocket money. In exchange, the residents work every day from 8am to 5pm on translating the literature from Brooklyn and writing their own articles. Zsuzsa has her own office. After work, three times a week for one and a half hours, she takes part in JW meetings. She also does 'field duty' by going to the Múzeum körút area of Budapest. There they speak to tourists and make the word of God and the Bible more accessible. From time to time, she has to wash dishes on Saturdays in the communal kitchen.
Donations from America
JW are convinced that what they do for the community today will save them on the day of Armageddon, a type of divine apocalypse. They hope to stay in paradise for one thousand years after the end of the world. For this, they have to give up anything which does not conform to the bible. The JW do not take part in political life, they do not vote, nor do military service, and they are not a part of any social organisation. They categorically refuse any government or church, as they believe they are 'controlled by Satan', as written by Raymond Franz in his book 'Crisis of Conscience'. The JW are not allowed to celebrate their birthday, Christmas, Easter or Pentecost. Children are not allowed to live in the Bethel in Budapest and pregnant women must leave the house too.
Jehovah's Witnesses are often criticised. In the last few years, there have been countless media reports of child abuse, working methods and the organisational hierarchy of the religious community. The financial policies of the JW are also criticised. Karlheinz Hartkopf emphasises that 'the site in Budapest was constructed through foreign donations and the voluntary work of members'. However, the Hungarian 'Watchtower' company does not publish any financial statements.
By looking at the websites of the American Watchtower companies, we can guess what Hartkopf means by foreign donations. In the fiscal year 1997/1998, the Watchtower Bible and Tract Society of Pennsylvania had net assets worth 705 million dollars, as can be read on their website. On the website of U.S. Securities and Exchange Commission 'SEC', it is documented that the Watchtower company, regardless of its refusal of military service and political abstention, owns shares in the JP Morgan mutual trust fund and own 50 percent of a company dealing with armament technology, called 'Silver Fox'. This machinery was tested in the second war in Iraq. The databank of New York, USPDR, estimates that the 2005 real estate assets of the Watchtower are worth 204 million dollars.
So they have enough money to invest in Eastern Europe. These vendors of Paradise have not yet conquered all markets.
Translated from Die Paradiesverkäufer vom 16. Bezirk