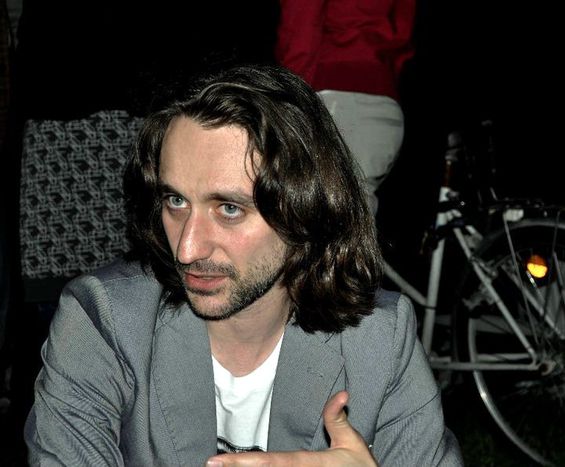 Velonotte, 'born in Moscow': philosophy of the night bike rider
Published on
From Rome, London and New York to St Petersburg, Sergey Nikitin's project welcomes bike riders from Russia and abroad to enjoy night cycling from a different perspective. 'Moscow at night looks very peculiar,' he says of the Russian capital of 12 million people
Exploring the city's architecture and atmosphere on a bike at the dimmed light of the street lights – this is what Sergey Nikitin, 37, tries to teach the urban dwellers who are obsessed with speed in their everyday routine. The art historian and cultural expert decided to hold a special cycling tour in Moscow to show how a city may expose its own special secrets by night. Since that very first event, his project Velonotte, has expanded across Europe and the US. Statistics from 2012 compiled by the bicycle union of Russia show that only about 8, 000 people use their bikes on a regular basis, although 3 million bicycles have been sold. Interview.
cafebabel.com: Sergey, how was Velonotte born?
Sergey Nikitin: The Moscow cultural walks (Moskultprog) project was created in 1998 when I was a student at Moscow state university. The focus was experimental cultural events outdoors. The city walks were angled around city aesthetics and architecture (the initial interest was in the avant-guarde city between 1920-1930s). Gradually the project expanded and within a few years we were welcoming two to three hundred participants to our events. After my academic stay in Rome (where I had a bike), my Moscow friends gifted me a bike. It was that summer night when we went for a ride in Moscow that I first had the idea of running night tours in the city.
cafebabel.com: How does the tour differ from a regular excursion in the city? 
Sergey Nikitin: After registering online, the bike rides are always narrated by world famous experts (think Peter Ackroyd, Richard Rogers or Ricky Burdett) and accompanied by thematically-chosen music for the event (such as The Lambeth Walk for the Lambeth borough of London), which is then broadcast on the radio.  It's an interactive show which unfolds across the city.

We actually created a new genre of a cultural event. We see the merging of different ingredients – the night with its romantic connotations, academic lecture, the urban history and architecture. Contemplation is an important part of art perception; the night gives you a great chance to do that. Plus, Moscow at night looks very peculiar. Different buildings sometimes fade out in the bustle of everyday life. but you may feel their gigantic might during night time.
cafebabel.com: Is Moscow a tourist-friendly city?
Sergey Nikitin: The city is designed well for tourism. It has a lot to give. Its historic centre has a good infrastructure, great parks and museums. We just need one political decision: the abolition of visas. After that we might really witness a massive wave of tourists.
'We just need one political decision: the abolition of visas. After that we might really witness a massive wave of tourists'
Our aim is to bring together people of different backgrounds with different interests. That is why each stop of the Velonotte differs from the previous one. We always ask participants to send in their thoughts after the event. 
cafebabel.com: How is your project funded? How many people work in it?
Sergey Nikitin: Our creative group comprises 10 people, plus volunteers from different cities where the project takes place. Our initiative used to be funded by commercial organisations and sponsors, but in 2013 our main academic partner is the higher school of economics in Russia and the royal borough of Kensington and Chelsea in London.
cafebabel.com: Did you have an idea that the project would develop so much? 
Sergey Nikitin: It was a great surprise. We got used to the fact that a couple of hundred people would show up, but we didn't expect even more. We didn't imagine that Velonotte would take place in so many different cities.
cafebabel.com: So how did you decide to expand your project abroad? 
Sergey Nikitin: We were invited to Rome, then we received invitations from London, Paris, Vienna, Berlin, Budapest... We cooperate with people on the ground and always coax in local cyclist experts, who know the city very well. How could you avoid that hilly climb to the Hagia Sophia (we are preparing to launch in Istanbul for the first time), or find the best stop to tell the story of the London underground? We rely on their advice.
cafebabel.com: How much time do you need to choose the itinerary of a bike ride? 
Sergey Nikitin: It takes nearly a year. We make a lot of test-drives of routes, sometimes on foot and by car to see it from a different angle. Developing the itinerary is one of the loveliest parts of our job but it also involves a lot of logistics.

I adore London – both cycling and just walking there is a great pleasure. For our upcoming London velonotte in June, we are collaborating with the royal borough of Kensington and Chelsea to organise traffic on small lanes. Usually the rides take place on Saturday night so as not to disturb the traffic.
cafebabel.com: Lastly - what's next?
Sergey Nikitin: We are innovative and poetic. That is why we are particularly interested in new places and our routes always go through suburbs. Each velonotte is unique with a unique itinerary. We have never gone through the same stops. 2013 will also see a new ride in Moscow – Mayakovsky Velonotte №7. We will continue to hold comic excursions in Venice (Tour de' Scherxi) - oh, and I really want to bring Velonotte to Bangkok.
Catch Velonotte 'Magic shores' in Istanbul on 18 May, as well as editions in London on 22 June and Moscow on 20 July
Images: main courtesy of © Velonotte archives; view from the car in in-text image one (cc) Tatiana Smirnova; in-text image two Julia Zavyalova (L) and Vladimir Kalinovsky (R)/ video (cc) Maria Nikitina/ youtube