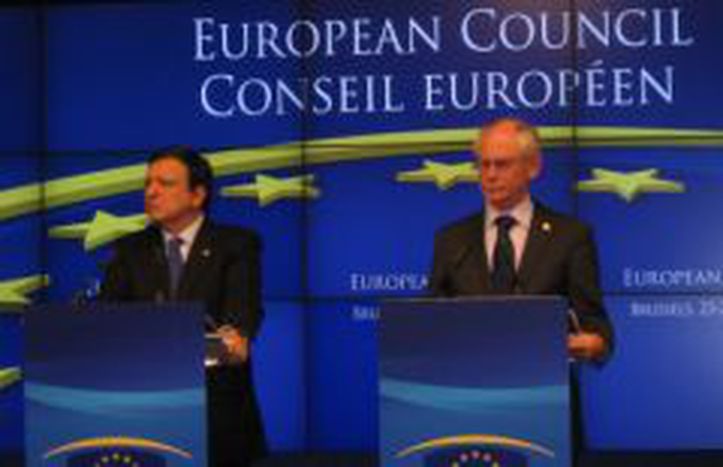 Van Rompuy: "there is a stronger sense of common responsibility"
Published on
By Joan Manuel Lanfranco Pari Discussions among EU leaders focused on economic issues, said European Council President Herman Van Rompuy in a joint press conference with European Commission President José Manuel Barroso.
Heads of State and Government discussed economic policy coordination and the Euro Plus Pact, the March 2011 package of economic measures (the so-called six-pack of legislative measures) and the EU-IMF agreement for Greece. Van Rompuy stressed the need for stronger coordination in Member States' economic policies.
Although Greece was not an item on the Summit agenda, due to recent developments it was central in the discussions. Van Rompuy called upon the Greek opposition parties to endorse the austerity plan formulated by the Papandreou Government, due to be voted on 28 June in the Hellenic Parliament. He stated that "there is a stronger sense of common responsibility" and that EU leaders are strengthening the groundwork of the Economic and Monetary Union. Van Rompuy stated that "a comprehensive rescue package needs to be adopted within days" in order to meet Greece's debt commitments in July.
For his part, Barroso stressed the need to continue with fiscal consolidation and correct diverse economic imbalances in economically troubled Member States. Most importantly, he voiced the need "to tackle the social impact of socio-economic reforms". Barroso also suggested to EU leaders the possibility of using EU structural funds (such as the European Social Fund) to encourage an immediate impact on growth and jobs in Greece.
Although the Thursday evening session was dedicated to economic issues, there was no final decision on the appointment of the successor of Jean-Claude Trichet as head of the European Central Bank. This was postponed to Friday's session, along with other hot topics on the agenda: EU's Southern Neighbourhood, migration and borders and Croatia's accession to the EU.