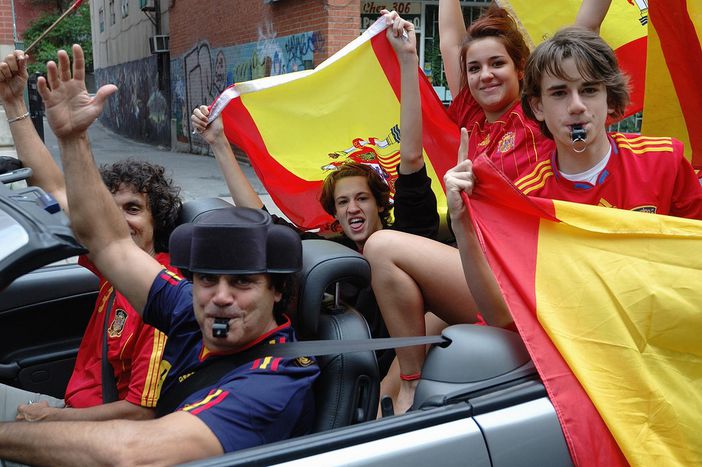 Uruguay vs Europe: what world cup identity?
Published on
28 countries out, four left. Uruguay aside, the football championship final will definitely feature either Germany or Spain, one of whom could be facing the Netherlands to contend for a title currently held by Italy. It's not about football anymore though – does this bridge a stronger European identity for those of us on the continent, supporters or not?
Ooh, aah, America. Australia, down under. If anything, the world cup is an event which allows ordinary citizens to be South American for a week in accordance with footballing legend, or African for 90 minutes. When else have any of us ever collectively rooted for eleven Ghanaian men to run around a pitch and promote the African dream? The West Africans were the only side from the tournament's host continent to make it through to the last eight of the world cup, and the consensus was very much for (at least here in Paris). The Guardian in England has hinted that the Europeans would probably never unite for one European side as much as two billion African fans did for Ghana against Uruguay. One difference may be that there are still three teams (two Nordic, one Latin and current Euro 2008 champions to generalise) – to root for. That's if anyone is still interested.
'European world cup'
With classic European teams such as current world cup holders Italy and France and England pipped to the post, or indeed the eliminated Slovakians, Slovenians and Danes, will those supporters now be supporting The Big Three in the semi-finals and finals between 6 – 11 July 2010? Why not? There was such a media flurry of the tournament blooming into a 'South American Cup' only one week prior, when favourites Brasil and Argentina were still involved at game stage. French daily Le Monde puts the mania down to a purer patriotism from South American citizens, also attributing the passion to the fact that many players play far from home (Europe, to be precise). Meanwhile, the French media hail the comeback of the 'new Europe', whilst the German news agency Deutsche Presse Agentur talk of 'Empire Europa'. 
James Whyte, English football pundit to the babelians, puts the identity concept into its general historical context. 'In a nutshell Europeans hate each other footballing-wise due to the wars and conflict they shared. Football is a general bragging right. African nations haven't had continent wide wars and since their conflicts are civil and in their borders, there is no animosity for other neighbours. They will group together, unlike Europeans. The South Americans are a mix of both ideals – take Argentina and Uruguay who are great friends, but Argentina and Brasil who are big rivals.'
Some European warmth does exist, a trend tracking back to European expats abroad, who are generally biased towards countries they have visited or lived in. It's common for many to support or empathise towards more than one country in the games. Similarly, Bosnians, Turks and Poles might be more akin to supporting three-time title holders and current cup top scorers Germany, considering the multi-ethnic composition of the Mannschaft. When polled at random, babelians mostly opt for two-time winners Uruguay to win the cup. Identity is just a bit too obvious – the 'underdog', or Uruguay as the non-Europeans here, is always a backer. However, one Italian website points out that of the eighteen world cups so far, Europe has won nine and South America has won nine, so an underdog doesn't exist. In any case, a slide of sentiment is projected neither for the Uruguayans, nor for the Europeans – though the latter reclaim a place in the world, united or not.
Image: main Spanish family celebration, Canada, 2008 by ©austinhk/ Austin H. Kapfumvuti;