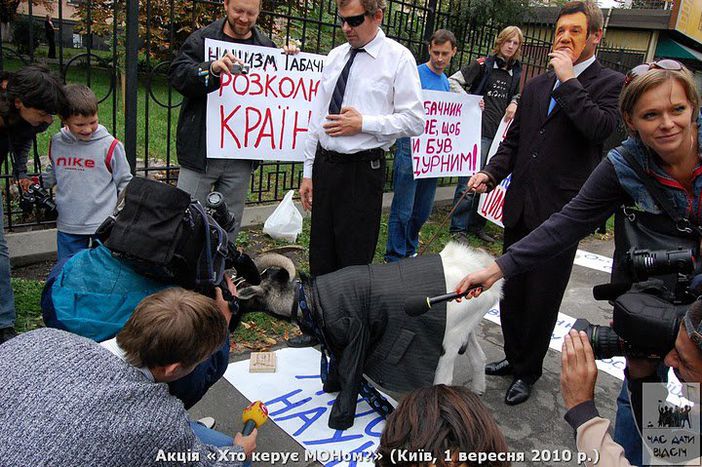 Ukrainian students fight uncertain future
Published on
Like many other Ukrainian students, Varvara Shmygalyova hopes her country can one day integrate the European Union. The government's recent education policies made her turn her hopeful wishes into a fight for her future, writes Delphine Reuter
Since he became president of Ukraine in February, Viktor Yanukovych has struggled to build upon the heritage of the Orange revolution of 2004. He promises economic reforms, yet seldom addresses small and mid-size business owners' problems. He wants to fight corruption inside his government, but starts with pointing fingers at other political parties than his own. In March, less than a month after he entered office, he nominated Dmytro Tabachnyk as minister of science and education. This decision radicalised the debate on educational reforms in Ukraine. 
'Real' Ukrainians
'When the new government was elected, I had to change my vision of the future,' said Varvara Shmygalyova, 17, who studies political science in Kiev. Tabachnyk is both celebrated and loathed for political choices he made long before he became head of the ministry of education. He's infamous for writing that the traditionally pro-European western Ukrainians are not 'real' Ukranians. He served as vice-premier between 2002 and 2005 when Yanukovych, the current president, was prime minister. When they heard about Tabachnyk's nomination, students like Varvara Shmygalyova remembered the lessons from 2004: they took their fight to the streets to demand his dismissal. Although Tabachnyk has promised to keep on with reforms and fight corruption in the educational system, his enemies see his presence in government as a threat to their country's stability.

'Dmytro Tabachnyk's declarations crystallised students' fears of a government refusing to go forward with the democratisation process started six years ago,' says Alexandra Goujon, professor at sciences-po Paris and expert in Ukrainian politics. At the same time, thousands of other students, mainly in the southern and eastern parts of the country, demonstrated their support to a man they believe embodies traditional Ukrainian values. According to Alexandra Goujon, the country is not clearly divided between people who support a rapprochement with Russia and those who want to be part of the EU. 'On a cultural level, there are probably four or five Ukraines,' says Alexandra Goujon. Sensitive issues like education reforms resurface, problems that have not yet been addressed by the government. 
Corruption, a major problem
Bribing and other kinds of corruption are deeply rooted within the educational system. Students go abroad to seek a masters or a PhD but their foreign degrees are not recognised by the Ukrainian system. Instead of addressing these issues, Tabachnyk has declared he wants more university courses given in Russian, and has worked on a plan by which every higher education institution should abide. Students like Varvara see themselves as patriots and want to defend Ukranian language and culture. They think Tabachnyk's plan can open the road to more interference from Russia. 'Ukraine is a very young country and we need to protect and help it to be really independent and unique,' says Varvara. 'I worry whether Ukraine can resist Russian expansion again.'
Today's university students have lived through the changes the country has known since its independence in 1991. Bad government choices could hamper efforts to modernise. 'The youth has the habit to treat government promises with distrust,' says Lesya Kuruts, a masters student who works for an open foundation promoting Ukrainian culture and migration abroad. The education ministry is aware that its policies are not welcomed everywhere. Government representatives travel regularly to meet and reassure students. But Lesya Kuruts says that the government needs to work more with grassroots movements that are actively engaged in the debate, instead of favouring student bodies artificially created to support political parties' views within universities.
Target a national debate
Varvara studies at the Kiev-Mohila academy in the Ukrainian capital. According to the university website, its aim is to 'master the intellectual skills and learning of contemporary Europe and to apply them to the improvement of education in Ukraine'. But students like Varvara are a minority in a country where higher education is still very expensive, especially in private universities. 
About 50% of Ukranian students dare to take a stance against governmental policies
Lesya Kuruts claims that about 50% of Ukranian students dare to take a stance against governmental policies. 'Most of the time protests happen in Lviv, Rivne, Ivano-Frankivsk and Kiev, all cities located to the western side of the Ukraine. Most of my teachers support the students, who organise rallies on a regular basis to draw public attention.' But many Ukrainians may not have heard about the government's plans for education. National TV channels sometimes choose not to report controversies and the local papers' editorial freedom is often restricted to following political parties' agenda. This does not mean that people blindly accept Tabachnyk's reforms, but they might not have heard about the debate, or may think it doesn't concern them.