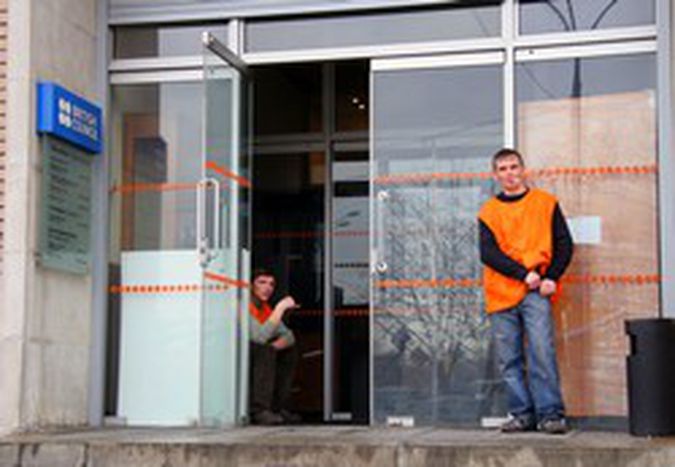 UK, Russia: a new Iron curtain?
Published on
Two out of three British Council offices were deemed 'illegal' and closed down in Russia in January. A reflection on ties between the Kremlin and London
In January 2008, two out of three British Council (BC) Russian regional offices were closed down in St Petersburg and Yekaterinburg after the Russian foreign ministry declared them to be 'illegal'. For now, the BC are operating out of their only office in Moscow, the last orientation point for Russian people trying to find out how to go and study English in Britain.
Moving out of Moscow
Overlooking the Moscow River on Nikoloyamskaya Street in the heart of Moscow, the British Council is located in the building of the Russian Library of Foreign Literature. The entrance is blocked with furniture and piles of books packed up in boxes, waiting to be taken out as the library is officially closed down. Everything is as usual, although instead of welcoming visitors, the staff are reimbursing subscription fees to registered members.
This office has already handed over its libraries to local partner organisations. No new materials have been issued and no new customers have been taken on. On the table I only find practical information, addresses of other English educational organizations and so on. 'Since 1 January 2008, it is no longer possible to sit the IELTS test at BC Russia in Moscow; apply to the IELTS Test Centre, the BC-Russia website informs. 'They are going freelance now,' shrugs Marina, a friendly dark-tressed girl at reception, probably a student, when I enquire what will happen to the British teachers who have had to stop working after English courses were closed down.
Click 'x' in top right hand corner to watch again
Gordon, meet Dmitri. Go on
UK-Russia relations are very strained already. After the Serb province Kosovo declared independence on 17 February, a UK foreign office spokeswoman said 'we have consistently said we see supervised Kosovar independence the most viable way forward,' whilst Russia declared their opposition.
On 14 February, exiled Georgian billionaire and opposition leader Badri Patarkatsishvili died in London of natural causes. But police were alerted because he had called them prior to his death, afraid of being murdered like former Russian spy Alexander Litvinenko was in London in 2006. After his poisoning, Russia kicked out four British ambassadors as tit-for-tat for London's four expelled Russian diplomats, after unsuccessfully demanding the extradition of suspect and MP Andrei Lugovoi. After latest Russian president Dmitri Medvedev was elected on 2 March, British PM Gordon Brown allegedly did not telephone his congratulations. The pair meet at the G8 summit in Japan in July.
We speak to Tom Manson, 59, an insurance consultant who has lived in Moscow for ten years
Is the closing of these offices really because they illegal as the Russian authorities say, or are there some political underpinnings?
It was claimed that the BC was a diplomatic organisation that was working for profit (with language schools), and this was not compatible with its diplomatic/ tax status. But clearly other diplomatic tensions have exacerbated the problem. It is worth noting that the BC had similar tax problems in India some time ago, so it is not the first time that such problems have arisen.
Is a new iron curtain appearing, as former Soviet dissident Lyudmila Alexeyeva has said?
No - in visa relations, for instance, all is working as before.
The BC was thrown out of the important educational work it was doing. Russian citizens (mostly students) had to stop their studies. Some politicians are talking about the damage to Russia's image. Whose interest suffers the most in this affair?
In the short term, both sides look a little foolish. In the long term, I doubt if it will make much difference.
After the suspension of BC regional offices activities about 150 British-educated Russians - bankers, businessmen, journalists - sent a petition to Kremlin. It appealed to former Russian president Vladimir Putin to overturn the decision. Some students demonstrated in St. Petersburg in support of the BC. Do you consider these rare initiatives effective?
Not really. They were probably counter-productive in the current political climate in Russia, so close to the presidential election on 2 March. No politician could have been seen at that time responding to foreign pressure.
What could UK-Russia ties, at least from a cultural perspective, look like in the future? Do you think Dmitri Medvedev's new foreign policy will be different and some initiatives will be taken in order to improve UK-Russia ties?
Difficult to answer. I doubt if anyone knows. I suspect that Kosovo is more important in the long run since the implications of this problem are very wide ranging.
What are your personal expectations concerning the Russian-British cultural and business relations after March 2?
I imagine they will continue as before - not too bad with a number of difficult areas from the perspective of both sides. I do not expect to see the political elite not wanting to go to London.
Photos: Tatiana Schramchenko