Two Words for Europe - An Account of an Event
Published on
Europe Day on May 9th is a day of celebration for all Babelians. In its honour, Cafébabel's Seville team decided to organise some activities that citizens could take part in.
Fifty-eight years after the French Minister of Foreign Affairs, Robert Schuman, read Jean Monnet's proposing the creation of a supranational European institution to administer coal and steel, we took to the streets to ask passers-by to write "" on the blank panels we had put on the walls of Seville's town hall. Some people were taken aback by our request, as they had always thought of the old continent as
declarationtwo words for Europe

being something distant and unrelated to their lives. Others, however, approached the task with curiosity and were interested in our cause. Tens of people from every background and of every age took the time to leave a brief testimony encompassing their idea of Europe. Things were brought to a standstill as various school groups were encouraged to participate under the watchful eyes of their teachers. "" they asked some students who were frantically passing the pen around among themselves.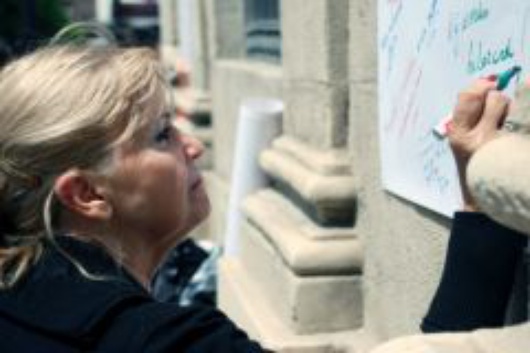 Come on, Europe! That sounds familiar, doesn't it? From the exam yesterday. Do you think you can write something worthwhile?
Many university students joined in, associating Europe with freedom, peace, identity, multiculturalism and books, among other things. Some adorned the panels with Spanish witticisms and puns, adding authenticity and a hint of humour to the event. We still haven't managed to decipher one of the messages, which is written in Finnish... but we're working on it. After all, it wasn't just Spanish that made an appearance on that sunny sevillano morning.Two-hundred flyers announcing the afternoon debate on "" were handed out to those who approached us. The mayor of Seville himself, Alfredo Sánchez Monteseirín, was given a flyer by our coordinator, Concha Hierro, who told him about our Babelian initiative. After two hours in Plaza Nueva, we moved on to San Fernando Street outside the Rector's Office - the hub of the city's university. There we came across a small orchestra playing the European Anthem, as well as an information desk offering a variety of material about the formation of the EU and its issues. We took part in hoisting the European flag and continued to spread the word about Cafébabel. The arrival of lunchtime marked the end of a fruitful morning in which we played our part in taking Europe to the streets. Many definitions and words were written about Europe, but none of them were quite illustrative as those left by a German-Spanish couple: "."Maybe that's what Europe is about.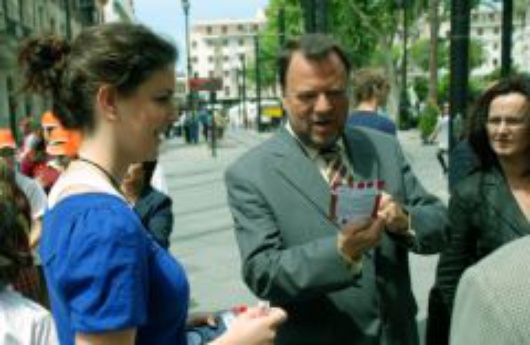 How much more can the EU expand?We love each other
Concha Hierro
Photos:
Sara Domínguez Martín
Translation by (miralaluna)
Jessie L.