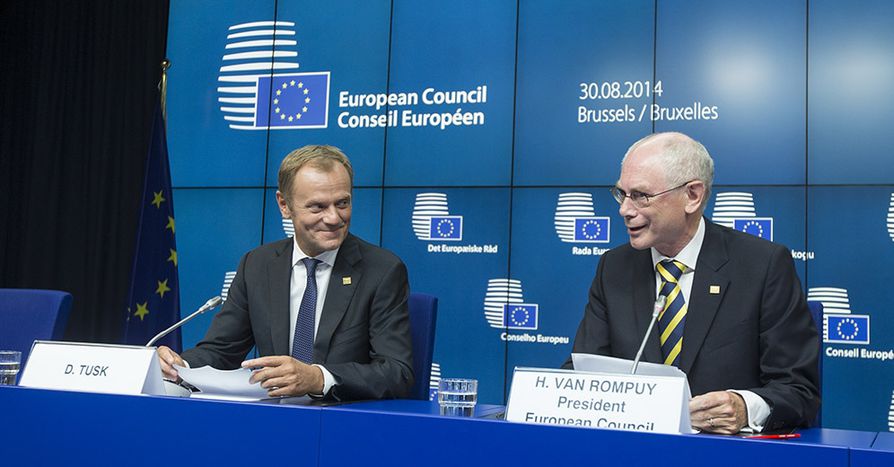 Tusk's challenges as new President of the Council
Published on
Herman Van Rompuy has retired from politics, opening way to former Polish Prime Minister Donald Tusk to continue his European legacy.
Not everyone was able to fully know former European Council President, Herman Van Rompuy, due to his discreet and reserved presence. As of the 1st of December, Polish ex-Prime Minister, Donald Tusk, replaced Mr. Rompuy, ready for the challenges imposed by a recovering Europe. The 67 year old Belgian is leaving politics but his work deserves some consideration. From trying to find solutions to a Europe in crisis, chairing meetings of EU leaders in conflict about bailouts, to decisions about the permanence of Greece in the eurozone, Rompuy managed to leave his functions with better future prospects than when he first assumed the Presidency.
Tusk's first steps
But let us focus now on Mr. Tusk and on his first steps as the President of the Council. On his first official statement, Tusk has marked his stance towards Russia urging Putin's government to withdraw its forces from Ukraine. Moreover, the new leader had also his first phone call with American President, Barack Obama, underlining the meaning he attaches to relations between Europe and the United States, pointing to a clear Western alliance against the East. Naturally, despite the social contest, the TTIP was one of the main topics in discussion between the two leaders, as both sides of the Atlantic are impatient to see the implementation of this trade agreement.
Nevertheless, Tusk manifested his intention to be more outspoken that his predecessor, a good initiative in order to build the bridge between the maximum exponents of European authority and the European people. It is important to break the concept of a technocrat way of leading and opening doors to a better and stimulated participatory citizenship. However, Tusk his also determined in cultivating a political unity able to respond the growing euroscepticism in the European Union, as well as tackling the financial crisis by boosting growth, protecting the European security from potential threats and strengthen European and American ties.
Like Rompuy, Tusk will be in charge of EU summits of government's chiefs of State who normally meet four times a year. The agenda is not easy as the future is uncertain with the crisis in Ukraine as well as with some countries strongly weakened by the economical crisis. As a matter of fact, Tusk will have a serious work trying to reorganise Europe and the several disagreements within the Member States.  It is not easy task, however, Rompuy appears to have full confidence in the future leader. "I'm confident the European Council is in good hands: Donald Tusk is a man of experience and wisdom, a true European," said the former President.