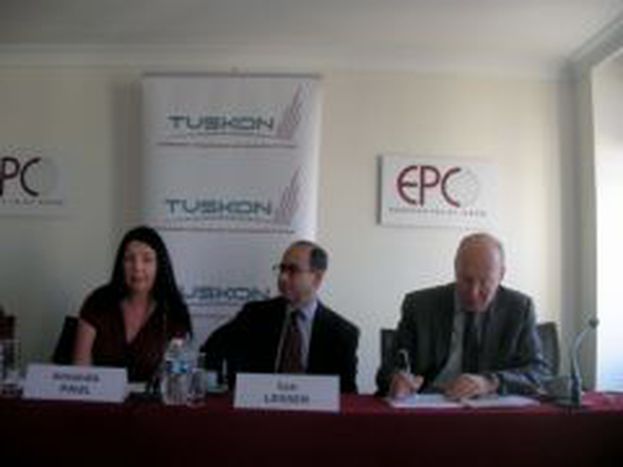 Turkey at a crossroads
Published on
By Aris Kokkinos and Jan Nils Schubert On November 6th, as part of the "Turkey Insights" debates, the EPC think tank and the TUSKON confederation invited three speakers to discuss the current situation in Turkey, to consider its future and to respond several questions, including the main one: what lane should Turkey take in these overall testing times?
Chaired by Amanda Paul, the debate was an opportunity for a global reflection on the future of a country struggling with numerous problems, as various and subtle as the shades of turquoise.
, former MEP and senior adviser at the Sabancı University Policy Center (Istanbul), calls to be wary of the Manichean vision of some journalists, who remain only two weeks in the country to write their paper. He distinguishes three elements in Turkey's current events. First, there is the hunger strike of hundreds of Kurdish prisoners: this method to achieve political demands is nevertheless jeopardizing reforms granting more rights to the Kurdish minority. Secondly, the freedom of the press: some journalists are still imprisoned for their opinions, and that is an intolerable situation. Thirdly, the reform of the Constitution: for many elected officials, this would imply giving power up. Prime Minister Recep Tayyip Erdogan hopes to become president in 2014. What will the new structure look like, a semi-presidential power or a strong presidential regime? Ian Lesser, director of the Brussels office of the German Marshall Fund, notes a proliferation of lectures dealing with Turkey all around the world. This is justified by a well-suited strategy to this time. In foreign policy, if the relations have deteriorated over time with Europe, they have improved with the USA and mostly with the Middle East. But since the upheavals in the region, Turkey's position is trickier. It is not certain if it will maintain its actual dynamism. Andrew Duff, MEP and president of the UEF, probes the complexity of Turkish society. The incomprehension with Europe persists, as Cyprus's case reminds. On this issue, the ruling AKP party has been counter-productive. More generally, relations with the EU are hampered by the lack of dialogue. Therefore a membership association, rather than an adhesion, is preferred by many Member States, and perhaps by Turkey itself. A complex situation requires complex solutions.
Several questions from the audience focused on the critical issue of visas, necessary for Turkish citizens to enter in the EU. A subject that sometimes leads to embarrassing situations: the Turkish journalist Etyen Mahçupyan, who was to participate in the debate, could not reach Brussels, not having obtained a visa of the Swedish consulate. The roads opened to Turkey are numerous, but the lane of compromise with Europe could remain long…