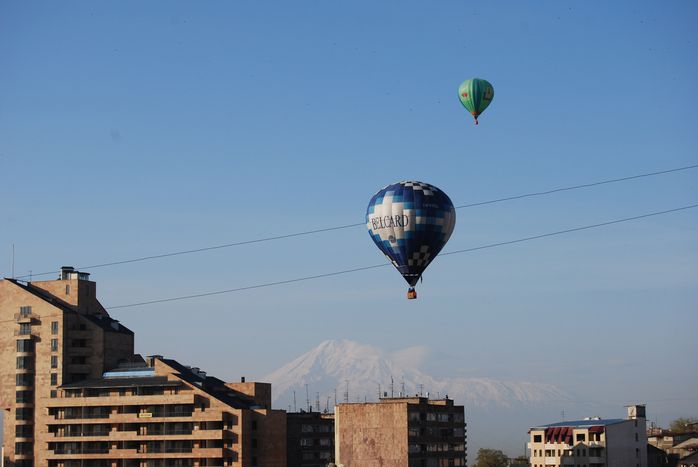 Turkey and Armenia ends 100 years cold war
Published on
Switzerland hosted an important deal for Turkish Republic. Armenian and Turkish FM's signed the treaty to normalise relations and bring peace to oil and gas rich Caucasis.
After the agreement will be completed after the clarification of governments parlaimanterians. Afterward Turkish Armenian border, which is closed since 1993, will be opened in 2 months.
The border gate was closed by Turkish government to protest Armenia's invasion at Dağlık Karabag¬ (Nagorno Karabagh) . The peace process was started with Armenian President. Mr. Serg Sargissian invitation to Turkish Presidend Abdullah Gul for national football match. Turkish President Mr. Abdullah Gul went to Yerivan and tied off the wings of the dove pigeon missing to fly between two nations.
There is no doubt that, this rapprochment which is based on win-win strategy will serve world peace. Certainly without positive steps from US, Russia and Switzerland the peace project would not be so succesful. Regarding collaboration contributed bilaterely from US and Russia there lots reasons to be hopeful for the future of the world. The 'great powers'of cold war era are testing themself on this issue and the time will show them if they can trusty relation while solving world's alarming problems. I bet if they can solve this problem without hidden trick, they can solve other problems ; from climate change to Israel-Palestine conflict and ınternatioanal terror etc. Then we will have lots of reasons to appreciate Nobel Comitee rewarding Mr. President Barack Obama.
Collaboration will bring stability to Caucasia by ending Armenia's geographical and strategical isolation. All of the parts, including Europe and US will benefit from this treaty. As one of the great regional power with Russia, Turkey can play an important role to improve the relation between Armenia and Azarbaijanian relations. Turkey should be ready to condemn Meds Yeghern (1915 crimes) done Ittihadı Terraki, Ottaman's racist government. You may not be familiar with Ittıhadi Terraki.
With the treaty signed at Zurich University Turkish government proved its intention to play a major role to bring stability to the region and world. If the agreement was signed last year, Turkish President Mr. Gul probably would have crowned with Nobel Peace Prize with Barack Obama. At last but not at least there is no reason not to give next years Nobel prize to Mr. Gul and Serg Sargissian.
Author: Özcan TİKİT