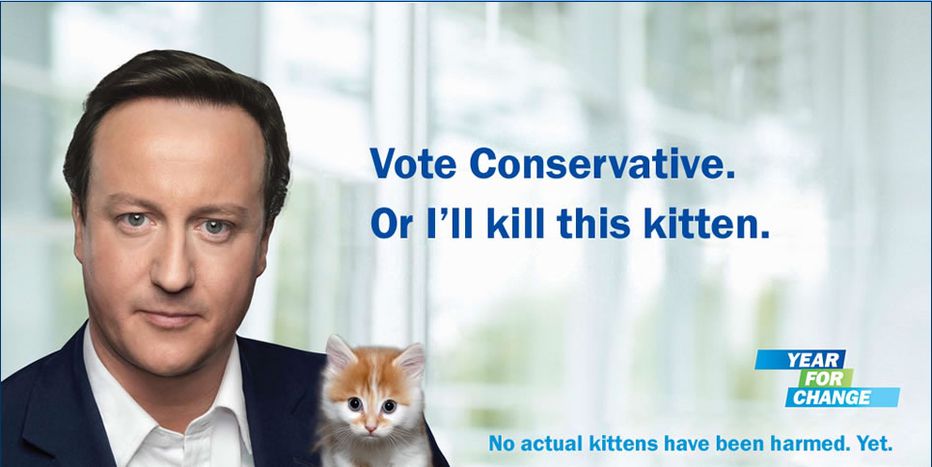 Truth? There's no-one to vote for in 6 May UK elections
Published on
For the first time in decades, the very real possibility of a hung parliament allows the political landscape to be shaken up in the UK's general election on 6 May. But the opposition leader David Cameron, who launches his election campaign on 13 April, appears windswept, PM Gordon Brown imperious and Nick Clegg just wants to be recognised
There came a point during centre-right leader David Cameron's time on some sort of soap box raised from the ground, smoothly yapping down to planted listeners and journalists, that I thought oh sweet jesus please don't let him winon 6 May. When it came to Obama, McCain, Palin or Berlusconi, Sarkozy and Merkel, we knew them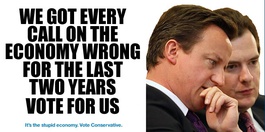 and their beliefs during their election campaigns. But it's apparent that nothing Cameron says he means, be it on the economy (public spending cuts of £6 billion to reduce the budget deficit), immigration (annual limit on legal migration outside the EU), tax (raises?) or homosexuals ('equality' – despite the Tory MEPs who abstained on a homophobia law in Lithuania and homophobic attacks in Croatia). It's all what someone has told him to say, all Bollocks given nothing he says I don't think anyone can in any way believe.
Across the waters, former US president George W. Bush took a lot of flack for being notoriously awful at presentation, but he had the smarts to know that there were very well-placed people in the country that could do a great job in their respective fields. By contrast, the current prime minister Gordon Brown has a such bunch of no-hopers in his cabinet that anyone would struggle to name more than three. In a recent press shot, he stands Alpha male-like surveying his domain from the Downing Street curb. Chancellor Alistair Darling and business minister Lord Peter Mandelson gaze on from behind, much like proud parents or as if they're posing for a sixth-form photo; there but not sure why.
When it comes to Europe, Cameron has pulled the conservative MEPs out of the EPP (the centre-right group in the European parliament) and its shadow secretary William Hague does his foreign travel for him. At the last European summit in late March, the word on Brown's lips were of a future European 'peace corps'. Brussels efforts aside, Brown is a totalitarian leader who reckons he can run the affairs of state, mend the economy and make it home for tea all at once. Problems are severe with health and education. For example, a recent cancer diagnosis report revealed that Britain is on a par with Poland in European cancer survival rates. People will simply go elsewhere in Europe for treatment given the mistakes and misdiagnoses inherent in the NHS. Universities are shutting down departments, with graduates unable to find a use for their degrees and growing dismay at the standard of GCSE and A-Levels. Britain has the highest teenage pregnancy and obesity rates in western Europe. And fuel prices. And so on, and so on.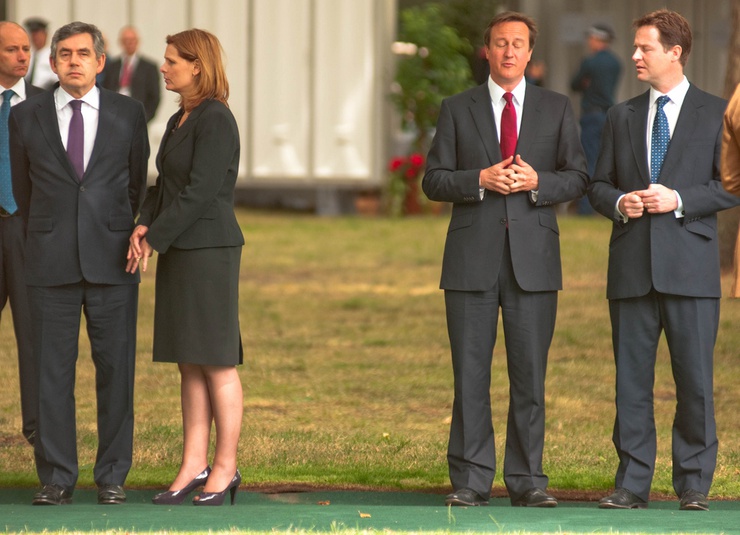 Whoever wins has no room to do anything anyway. The one priority is to reduce the country's deficit and move Britain out of its worst economic cycle ever. There is no space to make bold claims on anything: no talk of the environment. Not even a mention of the two illegal wars that are draining vast resources out of the country; no-one in Britain cares about Iraq or Afghanistan. They just wish both would end and are tired of reading about the tragic loss of life on both sides. The Wikileaks video of the US Apache helicopters slaying civilians in Iraq on 5 April has meant that there is such little will to continue a fight that has absolutely no chance of a happy resolution.
But none of the leaders are even talking about this. In all, all three parties stand exactly for nothing. And this is the most depressing thing about British politics. Everything is about scoring cheap political points against the other. Brown says Cameron's posh, Cameron tells everyone Brown is a bully, liberal democrats leader Nick Clegg is like me - just another man – whilst the rest of parliament chortles on and nothing get fixed. Useless.
Factbox
Labour slogan: 'A fair future for all'. 13 MEPs in the European parliamentary labour party (EPLP), part of the socialist group
Conservative slogan: 'Vote for change'. 25 MEPs 
Liberal Democrats spoof site, slogan: 'Change that works for you, building a fairer Britain'. Five MEPs including Andrew Duff
Images: The three political leaders ©feyip/ Flickr; / Videos: Wikileaks Apache video ©sunshinepress/ Youtube