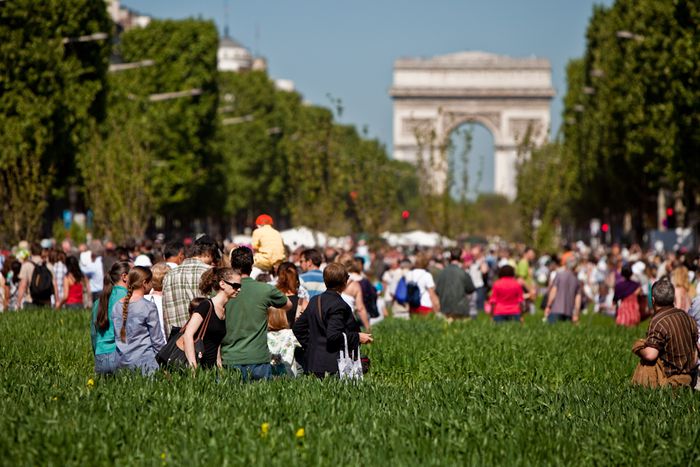 Transition towns: in the gardens of Paris
Published on
The most densely populated city in Europe, with just four days worth of food supplies and a startling shortage of accommodation, Paris has few resources to offer. It is the ideal city for experimenting with 'transition', but this is anything but easy. One young German tries to explain the lifestyle and philosophy to the Parisians
'Imagine that you only have half of the energy that you consume each day. Imagine that you only have half of the petrol which you normally use. Try to imagine concrete solutions for a small village in the countryside which has to face this situation.' Thus began the story of 'transition' in 2005. This was the task Rob Hopkins, a young permaculture teacher, set his pupils at Kinsale further education college in County Cork, Ireland. Permaculture is an agricultural technique based on biological synergism which aims for the realisation of an 'ecologically' sustainable society, and Hopkins was trying to show that solutions do exist. Moreover, he hoped to prove that it is possible for a small community to develop resilience (a psychological phenomenon in which a traumatized individual overcomes depression). In other words, the community could adapt rapidly to changing external circumstances through the simple actions of individuals.
The experience was a success. In 2006 Hopkins outlined and explained the first points of what would become 'transition' in the energy descent action plan. His theory was rapidly put into practice; in 2006, the town of Totnes in the south of England was the first community which decided to follow Hopkin's plan and become the first transition town. The idea soon spread to other countries. By 2008, there were about fifty transition towns worldwide.
With head and heart: 'transition' has conquered Paris
If the ideas of 'transition' have worked for small communities in the country, how can we transpose them into large, modern metropolises? The French capital is one of the first European cities to take up this challenge. With its 2.2 million inhabitants spread over a just a little more than 100km2, Paris is the most densely populated metropolis in Europe. Space is a rarity in this city, which has one of the highest average prices per square metre in Europe.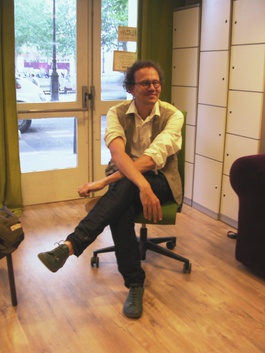 Ralph Boehlke is the point of reference for the transition town movement in Paris. The young German has lived in France for several years, where he organises congresses and meetings on the theme of transition. 'I discovered it two years ago,' Ralph tells me. 'I was engaged in the alterglobalist movement and transition was a new positive opportunity for me. It prompted me to imagine solutions, even here in Paris where there is not much space in contrast to Berlin and London. Transition doesn't offer ready-made solutions; rather, it teaches you to look around you to search for new ideas.'
How can we combine a 'transitional' lifestyle with work and family though? 'As opposed to politics which tries to find solutions at a national level, 'transition' does this at a local and personal level,' explains Boehlke. 'This means it affects everyone around us - our families, our friends and our work environment. Paris is a very individualist city, a city where people don't talk to each other. Transition teaches people to open the door to their neighbours so as to look for concrete solutions to problems together. Transition is a mental state – and although there is a manual called The Transition Handbook: From Oil Dependency To Local Resilience explaining the way, there aren't any rules.'
Paris and resilience: an oxymoron?
'The concept transition is based on is 'resilience',' continues Boelke. 'I was made aware of this in a very real way with the eruption of the volcano in Icelandin 2010. The whole thing started thousands of kilometres away from me, but it stopped me from being able to fly. This demonstrates how dependent we are on a mechanism which is bigger than us. If we put to the side the related questions of dependence on oil for one moment, we realise that an infinite number of factors can impede this mechanism. In 2009, for example, there was a lorry drivers' strike.
'How would we cope with something even worse if we can't even deal with the simplest crises?'
Paris was found to be unprepared when faced with the difficulty of supplying food. It turned out that when fresh supplies stop being delivered, the town only has four days worth of food supply. It's deeply concerning to think that such a silly little thing like this strike can prompt serious difficulties for a large metropolis. How would we cope with something even worse, if we don't even have plans to deal with the simplest crises?' But where to begin? 'With the little things, like a small urban garden,' replies Boehlke. 'That's the kind of thing that helps us to change the way people thing. Even if you can't produce all of the food you need with this garden, you can show it to your friends and convince them to do the same thing.'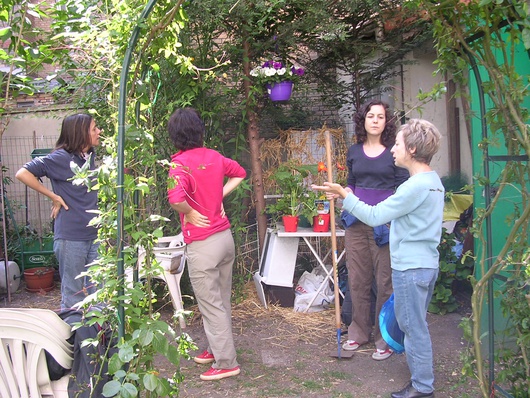 In the heart of Paris, there is a small green rectangle which manages to elude the city of lights' hunger for space. Hidden behind a door in the fifteenth district ('arrondissement'), in the west of Paris, a garden is surrounded by blocks of flats on a small strip of land. The owner, a former Parisian, chose to donate the land to a group pioneering 'transition' - and so a shared garden was born. 'We aren't an association. We are simply citizens who have chosen to follow the way of transition while living in a city,' explains Corinna, a member of the group. 'There just fifteen or so of us in the garden. We tend the garden to daily to make it productive. We started getting together a year ago now, and we jumped at the chance to grow this vegetable garden. We enjoy being able to do something concrete, where we can see the fruits of our work.' The results aren't lacking – Corinna shows me salad, tomatoes and the first strawberries of the season. 'We are still a long way away from independence when it comes to food. This may just be a start, but it's also a way of learning to share our free time with our friends and family.'
This article is part of cafebabel.com's 2010-2011 feature focus on Green Europe
Images: main © Thomas Leplus/ Flickr ; in-text © Giacomo Rosso; video  MilpaFilm/ Youtube
Translated from Città in transizione: vivere e condividere a Parigi