Trans Journalist in Turkey: "This society is hypocritical"
Published on
Michelle Demishevich is a woman born into a man's body. For the media, she became the "first trans woman journalist in Turkey" – a label that she can't seem to shake. Michelle tells us the story of her ongoing battles: between marginalisation, physical and verbal violence, and the hypocrisy of the media and society. 
On the terrace of a café a stone's throw from Taksim square, Michelle, a trans woman who was born into a man's body, explains how she chose her name from the Beatles' song she repeatedly heard in childhood.
She comes from a family of Macedonian origin, and in addition decided to recover her original surname. It had been modified by the Turkish State when her family arrived in the country after fleeing the Second World War. "It was important to recover my surname because it is part of who I am," Michelle explains, referring about how she was reborn in 1999 following her gender reassignment operation.
Even if she seems proud of being described as "a trans woman journalist", she  also pokes fun at the identities it presumes. "Identity is nothing; I am a human being above all else. After that I'm a journalist, a woman, a trans person... I am Michelle who makes the best carrot cakes in the world, who likes flowers, who feeds animals…"
"As if I had a gun pointed at my forehead"
With a cigarette in her hand, Michelle, beautiful with her long fair hair, discusses the verbal and physical stigmatisation she is victim to on a daily basis. "Living as a trans woman, I feel threatened every day – as if I had a gun pointed at my forehead." This feeling of insecurity manifests as a limitation of her freedom. "At home, when I'm with trans friends, we are discrete. We dim the lights at night, our telephones are on silent, and we speak in a low voice for fear of being attacked..."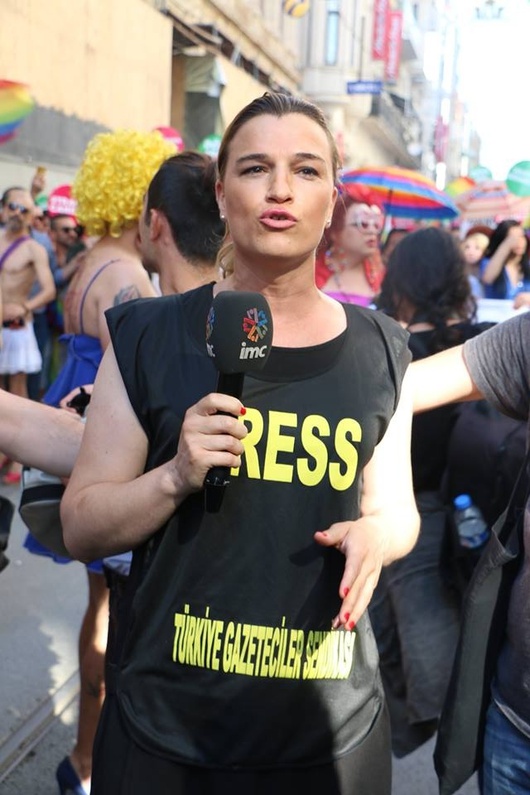 Dressed in a long green dress and denim jacket she adds: "I do everything I can to not stand out in the street, on the bus or anywhere when I'm outside. I don't wear lipstick and wear loose clothes, whereas I would like to wear make-up, show my legs, dress in heels, feel sexy and feminine."
Michelle discusses the daily remarks and glances she attracks in the street. Recently, while she was feeding some stray cats near her house, a child spat in her face. "I went home crying, washed my face, and returned to feed the animals. I don't want such experiences to prevent me from doing what I find important."
In Turkey, verbal and physical aggression against trans women is common currency. Michelle recounts her nightmare experience in 2006 when the police entered her home without apparent motive and took her to the station. There, she was tortured and raped before being thrown out onto the pavement.
In other cases, similar violence has led to murder. Our first scheduled meeting with Michelle was cancelled after the murder of one of her friends. If a suspect has been arrested, Michelle is still awaiting confirmation of a sentence. Discrimination against trans people is also present in the judicial system. Judges can apply the mitigating circumstance of "strong provocation" to violent crimes committed against the trans community, reducing the sentencing of the accused.
"This society is hypocritical," explains Michelle. She uses the example of Turkish judgement towards trans sexual workers, even though their services are highly coveted.
"We live in a society that refuses trans women," says Michelle, reasserting that above all, they are women. In Turkey, trans women are often discarded by society, perceived as perverse or disrespectable people. She explains that society sees their decision as a rejection of male identity; refusing to be a man by becoming a woman is viewed as treason towards masculinity.
She believes that James Brown's song It's a Man's World accurately describes the prevailing patriarchal system. "In Turkey, the state is male, justice is male and the media is male. The male identity has become a sacred institution."
A report by Michelle Demishevich for her former TV channel, IMC TV.
"I changed everything in my life, except my profession"
In what Michelle refers to as her "former life" she was also a journalist. "I changed everything in my life, except my profession," she explains. "I realigned my heart with my body, but my journalistic talents are still there."
When she left her birthplace of Izmir and arrived in Istanbul in 1999, she was not welcome in the newsroom. For seven years she worked as an artistic assistant in night clubs, later a manager and administrative employee.
After having worked for the Turkish chain IMC TV for nearly two years she was dismissed as a result of a "change of direction". The reason for her dismissal remains vague. Michelle works today as a freelance journalist. On Facebook and Twitter, she shares daily articles testifying to violence against women, the LGBT community, and Kurds. She fights for the rights of all marginalised and abused individuals.
The journalist criticises the over prevalence of men in media. "In Turkey, the media belongs to men. Have you seen a woman CEO in the mainstream media? That doesn't exist here." Although the situation has slightly progressed in Turkey, Michelle describes female journalists as too often confined to "women's" issues or working for less renowned papers.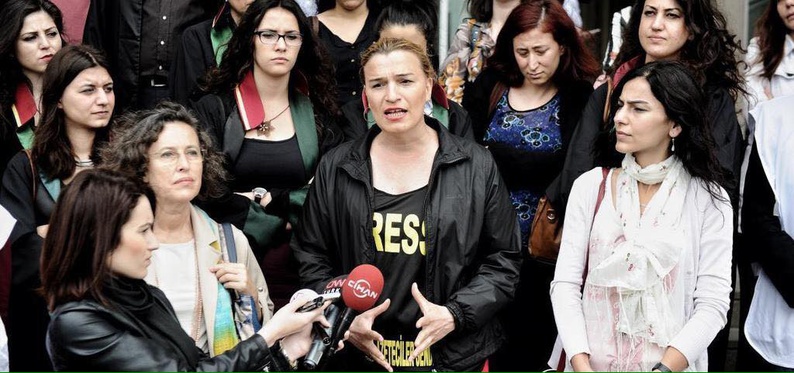 With her characteristic outspokenness, she describes Turkish journalism as nationalist, racist, transphobic and sexist. According to Michelle, newspapers rarely report on the murders of trans women in the country, and when they do they do it badly. She often reads articles that mention the names of murdered trans women, while stressing that their chosen names are pseudonyms. In doing so, journalists deny their identity and, in Michelle's view, kill them a second time.
Michelle hopes to change the male-orientated language of the media. She doesn't hesitate to contact Turkish publications when she reads transphobic news reports in their pages, but her letters too often remain unanswered.
Today, she rarely dreams. She simply wants to live her life without being the object of daily verbal abuse, to be able to hold her girlfriend's hand in the street without feeling concerned or ashamed. Her will to fight society's hypocrisy is infallible: "I could die or fall victim to hate crime, there is always this possibility in my life. But I do what I do to pave the way for other Michelles."
---
Interview translated from Turkish by Muhsin Doğu Yüceil.
---
Mind the gap presents #Sheroes, a series of portraits about young people who advocate gender equality and campaign against discrimination.
---
Mind the gap: Changing the conversation about gender equality.
Translated from Journaliste trans en Turquie : « Cette société est hypocrite »