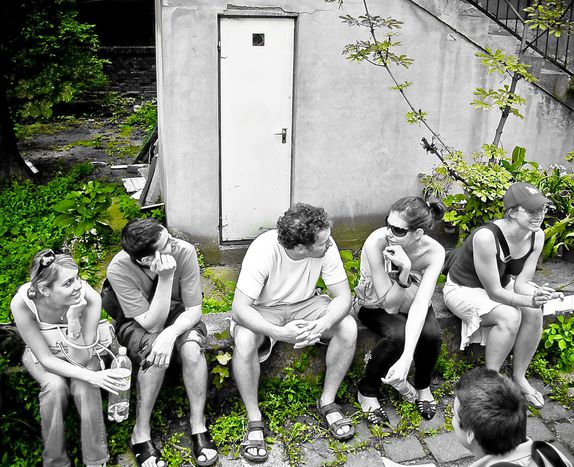 Touring my city - the real Budapest
Published on
Tour of the eighth district, Józsefváros, in Hungary's city centre
Armed with bottles of water, about a dozen people gather on the stairs of the national museum, one of the most romantic meeting points of Budapest. As I approach, I realise that like me, they are participants of Beyond Budapest, a special guided tour that departs from here every Saturday morning.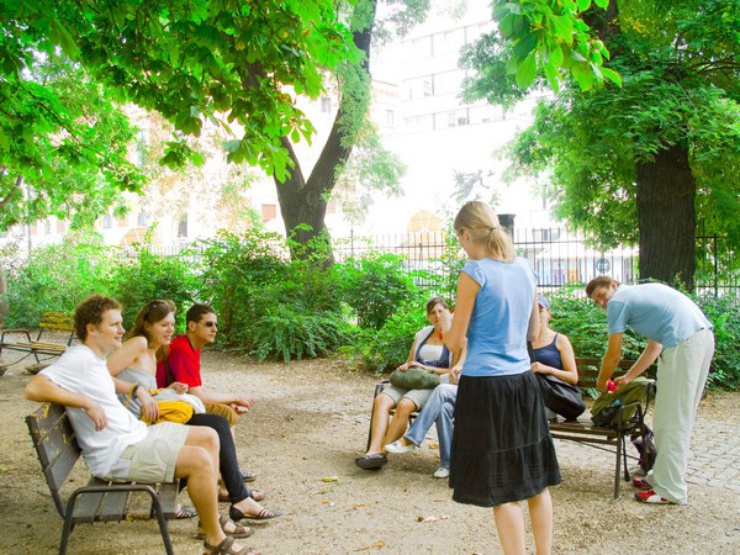 It's quite hot, so we start the four hour walk in the museum's park, with everyone sitting on a bench in the shadow of the hundred-year-old trees. Manó Domján and György Baglyas, our guides today, do not have an easy job. Although there are a majority of Hungarians in my group who ask many questions, there are some foreigners too. With the help of a home-made timeline and witty anecdotes, the guides recall the most important stages of the country's history in five minutes.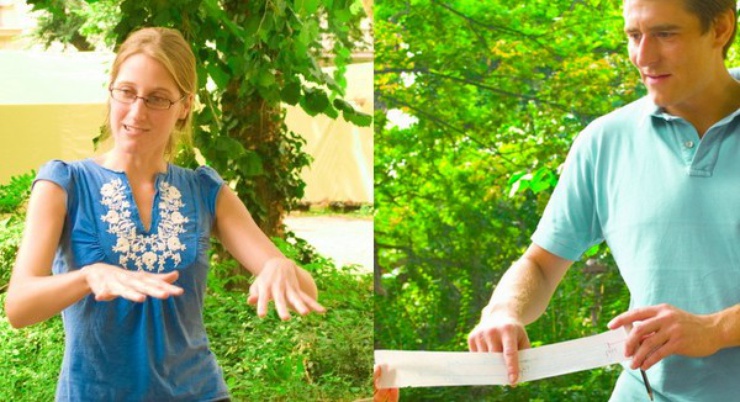 The deal behind Józsefváros
The young social worker graduates have managed to launch what they call the 'most promising business of 2008'. 'It began in 2006 and 2007,' explains Gyuri. 'A foreign friend of mine was spending a couple of days in Budapest, and asked us to show him our favourite places of the district where we lived at the time. He enjoyed the walk so much, that I got the idea of making a business out of showing the values and wealth of this part of the city; it had been unfairly hidden from other tourists over the past decades.'
The eighth district of Józsefváros can be divided into two parts: there is a so-called 'palace-district', and a poorer, slum part on the other side of the Grand Boulevard. According to the income per capita, it is still one of the poorest parts of the capital of Hungary. Mainly Hungarians, gypsies, Slovakians and Chinese people live here. 'Many think it is a ghetto, but that's completely wrong. I would call it a slum,' Gyuri says.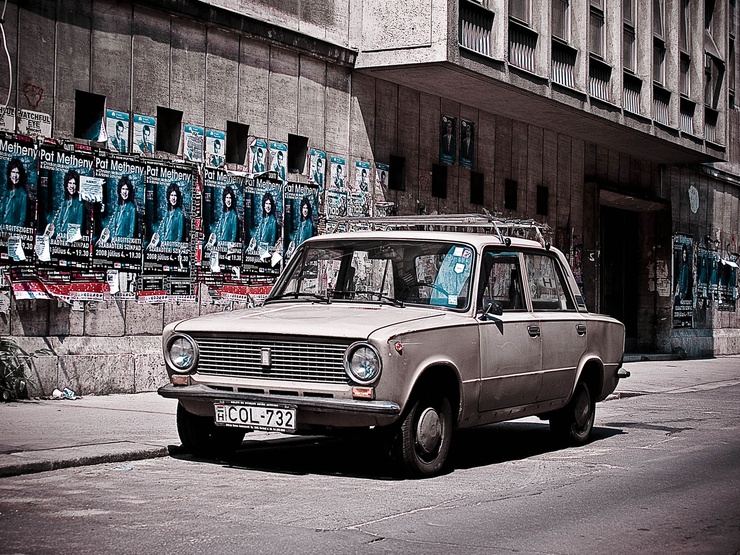 Budapesters learn
One reason behind the bad reputation of this area is the lack of public security. Despite an improvement in cracking down on crime, the district is still associated in people's minds as being dangerous. Another reason for having been pushed to the background - when it comes to flat-hunting for example - is the high ratio of the Roma population living there, despite ongoing rehabilitation. 'It is our mission to change the reputation of this neighbourhood,' continues Gyuri. 'We want to make different cultures meet, showing beautiful but 'non-touristic' places and a friendly atmosphere.'
The tour can teach Budapesters a thing or two as well, as Piroska, a Hungarian girl who has joined her Swiss friend for the tour, explains. 'I am a tour guide myself, but I have learnt a lot about Budapest during this half-day tour.' Her friend Davide from Switzerland adds that he prefers this way of discovering a city, because 'you can learn more here than in course of an ordinary tour.'
I begin to feel uncomfortable; it is hard to openly admit that I have a kind of superficial knowledge of my own city. I have spent my entire life in Budapest, and after a four hour walking guide tour, I feel like a foreigner, no different from the American girl standing next to me. 
Hungarian South Park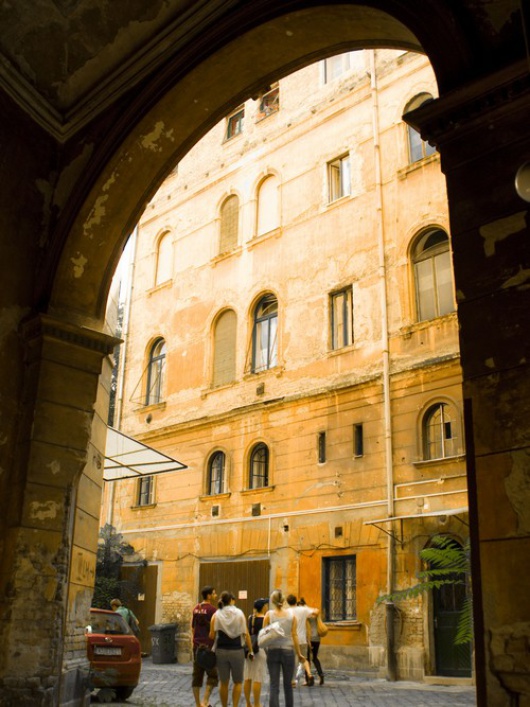 Most cities have statues or fountains; we have plaques. They act as small commemorations for almost every important or slightly important celebrity. Most are interesting; if you intend to become acquainted with the hidden secrets of this city, keep your eyes peeled. That's what Mano and Gyuri have done since they fell in love with a district nicknamed 'Nyócker', as inspired by Áron Gauder's 2004 animated film of the same name. 
As the tour continues, you never know what's next. You go from hearing stories about the whimsy and eccentric life of two rival liquor-making families, to having a local lady gatecrash and begin to relate anecdotes about tanks stationed in front of her house during the 1956 revolution. She even invites us into a beautiful hidden and sweet-scented garden in the courtyard of the building in front of us, pointing out it is the home of Nobel prize-winning Hungarian physician Albert Szent-Györgyi. In another hidden garden in the atelier of painter Ilona Szűts, we are treated with fresh fig feast picked from her own tree. 
A short presentation on the union of the formerly two separated parts of Buda and Pest, and we go on to discover phoning angels on the façade of the former telephone broadcasting factory, and a hundred-year-old blacksmith shop near the national museum. I've passed that shop several times, and always thought that it was an abandoned and forgotten place: it has now become a lively part of my city. I finally get an explanation (thank God) as to why all the public buildings are painted in canary yellow; I would be more than pleased to give you the answer - but you have to find out by yourself! Meanwhile, the interactive tour on the Beyond Budapest website allows tour group members to tell their own versions of stories about the buildings and streets surrounding them.