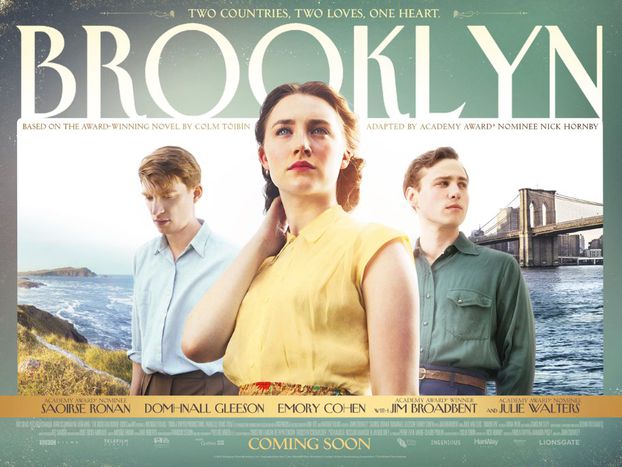 Torn between two worlds.
Published on
Review of the movie "Brooklyn": A young emigrant has to decide between her Irish roots and her new home in New York City. A story of love, family and - most importantly - the concept of home. 
The story of a young Irish woman emigrating to the United States in the 1950's in search of a job and a better life. When she finally finds both, she is sucked back into her old surroundings.
"She thought it was strange that the mere sensation of savouring the prospect of something could make her think for a while that is must be the prospect of home."
The author of the novel that the movie is based upon – Colm Tóibín – was born in Enniscorthy (just like the main character Eilis) in 1955 and often writes about Irish society, emigration, living abroad and searching for a home. He published "Brooklyn" in 2009. As the quote highlights, the story is all about a young girl looking for a place to call home. Her suffering in the beginning is a silent pain that she tries to hide. When she fails to hide her home sickness she pulls herself together and tries to approach her new situation in another way. And then she meets Tony. A young Italian plumber with a big family. Here Eilis gradually starts to find her place. But disaster strikes, her sister back in Ireland dies, leaving their elderly mother to care for herself. Eilis is torn between her desire to continue her just established life in Brooklyn and the duty towards her mother and feelings of guilt toward her dead sister. So she goes back.
When Eilis Lacey reaches her home town, much has changed. And still she falls back into old habits and picks up her old life style right where she dropped it when she left for a new world.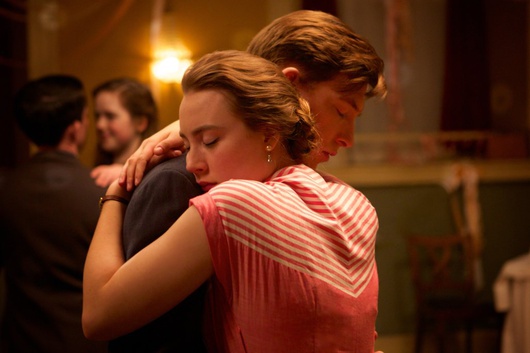 She even kind of falls for a local, beautifully played by the luminous Domnhall Gleeson. She gets lost in her search for home, is torn between two worlds and two men. And this is what make Tóibín's stories so full of an inexplicable, unidentifiable longing. A longing for a home that does not exist anymore. What should she do? Pretend to never have left and fall back into Irish society or should she accept the fact that she has become someone else during her time overseas and cannot rejoin the dynamics of that little Wexfordian village?
Before I get too philosophical, I have to talk about the impressive talent that has gathered as the cast for this movie. Obviously, Saoirse Ronan has delivered one of her best performances so far, especially in the context of Ronan's personal attachment to the movie. Eilis' story in a way resembles her own. Ronan was born in the Bronx, another part of New York City, and moved to Ireland with her Irish parents when she was young. Her parents actually got married in the Brooklyn town-hall in a quiet ceremony, very similar to the wedding of Eilis and Tony in the movie. Ronan therefore is quite protective of this work and was anxious that it would be well received – foremost by its Irish audience. Fun fact: As a sentimental token she asked to keep the green swimsuit in the movie.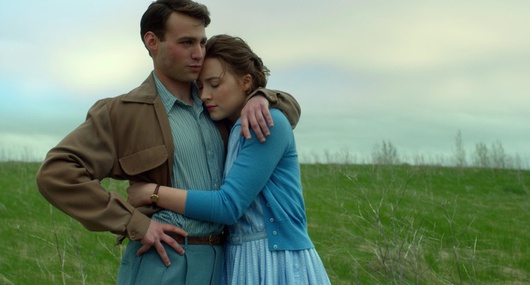 Emory Cohen – he plays Eilis' eventual husband Tony – impressed me hugely, especially because he was such a fresh face while nailing this part. He is rightly compared to the likes of Marlon Brando, not only physically but also in ability of taking on a playful yet deep character. He plays Tony with such honesty and vulnerability that only one look from him will make you swoon. A true cinematic hero from the 1950's. Only that Cohen was born in 1990. Looking him up, I discovered that I had actually seen him before. He plays Bradley Cooper's disturbed son in "The Place Beyond the Pines". I remember how impressed I was by his and Dane DeHaan's (Ryan Goslings movie son) performances. Both so young, yet such depth in their acting. He is one to be followed. I believe he will accomplish great things.
Another shining star of this piece of art is the brilliant Julie Walters. Making this movie was – also for her – a heartfelt and close-to-home experience. Her own mother was an Irish woman and so it became a journey to her personal past. Knowing this, it really makes sense how on point Walters is in her character depiction, as well as her accent.
The beauty of the film is how it captures the quietness of Tóibíns novel. At this point, Nick Hornby has to be acknowledged as a superb screenplay writer. He adapted the book and created the foundations for this very moving film. The fact that Hornby is the husband of one of the producers, namely Amanda Posey, only attests to the fact what a small but ambitious piece of work this is. Winning the BAFTA as Best British Movie was certainly well deserved.
One question remains. Does Eilis return to Tony? You have to watch the movie to find out how she decides, but know this: In the end we all have it in ourselves to create a home that accomodates our desires, disappointments and dramas of the everyday life that we are living. That is what I took from this.