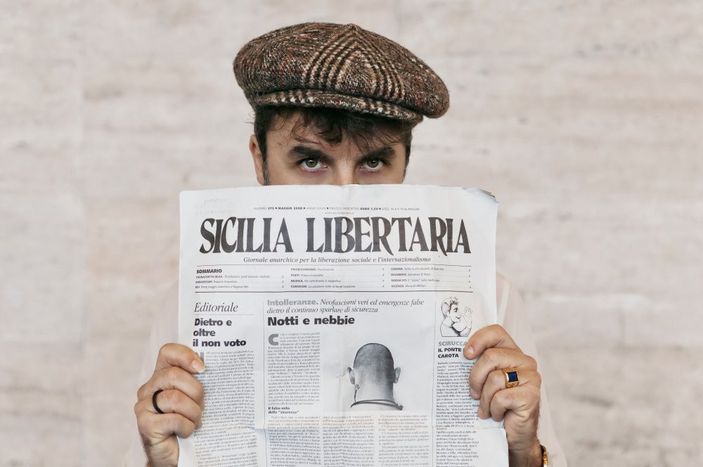 Tony Canto, soundtrack to Italy's 150th birthday
Published on
Translation by:
AdeleK
He is a writer, composer, singer and musician, but above all, he's Sicilian. He's a cross between Ulysses and Don Quixote, but his feet are planted firmly on the ground. Canto's latest album 'Italiano Federale' is a kind of revolutionary manifesto which is music to the ears, hearts and minds of those who listen
Late this evening in Rome, Piazza Caprera is a haven of peace, where the only sounds are those of two friends laughing as they heckle one another, the spluttering of an old vespa and the clinking of coffee cups and wine glasses. The orange blossom trees in the adjacent garden are in bloom and exude their sweet perfume. But close your eyes, and you'll find yourself in a village square, right in the heart of Sicily. Tony Canto is sitting at a table outside a café, confidently sporting a beret, having arrived directly from Messina, Sicily's third largest city. Sporting cotton trousers, a linen shirt and braces, he has the look of an entertainer about him. The self-confessed songwriter is calling on the Italian capital as part of his tour for his latest album, Italiano Federale ('Federal Italy'). Produced by the independent Roman label Leave, Tony Canto's third album follows Il Visionario (2008) and La Strada (2009).
Federal Italy
Tony Canto explains that the title of his latest album Italiano Federale is the expression of a contradiction, an oxymoron; to say 'federal Italy' is like talking about cruel kindness or false truths. 'It's an ironic take on politics, emphasising the absurdity of what one would have us believe,' he adds, in a voice that is calm, posed and deliciously coloured with Sicilian intonations. In Italy, a country divided between north and south, the term federalism is associated with the political agenda of the northern league ('Lega Nord'), which is a party extolling the virtues of regional autonomy. 'They've been saying the same things for twenty years now. No-one believes it anymore,' he observes lucidly, with much amusement and a touch of cynicism.
His record is all about this absurdity and these contradictions. As we speak, Europe is splitting hairs over the validity of humanitarian residence permits within the schengen area. Hundreds of migrants are disembarking along the European coast in Lampedusa, an isolated spot just within reach of Sicily. They are bursting with hope for having arrived at the promised land. The scene is reminiscent of Italians during the great emigration, who abandoned everything to set sail for the new world. 'I wanted to recreate this character,' Tony Canto tells me, showing me his album cover. 'Look, he's sitting on a cardboard box just like in the olden days, when the emigrants would sit along the quays waiting for their ships to leave. But instead of heading for America, this character is going to Brescia, in the Lombardy-Venice region. What's more, I've actually pushed the concept a little further...' With a malicious smile, he pulls out the booklet that goes with the disk: it's a grainy violet cover with Italian federal passport ('Passport Italiano Federale') written on it in gold inscription. 'You see, these days it's as if you needed a passport to travel from one region to another within Italy.'
Schengen and homelands
Canto is categorical about schengen; he agrees with travelling freely but not to leaving one's homeland. 'I'm not going anywhere,' he insists, echoing Nun mi ni vaju ('I Won't Leave This Place'), one of the Sicilian tracks from his album. What Canto really means can be heard in the lyrics of another lead track from the album, Il Superstite ('The Survivor'). 'Sicilians moan a lot,' he explains. 'They are constantly complaining that nothing works and that everything is difficult. Sicilians abroad may pretend that everything's alright, but most will say without a doubt that when they're old they will return to Sicily, their homeland, to die.' He stares into the distance and is lost momentarily, before continuing with his eyes shining. 'The Sicilian abroad is Ulysses longing to return to Ithaca; he's a Don Quixote. The superstite or survivor has succeeded in discovering the ironies in life and can laugh at life's daily troubles. In this sense, the superstite is me.'
'Sicilians abroad may pretend that everything's alright, but most will say without a doubt that when they're old they will return to their homeland to die'
For Tony Canto, being both a musician and singer-songwriter is a bit like being a 'carbonari', the members of the nineteenth century secret society in Naples who played a part in the unification of Italy. 'My record is at heart very 'garabaldian,' he admits, referring to the Italian hero associated with the 'Risorgimento'. However, Canto swears that it's purely by chance that his album was released just days after celebrations began for the 150th anniversary of Italy's unification in 2011. By being a bit carbonari and a bit global siculo ('global Sicilian'), Tony Canto is an unseen revolutionary on the landscape of Italian music. He plays both the guitar and piano and writing comes naturally to him. He's collaborated with the artists Toto Cutugno, Joe Barbieri, Mario Venuti, Patrizia Laquidara and Alessandro Mannarino as a fellow musician, writer, arranger and producer.
In the past, Canto has too often withdrawn himself backstage, but with this third album he lets rip and holds nothing back. He demonstrates with words and melodies just how much he's grown over the years. Italiano Federale ends with the track Ti amo Italia ('I love you Italy'), which he describes as 'a hymn to the contradictions inherent in this country. In this song, I refer to the fact that on the one hand, Italy will send soldiers on peacekeeping missions and boast about exporting democracy. Yet at the same time, Italy will preach hate and intolerance at home.' He adjusts his beret and continues. 'Italy is a country full of contradictions. Yet in reality these contradictions have been brought about by the media because, fundamentally, Italians are just not like that.'  Night has fallen in Piazza Caprera. This twenty-first century minstrel must continue on his way. With a guitar slung over his shoulder, Canto heads off to entertain a small crowd in the capital. He takes his entire love for this country with him, an Italy which is so beautiful and contradictory at the same time. 
Images courtesy of Tony Canto
Translated from Tony Canto : « Oui, je suis un sicilien »