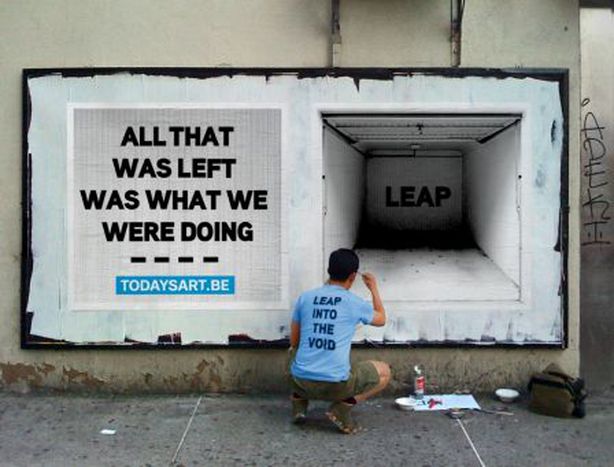 TodaysArt hits Brussels
Published on
By Lisa Kittel TodaysArt Festival took its first tentative steps in Europe's capital last weekend - a brand new encounter with hypnotising and high quality art The TodaysArt Festival had its premiere in Brussels last week-end. Centred around Gare du Midi, Brussels main train station, the festival showed up with a lot of performances, workshops and artistic presentations.
Everyone seemed to enjoy themselves, and although there is still some room for improvement, visitors are already looking forward to next year's event.
Friday night in The Egg Theatre: A giant screen, like in a dream: The images merge seamlessly, apparently but objectively logical. The spectators lose themselves in hypnotical sequences of steel constructions, moving people and blurred forms. These are encounters which transport a feeling rather than a story. The same happens with the accompanying electronic-experimental music which doesn't cheer us up with melodies but with atmospheric sounds.
Sound and Vision
Same goes for Friday. Thursday's highlights were based on mesmeric audiovisualization and sound, for example Murcof and AntiVJ's Simon Geilfus. They put on their audiovisual live performance featuring mesmerizing stage design, composed of three large screens to create a three-dimensional immersed experience. Elsewhere, Umeda, leading figure of Japanese avant-garde showed a combination of images and sounds, the result of lengthy experimentation on his computer. He appears as a living lightning conductor in a whirl of visual and musical agitation. He is almost always dressed in a black T-shirt and pants, and stationary, shaken by the occasional undulation or spasm. Like some electronic zebra he is covered in constantly changing black-and-white streaks, then suddenly caught in a glare of light as the sound erupts.
Some are immediately fascinated, others are a little more distanced: One should be prepared to get involved in the art presented at the TodaysArt festival. In smaller rooms of The Egg Theatre, there are different similar projects which put the visitor in a weird humour, making them aware of details like sound, natural beauty or experience space and material: A fat air snake made of insulating material lies in the room. No descriptions. Is this art? It looks firstly like a banal object put in the middle of the space as a "little-wonder-of-the world-attraction", which means a game of air, drapery and forms. On second glance, it makes the visitor aware of some peculiarities of himself: That one has the drive to touch, feel the resistance and loves it just to see how forms change. A big white bloated igloo also invites to discover the interior. On the inside hang hot-air-balloons from which droop magnetic tape. With this again, the visitor can create sounds by grinding it against a metallic surface. The principal fascinates, the sequence of the tones is rather unpleasant. Maybe some explanations, and not just on the website, would be helpful to get behind the artistic backdrop of some oeuvres. On the other hand: art is art, right?
Saturday. together with Nuit Blanche Brussels, the TodaysArt festival offered seven different parties. BaconHead inspired dance and music lovers at the festival meeting point with imaginative electronic beats and good changes of rythm. They were followed by dÉbruit where Hiphop meets Congo, Tunisia, Jamaica and LA. Known for doing regular gigs in a Congolose basement bar in Paris, dÉbruit is often billed alongside the likes of Modeselektor, Daedelus and Dabyre.
Room to improve?
In the Quadrilatère, right underneath the rails of Gare du Midi, techno, house and drum'n bass made us forget a stressful working week.
One of the volunteers working at the festival says: "I noticed very good, inspiring points here but also some negative. Sometimes I found the organization lacking, or for me the common direction of the different art presentations wasn't that clear. But then, there are a lot of joyful moments with qualitative music representations. I also really appreciate the enthusiasm of the team here which wants to establish the festival and are working hard for it."
It must be said that is only the first edition in Brussels. Before it only existed in The Hague. Nicolas Wierinck, artistic director of the TodaysArt says: "We can take a positive stock with regard to the challenge to launch an art festival in the quarter around the Gare du Midi. There is still a lot to do but now we are more familiar with the locations, their potential and their restrictions. As for the artists, TodaysArt is a big launching pad, also because our international network is well developed. To be in the programme of TodaysArt is a label of quality." A lot of the artists belong to the ECAS und ICAS network which adopts an alternative set of criteria to measure the success of their endeavors, which favor critical reflection and innovation over profit. Most of the members of ICAS have spent years crafting unique festivals and events.