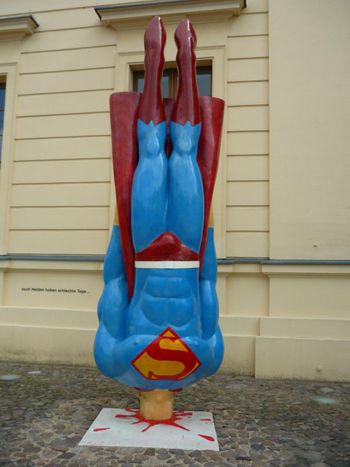 To be or to be in Berlin: poor but (creatively) rich
Published on
Money and the crisis are not on the agenda for Berliners who can focus on different things, such as art. 'Being poor is not cool, but OK,' is the word on the street. It all looks very promising for someone from Bulgaria, the EU's officially poorest country, where a lack of money, unlike cheap glamour, can never be a virtue
In the German capital, relationships aren't based on money. The most common currency used is one of free spirit. Uwe Gössel brings together young theatre professionals from twenty-five countries during the Theatertreffen festival. At a former factory, the Uferstudios on Uferstrasse in western Berlin, he pinpoints the city's specific atmosphere of informality. 'It's hard to find a true Berliner who was born here,' he says, a foreigner in Berlin himself.
'What's important is to find the community in which you feel you fit best'
'The city is hospitable to people in search of the truth, or maybe of themselves. There are all kinds – freaks, artists, homosexuals, students, writers and musicians. There's room for everyone. What's important is to find the community in which you feel you fit best, and then you'll have everything you need to develop your ideas. You will get the access password.' New Berliners usually lose contact with their homelands and transform themselves into peculiar travellers. 'Berlin is a place of hope,' says Uwe.
Berlin: poverty aesthetic
Yet not everyone succeeds here and some people eventually leave the German capital. Emil Doesn't Drive made it in his own 'Berlin' way. Nearly seven years ago the DJ left his native Bulgaria for Berlin 'and the music'. We meet at his day job; he is a barman in a café across Alexanderplatz. Large windows preserve a fish tank feeling - we're giving way onto the TV tower, but are protected from the fuss around it. Emil Angelov can easily be labelled a 'successful' DJ; his schedule often brims. He wears neither labels on his clothes nor bears them in his mind. 'The less you possess, the more normal and natural you are,' he opines from his comfortable semi-sphere, eighties chair. Disco music sounds in the background.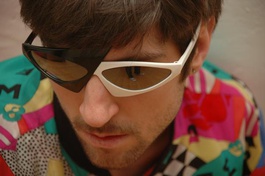 Emil is part of Berlin underground circles settled in areas such as Kreuzberg and Neukölln. 'When I came here, I lived in one of the poorest neighbourhoods which has a great mixture of different people,' Emil explains. 'Over the years I started to feel at home there. I dress up trashy. I don't reflect much on how I look.' The residents of these areas live in a world without television and go from party to party, from club to club, visiting exhibition by exhibition. It doesn't matter what happens around them - they create art, study and cherish their freedom. Most are unemployed out of choice. 'I don't think of money,' objects Emil. 'People here live on welfare allowances, but not because of the crisis or because there aren't any jobs.' His theory is that artists live on the edge because it forces them to be creative. 
Socialist, squat irony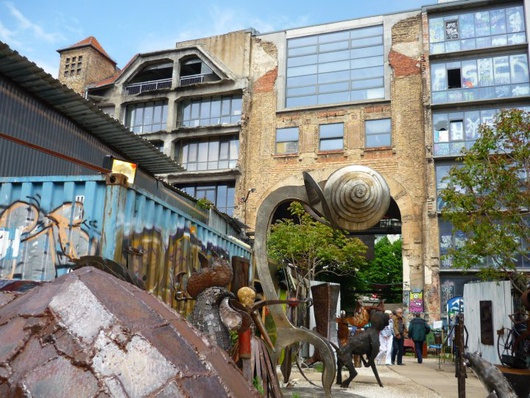 Berlin is certainly a city where you can afford this in the social and economic scheme of things. Its poverty is aesthetic as well as ironic: the more inexpensive something is, the nicer it is. Socialist memories are part of this irony; its remains are everywhere, in the abandoned public buildings where numerous artists live and work today. Squats like Tacheles have been transformed into improvised art centres. All the floors and the yard of the former department store in Oranienstrasse in the Berlin-Mitte district are inhabited by works of art. The location has become a popular tourist destination; visitors most frequently are taking home their own snapshots, rather than a purchase of something by the artists. Stylish boxes for donations made of ex-gas cylinders spring up everywhere, asking for a token of support of a euro (80p) or so.
'The first thing you would be asked in Berlin is what your ideas are - not how much money you have,' says Martin Jankowski at the Café WOHNZIMMER near Prenzlauer Berg. He knows he is poorer than the average guy from Bavaria, but it doesn't bother him. The east German writer, who has lived in Berlin for the last fifteen
years, manages to make a living. 'The cost of living is low (1, 000 euros or £822 per month), but spirits are high,' he says. Jankowski was part of the Monday demonstrations which led to the fall of the Berlin wall. Two decades on, he explains that Berliners don't pay attention to the crisis because they are used to the economic transition since the fall of the Berlin wall. During the communist times, Martin was a performer and songwriter, which was a a safer way to express his thoughts against the regime. 'I know what real poverty means,' he finishes. 'I've travelled a lot in the socialist bloc. You couldn't possibly experience your eccentricity somewhere like Munich for example. People would judge you.' 
Second-hand tolerance
When Eva Gaigg lived in Munich she felt a kind of social tension there. That's exactly what makes Berlin different from the rest of Germany, where the Austrian actress settled instead. 'Berliners are tolerant,' she says, on a break at a very cheap fast food cafe near Prenzlauer Berg, near the theatre where she is rehearsing. 'They do not concentrate much on appearances.' It's something that can be seen in Berlin's 'careless fashion', which popularly recycles second hand goods. You can find elements of this it in the interior of its cafés with their second hand furniture, old posters and lace tablecloths from somebody's long forgotten youth.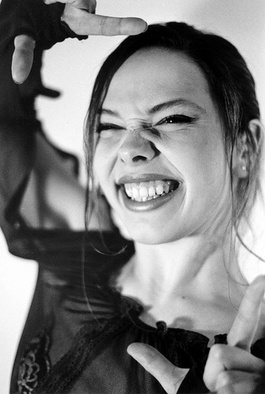 Poverty is an element of this city, and it's also a matter of proportions. Berlin is rich in comparison to the Bulgarian capital of Sofia, where Bulgarian-German painter Mario Gerhard Lischewsky spent most of his childhood, and gives the last word. 'Imagine Berlin as a picturesque composition where every colour is dependent on the other. This would all seem too colourful, but all the nuances stick together in a perfect agreement,' he says at Café Tasso, a cosy spot near Frankfurter Allee, a stone's throw from where he was born. The eastern part of the city and its gigantic, worn out buildings certainly are a taste of the past. Mario confirms that Berliners are more concerned with their inner, spiritual wealth. That is how the 'poor, but sexy!' definition of Berlin, which the mayor himself coined, gradually became the slogan of the city. That's also a cliché that Berliners are going to break sooner or later. In the end, it's good taste which reshapes poverty in Berlin into being a valuable experience.
Many thanks to Rozalina Laskova, Vera Trajanova and Sergio Marx from the cafebabel.com team in Berlin
Read this article in Bulgarian on the official blog from the cafebabel.com team in Sofia
Images (in chronological order): main homepage ©Camelia Ivanova; Emil Angelov ©myspace.com/emlilime; Tacheles squat ©Camelia Ivanova; Martin Jankowski in 2008 ©AndreKarwathAka; Eva Gaigg by ©Mike Gaigg/ evagaigg.com