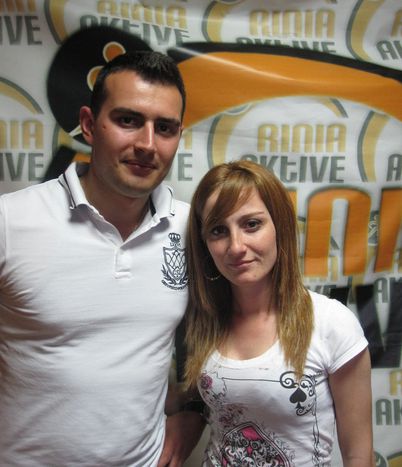 Tirana's mobile, open, creative new generation has arrived
Published on
Translation by:
Lucy Knight
With its vintage decor, tartan wallpaper and lounge music, Radio could be any trendy bar in Paris, London or Berlin. But this is Tirana, a city of 700, 000 people and the capital of Albania, a country synonymous with poverty in the minds of most westerners. Yet this lack of interest in the land of eagles has not held young Albanians back from opening up to the outside world
Since December 2010, Albanians no longer require visas to travel in the fifteen countries of Europe's schengen area. However, under pressure from France, Germany and the Netherlands, the European commission has reserved the right to revoke this decision if it is 'abused'. Erion, 26, points out the illogical side to this fear of illegal immigration: 'The government has launched a campaign to encourage people not to exceed the permitted limit of ninety days, which is ridiculous. No one wants to live like an outlaw!'After six years in Rome studying cinema and television, he returned to Tirana in October 2010. For several months he has been working as a television editor for a new Albanian channel. 'In Italy, I was reasonably well paid, but I prefer to work here. Human relationships are more straightforward and I feel less like a mere cog in the editing system.'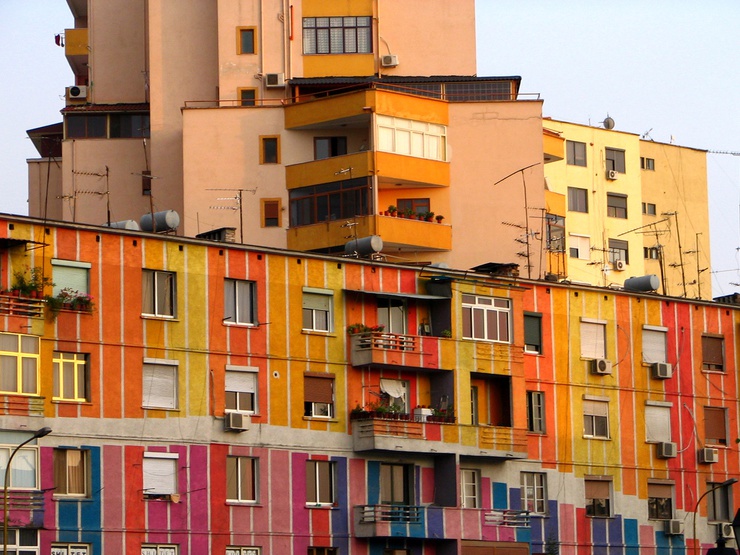 Work, family, homeland
Many young Albanians like Erion left to study at European universities. Some have settled down in their adopted country, but many have come back. 'In the 1990s, young people were just leaving,' explains Ermira Danaj, a young university lecturer who teaches sociology and feminist theory. 'But since 2000 they have been returning in larger and larger numbers.' After having completed her high school diploma, she herself left to study in Lausanne in 1994. It was not really her own choice, she admits. 'My father was a journalist and had written quite a few articles about the government of the time. It was made clear that it would be difficult for me to study here.' Her eight years in Switzerland was a mixed experience. Although she blossomed intellectually, there were also prejudices to face. 'To fit in, I had to reject a part of my Albanian identity. Towards the end, I was asking myself why I had to work as a cloakroom attendant in a nightclub when I could go back to Albania and work in my own profession.'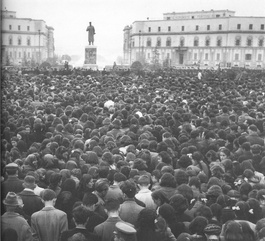 Tirana has changed in the past decade. Formerly frequented by communist party apparatchiks, the upmarket Blloku neighbourhood has more recently become a meeting place for the young and stylish. The Radio bar is one of its most well-known hangouts, and has also seen no shortage of political discussions. Yet in spite of the transformation of the past ten years, young people still face serious problems in terms of jobs and housing. In a country where almost two-thirds of the population is under thirty, there are few who can move out of the family home. Often, it is family and friends who perform the role of the job centre.
Informal economy or Albanian tragedy
Bora, 23, is optimistic. 'I believe that we are at a turning point in our country's history. Either we accept the current situation, and the denial of real democracy, or we make our voices heard.' The young architect came back to Tirana last summer, after spells of studying in Canada and Argentina. Now, several months after her return, she is setting up a collective with fellow architects, working on an urban development project for the Agenda institute and even finds time to sing in a group.
'This city offers real opportunities, but you have to create them yourself'
Now Bora is considering further studies in Spain and thinks she might split her time between Tirana and another European city. 'After six years away, I needed to come back to see whether I could envisage a professional future here. Tirana has this atmosphere, this easygoing lifestyle which allows you to do a variety of things at the same time.' Bora does not hide the pride she has in her country. 'Many of us have come back wanting to help this country, which is in a transitional phase. This city offers real opportunities, but you have to create them yourself.' It's also about going beyond the informal economy. 'For example, you may be paid in cash. Or to obtain funding for a project, you might have to collaborate with a businessman that you know is involved in shady dealing. What can you do? If you accept, that ends up becoming normal. This is the tragedy of many Albanians.'
To begin to answer the questions being asked by young people, you must go to a pretty yellow townhouse in the centre of Tirana. This is the headquarters of Rinia Aktive (Active Youth Forum), an apolitical association which aims to provide a platform for young Albanians. 'The problem is that young people are too passive here, they don't get involved enough in public affairs,' says Kostalda, 21. Founded just two years ago, the association says it has 17, 000 members and has already set up dozens of initiatives. The association puts pressure on politicians to encourage them to take young people's interests into account. It also organises orientation roundtables in schools and promotes exchanges with young Roma. Beyond its collective dynamism, Rinia Aktive is establishing a five year strategy and attempting to strengthen young people's influence through awareness seminars and media training sessions, all whilst remaining politically independent. With disarming enthusiasm, Kostalda explains that she wants to go into politics but 'not yet, only when things have changed'. In spite of their apparent nonchalance, Albania's youth are certainly more mature, open and determined than the older section of society and political class in charge of her destiny.
This article is part of cafebabel.com's 2010-2011 feature focus on the Balkans - read more about the project Orient Express Reporter and read articles from the mission here
Images: main (cc) Kmeron;  architecture (cc) Davduf; Stalin meet-up (cc) Only Tradition/ all courtesy of Flickr; Rinia Aktive © Simon Benichou
Translated from Tirana : mobile, ouverte et créative, la nouvelle génération monte sur scène