Three visions for Turkey
Published on
Translation by:
vicki bryan
Realism, idealism or opportunism? These three different stances on the Turkey question dominated the international conference "Europe and its borders", held at the Genshagen castle near Berlin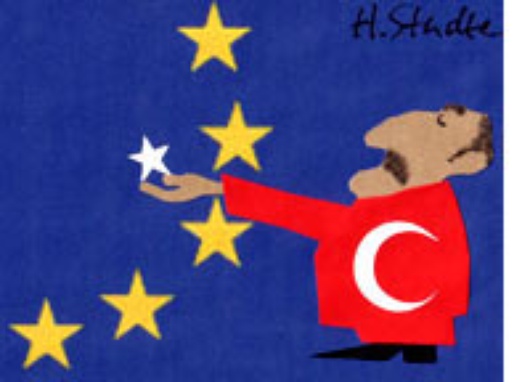 According to Robert Badinter, the French senator and justice minister from 1981 to 1986, the question facing the EU is whether it wants to make Turkey a foreign policy ally or accept it as an internal player. Badinter subscribes to the realistic view put forward by Andrew Moravcsik in his "The Choice for Europe". According to him it is national states that will be making the most influential moves in the future and they will be basing their decisions on economic factors above all else. A split between domestic and foreign policy could therefore be possible.
Realism and the irrelevance of Walter Hallstein
Badinter would prefer to see Turkey as a foreign policy partner rather than as a member of the EU. He said that Turkey's membership would involve the EU in regional conflicts in the Caucasus and also in problems that could arise on the future borders with Iran, Iraq and Syria. Promises made previously are no definitive reason to allow Turkey to join the EU, declared Badinter. The promise made by Commission president Walter Hallstein back in 1963 was not legally binding, nor were any of the promises that followed. He also pointed out that Turkey was not forced into communism or suppressed by Russia, as in the case of the central and eastern European countries that joined the EU on May 1 this year. Neither did he accept advances in human rights and the democratisation of Turkey as valid reasons: as a member of the EU Turkey would be expected to comply with these standards as a matter of course. Finally, there was no real proof that Turkey's accession would bring any economic advantages and could therefore not be used as a "realistic" argument for accession.
Idealism and cosmopolitical Europe
In contrast to Badinter, Gesine Schwan argued for a vision of Europe rooted in idealism - obviously inspired by the works of Ulrich Beck - such as "Cosmopolitical Europe". The division between domestic and foreign policy is an anachronism and trying to distance itself from problems by refusing applications of candidature is merely illusory. Schwan went on to say that as the EU was not founded on military dominance, it has no reason to fear collapse through overstretching itself, a worry that is often aired. On the contrary, the opposite is true – difficult conflicts could be laid to rest in the EU and could be resolved by its tried and tested mechanisms. "It's better for Europe to challenge itself through internal conflicts than to be challenged by external conflicts." In this way, Europe could emerge as a global model for peaceful regional cooperation.
Opportunism and Siberian oil
Former French prime minister Michel Rocard argued on behalf of the opportunistic position. The long-time advocate of the "United States of Europe" has given up his federal vision of Europe in favour of a "European Regulatory State", as described by Giandomenico Majone. This would simply mean a Europe of à la carte politics, without a supranational government, separate from the rule of law. With this minimalist concept in mind, Rocard found it the natural conclusion to argue in favour of Turkey joining for economic reasons as in the Caucasus there are five to six Turkish-speaking countries that have oil resources. If Turkey joined, the EU would have access to not only these resources but, in the long-term, it could also gain access to the Siberian old fields. Furthermore, if European businesses want to compete with Japanese and Chinese companies, which dominate the area thanks to their geographical position, then a transport route through the Caucasus would be of inestimable value. Rocard feels that these aspects are unfortunately being missed from the current debate because politicians and journalists lack a wider strategic perspective. "They should learn how to look 50 years into the future. Geopolitical reflections have no point if they are restricted to a 20-year time frame."
The silence of the Eurogeneration
In spite of Rocard's recommendations, many Genshagen participants were not looking 50 years into the future, but rather at least 50 years into the past. This is understandable: the majority of the speakers will not live to see Turkey join the EU. It would, however, have a massive influence on the political options and restrictions of today's pupils and students. Despite this, the conference seemed to be held along the lines of the Japanese sempai system (seniority principle), whereby the older the speakers were and the more grey hair they had, the longer they were allowed to speak. This must be stopped – let's not let elderly statesmen decide our political future for us. We must speak out, even if the right to do so isn't automatically given to us!
Translated from Drei Türkei-Visionen