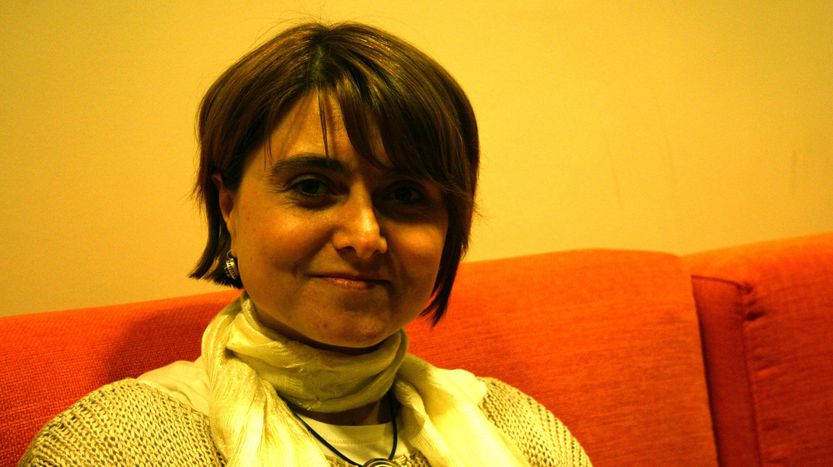 The Turkish theologist who stopped wearing the headscarf
Published on
Her sisters thinks she's ill and will 'get better' one day, her mother is upset, whilst her father calls her his most clever daughter, insisting she did the 'right thing' three years ago. Nuriye Duran- Özsoy's story
'I'm tired of telling people who do not believe the headscarf is God's rule that I'm a person who speaks, laughs and dances like them,' explains Nuriye Duran- Özsoy. The theologist is seated on a red sofa in the lobby of the Rixos hotel in Konya, central Turkey, the city where she grew up, and she is tired of explaining why she decided to take the headscarf which she has worn she was thirteen off. It is well past 11 pm, but she goes over it patiently one more time, her feet tucked under her legs. Her boss had told her to take off her scarf if she wanted to continue teaching. The petite, now short-haired woman wondered why the man, although a practicing Muslim like her, didn't back her up in their common faith.
Questioning the headscarf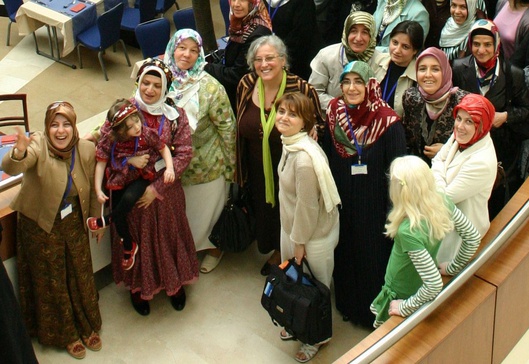 She was head of the Baskent Women's Platform, a role model for practicing Muslim women in Turkey, when she made the decision aged 27. Some accepted her decision but were 'upset for her'. Others cried 'we lost you'. 'I can't change overnight just because I took off my scarf,' she explains. 'I am the same Nuriye as yesterday. One woman from the ministry of religious affairs initially strongly disapproved of her decision, but Duran-Özsoy kept her position at the head of the Platform. The woman later apologised.
Duran-Özsay's rebellious and inquisitive tendencies emerged in university. As a student, her peers criticised her for wearing pink and red bright colours. 'I always liked to wear nice clothes. Some people said it was against the rules of God, but this is their opinion and it is not related to religion.' From 1996, a more 'liberal time in Turkey', Duran-Özsay and her girlfriends began questioning the headscarf as well as women's rights, roles, relationships and attitudes within Islam. 'In the past, it was always men who taught religion, but now then we started discussing our role in society through a feminine point of view.'
Today's political symbol
In 1998, shortly after this liberal wind of change, the headscarf ban was strictly enforced. Like many of her classmates, Duran-Özsay quit her degree not because 'it was God's rule', but because she didn't accept the authority that was forcing her to uncover. She was unhappy when the current ruling Justice and Development party (AKP), which foreign media generally regard as Islamist, came into power in 2002. The headscarf issue, which is now hotly debated since the government technically lifted the ban in February 2008, was not on the agenda at the beginning of its rule. 'Religious men do not understand our problems. They do not want to hear them. It made me think that God would not want me to have all these problems because of the headscarf.'
In her eyes, the function of the garment has evolved over time: in modern societies, it has become more of a tradition whilst it was a custom in the Arab world at the time the Koran was written. 'It is not God's will to all women today,' she says. In the eyes of Turkish secularists, the headscarf has become a political symbol and a threat to the foundations of the Turkish republic. 'The ban assumes that there is one headscarf and that its meaning is clear,' argues Yesim Arat, a political science scholar from Bogazici University. Yet there are many ways to wear it and women do it for different reasons, be it out of social pressure or personal choice and belief. Either way, the 'covered women are turned into Trojan horses infiltrating the secular republic. Meanwhile the state falls into the trap of authoritarianism, alienating the liberals within the Islamic community and radicalising the illiberal Islamists,' holds Arat.
For Duran-Özsay, it is essential women discuss the issue. 'I think we have to solve this problem as soon as possible; we have to discuss whether the headscarf is a God's rule or not, because most of us are having psychological problems from this situation. We have to solve this as women, and not let men decide for us.'