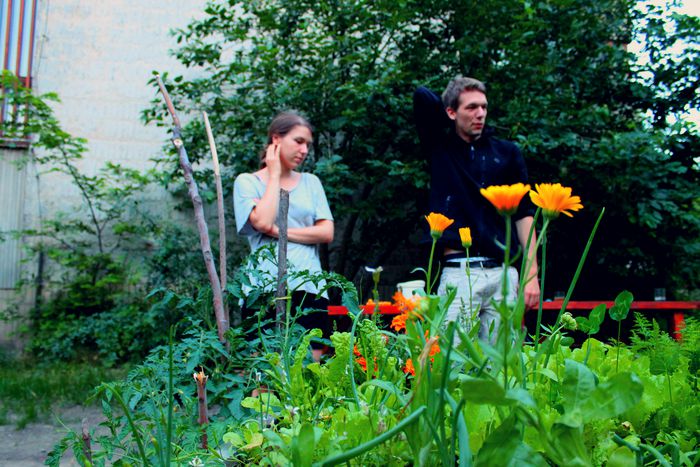 The Secret Garden Of Bratislava
Published on
Contemporary urbanites long for gardens but how to share public space is a lesson that still needs to be learned in post-Communist societies. Sandra and Michal want to give back a lost paradise to the inhabitants of Bratislava and make them realise that they aren't simply passive dwellers but much more and that TV series are only shadows of real life like prehistoric paintings on cave walls.
17 million small universes between the police station and the cemetary
On this Friday evening, Bratislava and I finally take a deep breath after a sweltering day. I arrive at 21 Sasinkova Street to meet with Sandra and Michal, the creators of Vnútroblok​ (courtyard — Ed.), an initiative aimed at managing unused spaces in the Slovak capital. "The idea for Vnutroblok emerged from powerful convictions. But, not from romantisicm or altruism, but rather, from a critical evaluation of the surrounding reality," explain my hosts. The organised chaos of basil, tomato, salad and the microcosm of insects, discreetly fluttering under the legs of plants, seem to nod in agreement. We are currently in a mobile garden, which is one of the initiatives of the project. On my right, I can smell the stone of a graveyard. On the left, the sky is cut in two by the police station, which resembles a communist bloc. Sandra and Michal are both 25; it has been four years since they got married. In the garden, they have 50 boxes for plants (for a total of about 17 million little universes). Anyone can get one box for free; for two or three, you pay 25 or 50 euros, respectively. At present, the number of people interested in having a box is double the number that the garden has space for.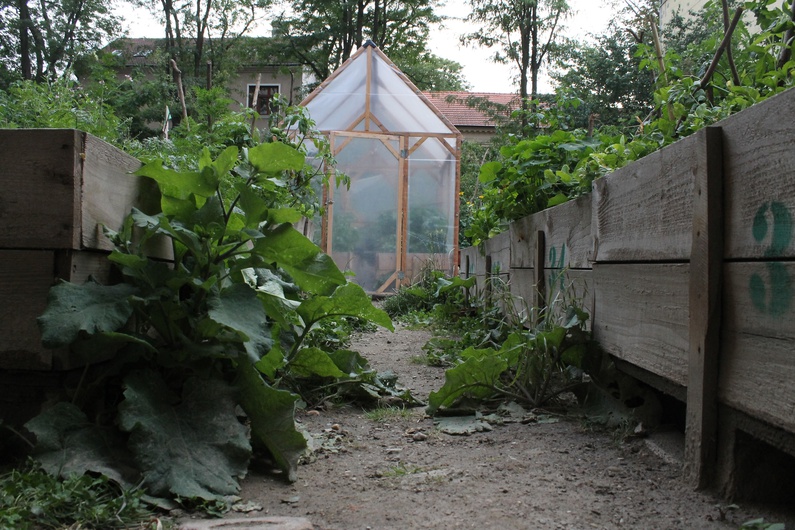 Something was happening over the fence and Sandra had to write her MA thesis
Shortly after the marriage, Sandra and Michal, an urban planner and a graphic designer, decided to move to Amsterdam. After their arrival, they noticed that on the other side of the fence, dividing their yard from their neighbours, there was something happening. However, the fence was high, and climbing it every time curiousity struck was too tiring. So, the young Slovaks decided to leave a note in the neighbour's mailbox with their contact information, to let them know that they wanted to participate in what was going on over the fence. This is how they met Natasha, a Dutch artist, created a circle of friends in Amsterdam and started to find their place in a new city.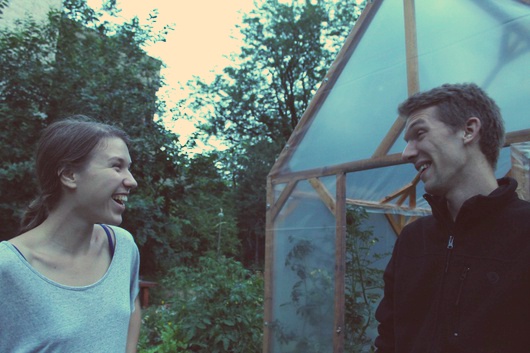 This adventure helped to crystalise their desire to manage empty urban spaces, which originally emerged during conversations with friends in Bratislava. "We realised that one stupid garden may completly change your perception of the whole city," remembers Sandra. After their return to Bratislava, the young urban planner had to undertake a very serious task: write her MA thesis. "The school chose topics for us, but none of them really appealed to me," she remembers. "And then, I had the idea to explore the potential of empty urban spaces," she says. In the beginning, it was not easy to convince the professor of a rigid university to accept such an original subject; but, at the end of the day, Vnútroblok became the MA project. Today, Sandra and Michal work full time and spend evenings and weekends taking care of the garden. Despite the fact that the task can be sometimes overwhelming, Sandra says that this past year has been the best in her life.  Whose is this piece of land?
Although Slovakia's experience with Uncle Stalin seems remote, Sandra notices:
"In post-Communist cities, shared spaces are still very strange for people. It's a no man's land and after forty years of commmunism, people don't have the concept of communal property and they don't want to share anything if their not forced to." However, unlike seasons at the North Pole, habits change. Sandra and Michal want to contribute to these changes. Urban gardens fit perfectly into the narration of small Bratislava. "In Slovakia, even cities are more like villages than big metropolises," they say. Moreover, spending time outside with neighbours is not a cosmic new invention, but a good practice which was around for years in Slovakia. It seems as though society has become autistic after World War II.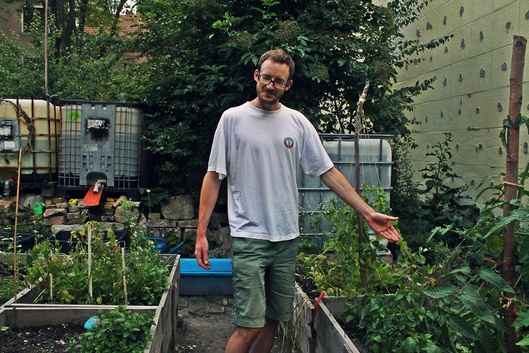 The garden on Sasinkowa may be the secret garden of Bratislava. In reality, it is more public than the city's parks. Although there is a lock on the door, anyone can have the code (you can find it on their website). Sandra and Michal explain that they're not trying to snatch land from the city but trying to make use of the empty spaces that are falling into decay. There are 140 empty plots alone within the district of the Old Town, equalling 70 football fields. The young activists explain that negotiating with City Hall may take ages, so they decided to first find a plot from a private owner, then manage it and present it to the city as a model. The owner of the land on Sasinkowa has been trying to sell it for 15 years without success. They made a deal with Sandra and Michal that if somebody wants to buy it, they have one month to move. This is why everyone is standing on wooden pallets and the gardens are called 'mobile'. "We are not interested in getting stuck in one place, either," says Michal. "In such a case, the project wouldn't evolve and people would start to identify Vnútroblok only with this one garden."
Society is my friend 
The calm Slovakian sky lingers over head, becoming increasingly dark. One hundred metres away, this same sky is scattered with trolley bus cables. Here, as nomad bats whizz about even on such nice evenings, city dwellers more and more often close themselves in cold igloos made of complexes, streaming TV series and frustration accumulated after a long day spent at the office. They transform into static loners from the paintings of Edward Hopper. Sandra and Michal are convinced that there is no reason to escape reality. In their opinion, inhabitants of the city are not solely passive dwellers but its active users, incessantly transforming the city. However, residents need to be shown how to become involved. The neighbours, who at the beginning were suspicious, quickly became its frequent visitors. Sandra and Michal explain that in society, instincts of sharing and doing things together are inate. However, such urges cannot be forced, but induced in an accepting environment.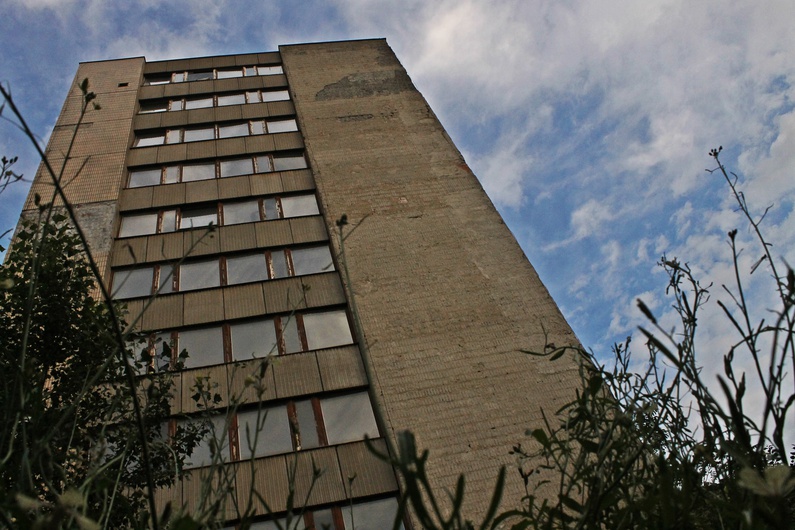 No Fun Without Risk
The young couple can't wait to proceed to the next steps of their project. "In a year, we want to organise a summer school of managing empty spaces, organise a temporary neighbourhood bar on Sasinkova and start to manage new plots," they say, with a glimmer in their eyes. What gives them the most satisfication though is the fact that their idea has inspired others who send them inquiries and ask for advice. Next season, they're planning to open two new mobile gardens to be managed by their successors. 
When I leave, I ask why something like Vnútroblok hasn't been created before. "People are afraid of starting initiatives because they may fail, and today's society stigmatises those who fail," says Sandra, watering dill in one of the boxes. Well, maybe it's laziness? "You must be joking," she says, looking at me, stunned. "Look at the huge effort that people are able to handle by going to shopping malls. They can run around there for hours. However, in the shopping malls, you have no losers because the only thing you have to do to succeed is to buy."
Film illustrating the principles of Vnútroblok
THIS ARTICLE IS PART OF A SPECIAL SERIES DEVOTED TO BRATISLAVA. IT'S PART OF EU-TOPIA: TIME TO VOTE, A PROJECT RUN BY CAFÉBABEL IN PARTNERSHIP WITH THE HIPPOCRÈNE FOUNDATION, THE EUROPEAN COMMISSION, THE MINISTRY OF FOREIGN AFFAIRS AND THE EVENS FOUNDATION.


Translated from W czerwcu najpiękniej ogród zakwita Bratysławy