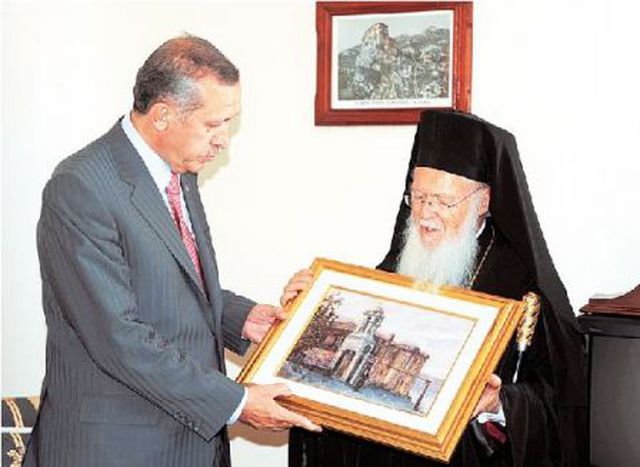 The secret agreement between Erdogan and Ecumenical Patriarch Bartholomew
Published on
Before about a year, Turkish Prime Minister Recep Tayyip Erdogan visited the Büyükada island, next to Istanbul. He became the first Turkish prime minister who went there in order to visit the famous Orphanage. Mr Erdogan met with Ecumenical Patriarch Bartholomew, in a move that proved to be something more than symbolic.
The Prime Minister of Turkey and the Ecumenical Patriarch then put the foundations of an informal agreement with mutual benefit. The first would open the door to meet demands of the Patriarchate, while the second would greatly improve the external testimony over the issue of religious freedoms, critical to Turkey's European perspective.
Athens welcomed the "positive steps" made by Ankara towards the Ecumenical Patriarchate and believes that Turkey moves to the "right direction", said Mr. D. Droutsas, after his meeting with Ecumenical Patriarch Bartholomew who firstly met with the Turkish Foreign Minister Ahmed Davutoglu. On his part, Mr Bartholomew said after the meeting that the problems facing the Ecumenical Patriarchate "are being solved one after another, 'and spoke of" steady progress in the right direction on the part of the Turkish government. "
Observers of the "difficult relations" between Ankara and Fener (the headquarters of the Ecumenical Patriarchate) note that four were the key points of understanding between Mr. Bartholomew and Mr. Erdogan. They also promote the important role played by the intervention of U.S. President Barack Obama during his visit to Turkey in the spring of 2009.
The first issue concerned the acceptance of the Ecumenicity of the Patriarchate and non-interference in religious matters. Regarding this, very important was the statement of Mr Erdogan during his visit to Athens last May. "If it bothers me that the title Ecumenical Patriarch? Of course not. It didnt bothered my predecessors, my forefathers, why would annoy me?" was his answer to a question.
The second issue was the recognition of legal personality of the Patriarchate. Focal point is the actual acceptance by Ankara of the decision of European Court of Human Rights (ECHR) for the return of Büyükada Orphanage to the Patriarchate. Essentially, the ECHR has acknowledged with this decision the legal personality of the Patriarchate, which can own the property.
The third point was the government intervention in the matter of the election of a Patriarch. Ankara decided to grant the Turkish citizenship to members of the Holy Synod who do not have it, in order to facilitate the choice of a new Patriarch when it is needed (Turkish law requires the possession of the Turkish citizenship to elect a Patriarch).
The fourth and final point is the reopening of the Halki Theological School. This, according to diplomatic sources is a in Ankara and will sell it cheap. Already, however, Turkish officials have prepared the ground with their statements, and the recent exhibition which was organised in the School, since Istanbul is the cultural capital of Europe, has further increased expectations.
Source : To Vima (original in Greek, translation by Cafebabel Greece)