The restaurant of the Acropolis Museum will shut down!
Published on
Today, in the newspapers I ve learned that the restaurant of the New Acropolis Museum will shut down and start operating under a new director. Along with the restaurant, 11 shops of replicas which were situated in famous archaeological sites will shut down as well.  This was a surprise since these were under public managment.
This means that there was the possibility of these enterprises to operate under State supervision, and being both profitable and competitive. Of course it is right that the Museum should have an income from all these, which up to know it hadnt as sucessfully Professor Pantermalis points out.From this podium I have argued many times against the existence of a restaurant at the Acropolis Museum. We wanted to tear down two amazing buildings in Dionysius Areopagite str. in order for the restaurant to have a clear view over Acropolis hill. Now the restaurant closes and opens under new management!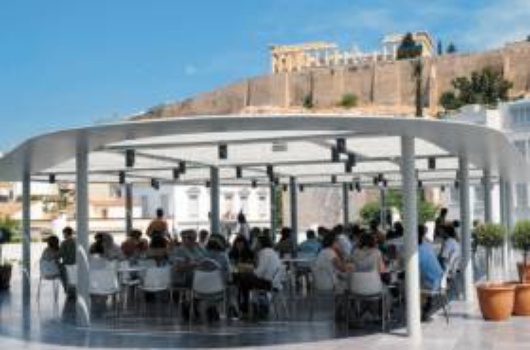 What morality gave birth to the Parthenon and what to the restaurant of the Museum?It is a symptom of our times and our morality.

The Parthenon is neither the Palace of Versailles or the Fontana di Trevi! By the time we will be able to  understand what this building really is and what it represents in world culture, then we might understand the tremendous shift in our society over what we consider useful and nice and which are our priorities.Basil Kouremenos, the great architect of the building we went to demolish , when asked why he did not put balconies on the iconic Art Deco building  in Dion. Areopagitou 17 replied:

''when you have such a view (pp. Parthenon)  you are not going to sit on the balcony munching cookies''...