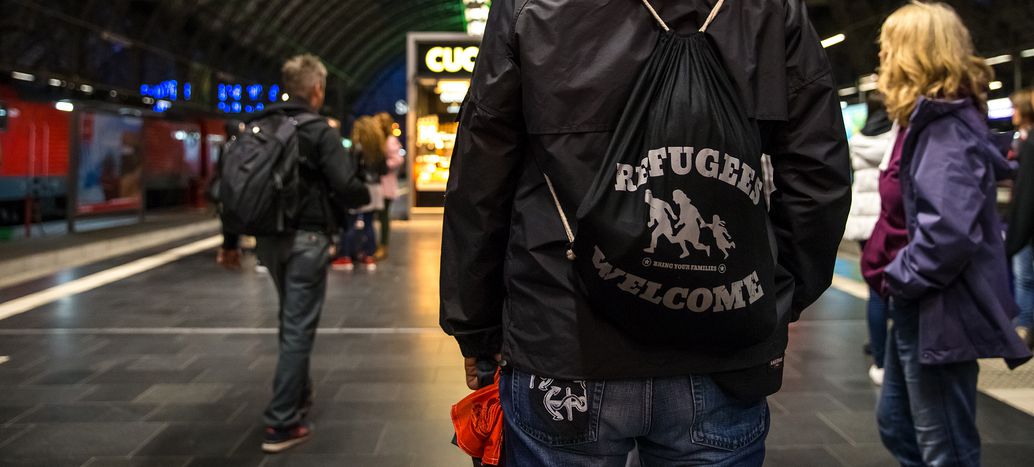 The refugees turned volunteers at Amsterdam Centraal
Published on
When the clock strikes 6pm at Amsterdam Centraal station, people gather together sporting orange t-shirts and welcome signs. Since the 14th of September, citizens have united to welcome asylum seekers arriving on international trains. However, some of those present know all too well how the incoming refugees must be feeling...
In a quiet corner of Amsterdam Central Station, a cart filled with food and clothing is wheeled into an area, which is set up every night to give the refugees a warm welcome. An international train schedule is pinned to a pole. Orange t-shirts and welcome signs are distributed to those present, and new volunteers are briefed so they are set to take action.
When the refugees arrive they are taken to the Rainbow Group where they find food, clothing, and a bed for the night. The next day, the refugees will have to make another 3 hour train journey (including 2 changes and 1 bus) to Ter Apel, the city where they have to register.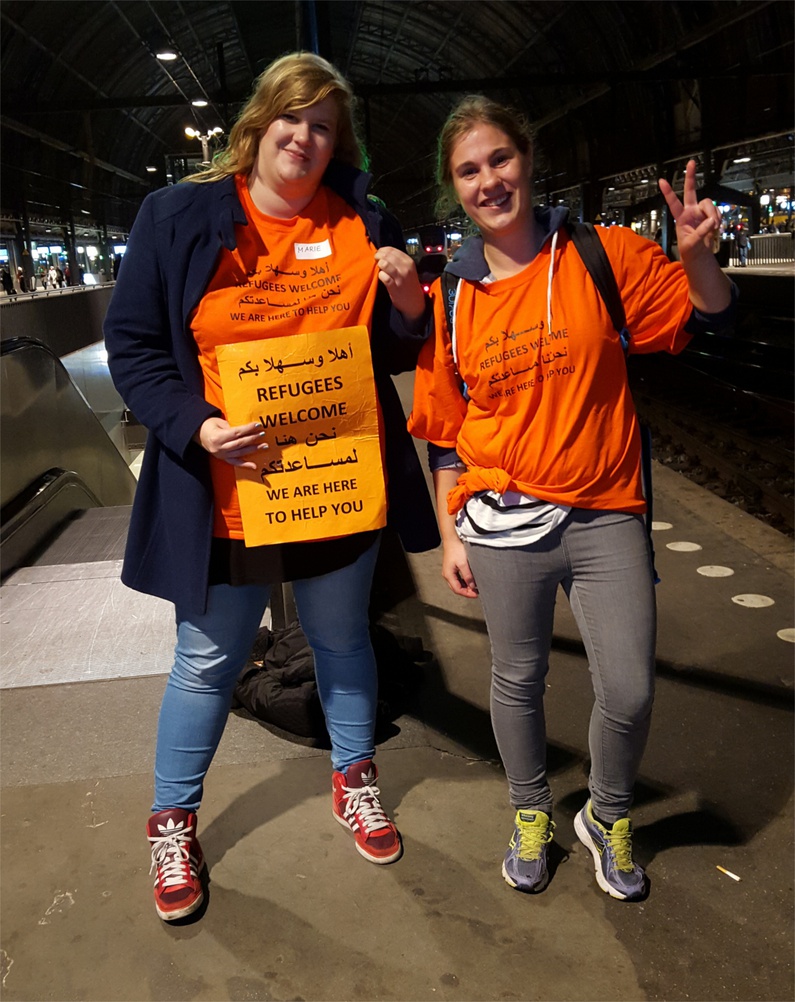 The volunteer group at Centraal is not part of any charity or NGO. It started with two young Moroccan men, Zouhair Ratmaoui (29) and Mohamed Bentaouit (33), who stepped in at a time when little was being done to help refugees in the Netherlands. "I just wanted to help people," Zouhair tells me, "I wanted to do something." 
He was conscious of the fact that he had a roof over his head, something the incoming refugees had to leave behind: "I sent a message to my friend Mohamed and I asked him, 'Do you want to help?' Then we gathered bags of clothes and food and went straight to the central station."
Refugees returning to volunteer
What's also special about this particular welcome party is that among the many volunteers lending a hand there are also former refugees that have come back to help. I spoke to two Syrian refugees who have been in the Netherlands for about a year. Ahmad Al Ideeb (25), from Damascus, arrived in September 2014, though it wasn't until June that he got his house in Amsterdam: "I understood if these people are going to help me, I should do something in return, so I volunteered with them to translate."
Ahmad heard from a friend about the group at the station and decided he should also lend a hand. "They are fantastic, very friendly people. There are sometimes more volunteers than refugees. A lot of people want to help. That's something good... really good actually."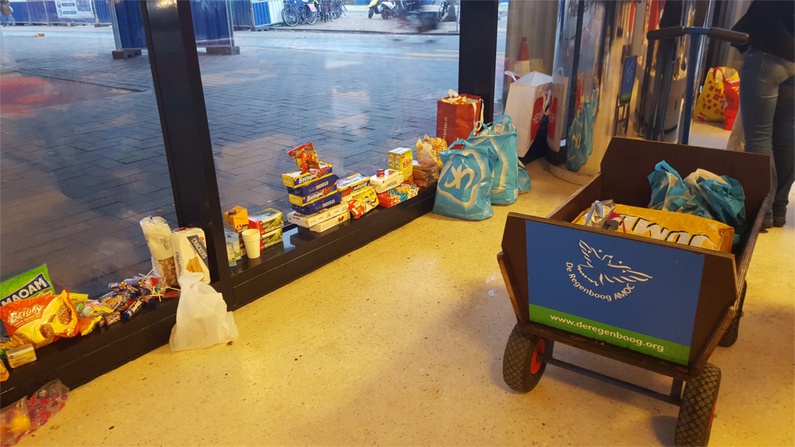 Majd Mshaty (20) from Aleppo arrived last January. He moved to Amsterdam in August, moving around several refugee camps, staying the longest in Gilze in the south of the Netherlands. He describes the camp as completely isolated: "The area there... It was like a forest. There wasn't a neighbourhood, only the camp and trees… This was the place where people got depressed, because it was a small place with nothing to do." However, he tells me, "the most important thing is I am here."
Majd already has prior experience volunteering in Aleppo. He worked for the Jesuit refugee service, an NGO in Syria. He helped Syrians move from neighbourhoods controlled by the Free Syrian Army to ones controlled by the government, because the "government bombs the places where the Free Syrian Army are. The Free Syrian Army also bombs back, but their bombs are smaller. One bomb will only kill two or three people, while the bombs from the government will kill more like a hundred."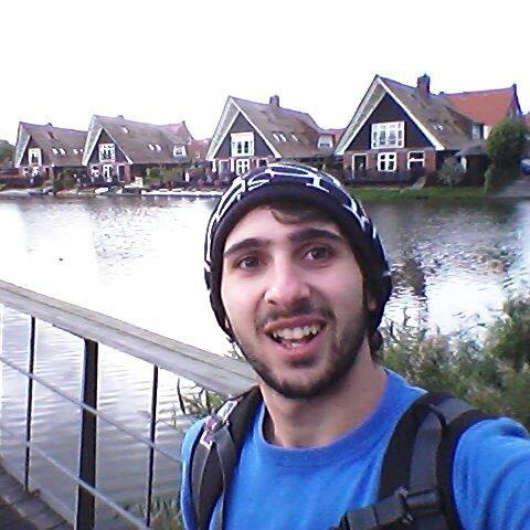 He loves working with people, and also volunteers on Havenstraat, an area where refugees are also staying: "Our mission is to translate for people, and also to give our experience [of dealing with a new country]." When he arrived, there was no one available to him to explain how the Netherlands worked. Majd has no words to describe the group of volunteers at central station, "They make me and the people there feel really welcome." He told me the refugees highly praise the work of the welcoming party.
The forgotten refugees
Though the bulk of media attention is placed on refugees coming from Syria, they also come from Iraq, Eritrea and Afghanistan. Ahmed Mustafa (28), from Asmara in Eritrea, also often comes to volunteer at the station. He remembers what it was like when he came as a child as a refugee. Citizens fleeing the dictator and military conscription in Eritrea take a similarly dangerous boat trip from Libya to Italy.
Ahmed was also already volunteering at an emergency shelter for refugees as a translator when he discovered the group at the station. "It's nice to be a part of a group of people who want to work from their heart," says Ahmed, "You have a lot of international people working together who don't know each other… but we share the same goal of helping refugees. That's what I like about it."
No help from the government
A big challenge facing the group of volunteers is the lack of government support. The "Rainbow Group" has been extremely helpful in taking in refugees and providing storage for donations, but Zouhair says his band of volunteers would need to find another option because this storage space is limited. "The government does nothing," he argues, "that's why we had to step in in the first place. If people like us don't step in to help I know nobody else will."
The volunteering that has now been going on for nearly 2 months relies solely on the generosity of citizens taking action. The proof of its effectiveness lies in the testimonies of the refugees returning to support the initiative by volunteering. It takes the ongoing generosity of ordinary people to provide the help they need to continue.