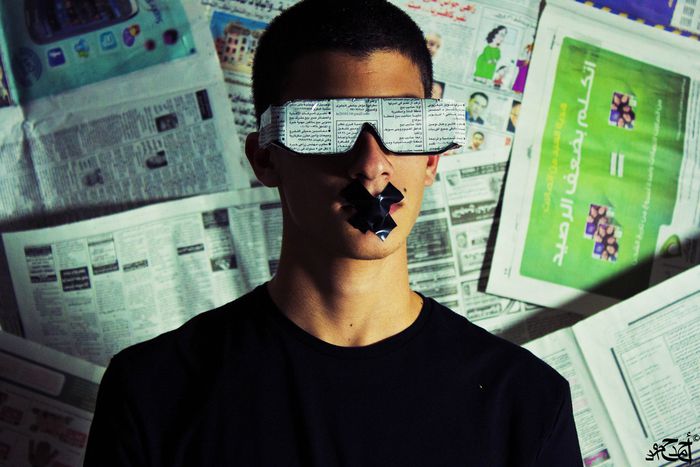 The reality for journalists in russia
Published on
In the 2013 Press Freedom Index, Russia ranks 148th out of 179.  However, despite difficult working conditions for journalists, current events hint at improvement. On the eve of the controversial Olympics in Sochi, three media professionals explain the reality for journalists in Russia
Thanks to an exchange with three journalists engaged in a daily battle for information, the people of Strasbourg now know what it's really like working in the Russian media. Alexei Polukhin, a journalist for the independent daily Novaya Gazeta, Abdulla Duduev, the chief editor of the Caucasus-based magazine 'Dosh' in Chechnya, and Alexey Sidorenko, blogger and social network expert spoke about the difficulties of the job and the pressure journalists undergo. But all three agreed that the country is changing.
THE JOB'S TOO DANGEROUS
Since Vladimir Putin's return to power in May 2012, new, repressive laws have been passed. Discussing topics such as religion or LGBT rights is a risky business. "Now there's a prison sentence for insulting patriotism," Alexey Sidorenko explains. The government even wanted to block Wikipedia because it had a page on marijuana.
There is only one independent TV channel- TV Dozhd. Even this small bastion of independent broadcasting is under threat as network providers cut their phone lines under pressure from the government. It tries to shut down rare independent newspapers by stripping them of financial support. "Stakeholders have to withdraw their aid because of bank checks," says Alexei Polukhin, whose newspaper has been shedding light on corruption and human rights violations for over 20 years. But newspapers cannot carry out reporting without financial support. Faced with these constraints, young people are turning away from journalism. "The job's too dangerous - they're looking for jobs where they can search through data more safely," says Alexey Sidorenko.
"COLD CIVIL WAR"
But the situation is not stagnant. Large protests took place in October 2011. "In Russia today there is a cold civil war between the government and the people," says Alexei Polukhin. Despite some brutal changes at the top of Russian media, writers haven't backed off. Quite the opposite, in fact. "Independent journalists are becoming more interested in politics," says Alexei Polukhin. Stories relying on government officials are always published on condition of anonymity. Investigation is alive and well. And here's the proof: there is an investigative journalism prize.
The three men's statements show that the profession is not completely muzzled in this vast country of over 143 million people. Abdulla Duduev looks back to 2003, when his magazine was founded. "Our magazine, Dosh, means 'words' in Chechen. On television there was nothing but anti-Chechen propaganda. So the magazine was founded to cry out, to tell people what was really happening in the region." He is fighting to make the truth heard, in spite of the fact that journalists in the Caucasus receive physical threats and cannot put their names to some articles. But journalists' protests are becoming more common. The last one took place in October 2013 to campaign for the release of the Greenpeace photographer Denis Sinyakov.
"In 2011, the internet has shown citizens the possibilities available to them," says Alexey Sidorenko. The blogger is pleased that the search engine Yandex reaches more people than the state broadcasters. Social networks are becoming more and more important for communication and expressing opinions. "Journalists couldn't do their job without them," he says, despite the existence of an online surveillance programme. And he finishes the conference on a positive note: "the more repressive and idiotic the laws, the quicker the changes".
INTERVIEWS RECORDED AT A DEBATE ORGANISED IN STRASBOURG AS PART OF THE WORLD FORUM FOR DEMOCRACY. INTERVIEWS BY CGM.
Translated from Sotchi : le journalisme comme terrain de Jeux