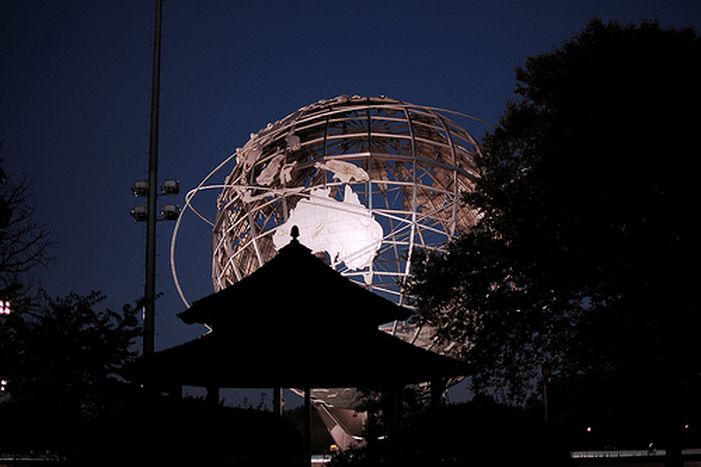 The Queens of Queens
Published on
If you take train line 7 from Manhattan, you can watch the streets of Queens through the windows. It is a sunny day in spring, the train is pleasantly half-full, we leave the Downtown skyline behind us and enter Long Island City.
Outside, at a crossing a bus is burning, orange flames reach for the sky. I can hear a siren speeding up, the train keeps going. On the next stop a dark-haired man wearing a sombrero enters the carriage. He is selling Oreo cookies 1,50 dollar a package of two. Nobody is buying. I get off at Jackson Hights and change to the E train that takes me past LaGuardia Airport and Forest Hill to Kew Gardens.
Mila meets me at the station. We drive to dry cleaners to pick up her jacket and then go shopping for groceries to a Russian supermarket called "Kalinka". We buy eggplant salad, herrings, Polish sausage, cottage cheese and dried cranberries. Since we spent 20 dollars, we get a bar of chocolate as a bonus from Ivan who works at the till. On our way back we drive past a huge metal globe in a park and several buildings that have been there since the World Exhibition of 1964, almost entirely forgotten, rusting slowly in the sun. A family of four prepares a barbeque; further down some men are playing cricket.
Mila has lived in Queens for the last 20 years. She came here from Texas that she loved but decided to leave after she got a divorce from her now ex-husband. Before Texas there was Warsaw that Mila cannot stop missing. She is in her late 50s, elegant, attractive, big eyes, young smile and voice. Good job, handsome boyfriend, nice flat, no kids, Eastern European accent and "Polish dreams" as she says.
***
Barbara landed in New York after having been on the infamous 1968 train from communist Warsaw to Vienna that took many Polish Jews abroad with a one way ticket. It was hard at first; she worked at a grocery shop on weekdays, cleaned flats at nights and turned into a baby-sitter on Saturdays. She didn't know any English, "learned it all by herself". Life has been good to her though, says Barbara. She has run a German deli in Kew Gardens for the last 22 years. She has never been to Germany but it does not seem to matter. She employs three people and her daughter Agata is helping too.
They sell "the original German strudel" that very much resembles the traditional Polish cheese cake. Most of the other products are Polish, made in Brooklyn or imported from Europe via Chicago - hometown to the largest Polish community outside of Poland. "It's been a great business, people love it", says Barbara while filling our glasses with homemade lemon liquor. Mila comes here every other day to talk to Barbara in the backroom of her shop after closing. They talk about work, love, food, Poland, clothes and shoes, ideas for new businesses, politics and men. Sometimes they order a sushi plate, Chinese fried noodles or a pizza from around the corner. Barbara is married for the second time but I don't get to meet her husband since he never shows up in the deli. "It's my thing" says Barbara, and Mila adds "we are the superwomen here, we don't need to rely on any men", we raise our glasses and cheers to that.
***
Next weekend more people come to stay in Mila's flat - her old friends from Texas. Mila leaves them the bedroom and makes herself comfortable on the floor in the living room. She is smiling as always. Next morning she announces: "I love to sleep in big rooms. That is why I should be a queen, you know. I would make a bedroom out of this living room and have a huge bed in here. I would also have a lover whom I wouldn't have to take any further than to the bed. And the kitchen being close is just fine." We both laugh.
Monday morning after breakfast Mila is leaving for work, elegant, dry-blown hair, carefully put makeup, black ballerinas. "After 9/11 we all stopped wearing high heels" she explains. "It's easier to run away in flat shoes". When it happened Mila was in her Midtown office and facing the burning towers. The whole building was evacuated. She and her colleague tried to catch a cab to go to Queens but there were no cabs. Finally a car stopped, the driver was Muslim and extremely frightened. On the way they picked up two more people and drove east.
Mila was a part of the first Ground Zero rescue team and so was Mo – the taxi driver. Downtown Manhattan was then completely empty. Only one retail store didn't close for even one day. Mila shows me her t-shirt with "Manhattan Rescue Team" printed on it. But now she is running late and has to leave. "Manhattan changed after 9/11", she tells me. "People lost orientation, lost their reference point; the absence of the Towers confused them. Queens hasn't changed. Queens is still Queens, thanks God."
Two evenings later we sit again in Barbara's shop. Her son and daughter-in-law are meant to arrive next day from Warsaw. "They bring this Poland with them that I have no clue about" she says. "I suppose I am a New Yorker now". After all these years she was offered to take up Polish citizenship again that she was forced to give up in '68. She refused. "My life is here now". Mila raises her glass filled with home-made lemonade, "To us! To Queens!" and Barbara looks at me and asks: "So when are you moving here?"