The #power of #
Published on
Hashtags are no longer just a tool for collecting tweets. The online community uses them to organise all sorts of protests. But many question how much impact they really have. We revisit some of the most well-known and powerful hashtags.
Slow steps, one after the other. I am walking down the main street in Krakow, my grandma clinging to my right arm. With every step of her old and aching left leg she pulls my arm. Her steps get smaller the longer we walk; and we walk for more than an hour. She's 87 years old, she's allowed to be tired. So most people walk past us, with flags and banners in their hands, shouting and singing. We're on a demonstration. Thousands of people protest in Krakow against restrictions and amendments to the Constitution. And my grandma tells tales of her oppositionist past – starting as partisans during the Second World War, continuing through communist Poland when she was an active member of the oppositionist Solidarnosc until now, June 2016, where we protest against the latest changes the Polish government undertook.
It's six months later, and we're on the phone. We talk about my stay in Paris and about demonstrations in Poland against the tightening of laws on abortion. "What a pity that you can't be here and take part in it," my grandma sighs.
"But I participated!" I exclaim, even though I know she said so not because of my absence from the protests, but mainly because now that I left Krakow, she is all alone. I tell her about the picture we took in the Cafébabel office and the tweets I wrote and all the Facebook posts I scrolled through regularly.
"Making a difference seems pretty easy in the digital age"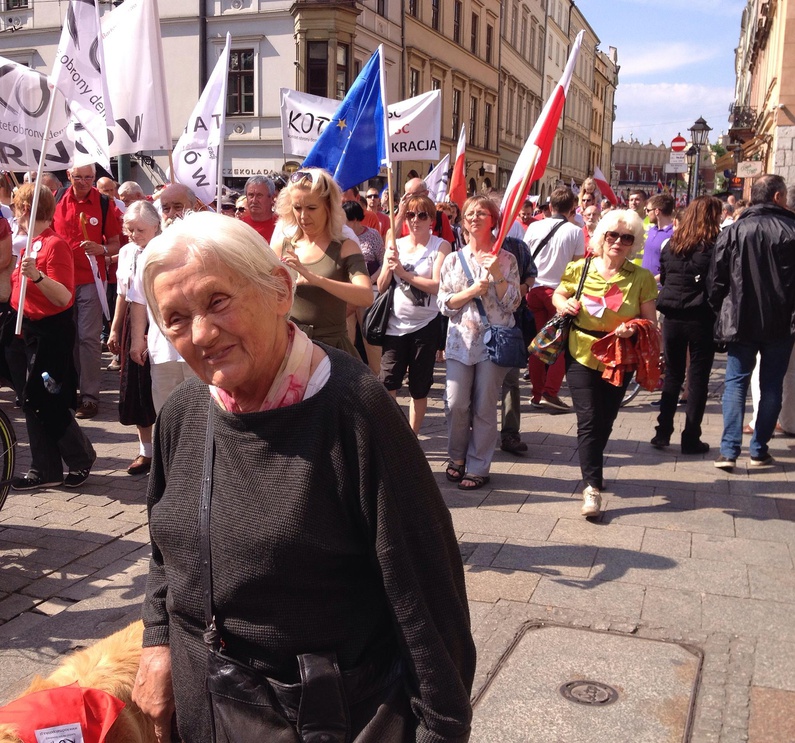 Hashtags have become a way to express individual discontent or commitment to a cause. This small little symbol, originally put into place to sort tweets by topics, has taken on its own power: Within minutes, individual voices of discontent or dissent can turn into a massive wave of voices demonstrating strong disagreement. Using hashtags, the online community strikes back. And often users form a resistance that cannot be ignored. Hashtags can be compared to protests, with the exception that they work quicker, on a short-time notice and have a wider range. And the best part is that even though they can spread far, participants don't have to leave their house. Political activity carried out from the safety of one's home is especially handy in countries where authoritarian regimes have cracked down on protest. The Arab Spring, for example, is said to be an online revolution. Activists in Arab countries collected information using hashtags like #Jan25. 
But Twitter has been widely used for political statements in Europe as well. After Brexit, users reassured foreigners living and working in Britain that #LondonIsOpen, and the city would be happy to see them stay. Europe-wide support for refugees was expressed by the slogan #refugeeswelcome. In Spain, young people who saw themselves forced to leave a country plagued by austerity measures chose to go with their heads held high, declaring #NoNosVamosNosEchan [we didn`t choose to go, you forced us to, Ed.]. And #JeSuisCharlie served as a symbol of power and solidarity after terrorist attacks on the offices of the French newspaper Charlie Hebdo in January 2015. 
"Making a difference seems pretty easy in the digital age," Rosalie Tostevin argues in an article in the Guardian. But to her, there's nothing positive about the term "armchair activists". It serves as a starting point for critique. "Is your contribution any deeper than a click?" she asks, criticising the disconnect between activism in the online world and a real devotion to those causes in real life.
The #BringBackOurGirls campaign is an old but very clear example of how far-reaching activism can still be unsuccessful. The campaign drew worldwide attention to the fate of 276 Nigerian schoolgirls who were captured by the Islamist group Boko Haram, which without the hashtag would have gone by unnoticed. Despite its viral success, however, most of the girls are still in captivity.
Activism or slacktivism?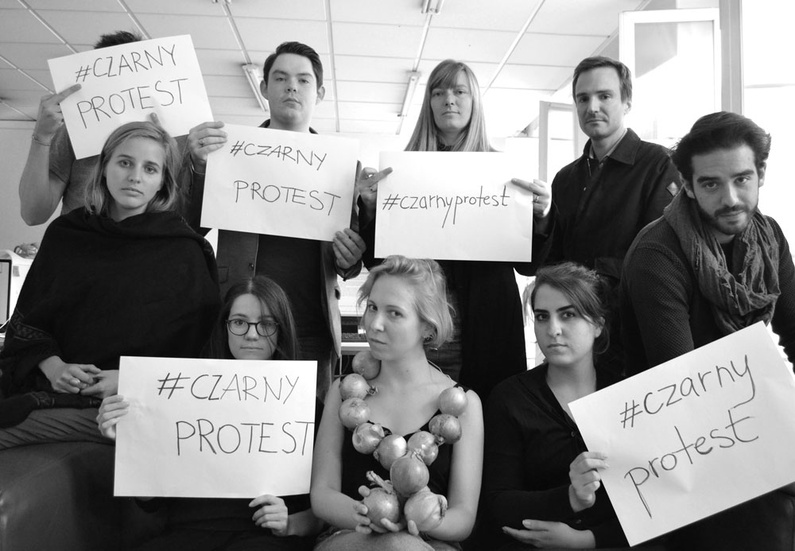 Critics like Michael Flood use cases like these as examples when stating that activism is ineffective. Flood argues: "Nothing was done by governments or activist organizations beyond 'awareness raising'", labelling hashtags and protest marches as forms of "slacktivism" that appear active without having any real effect.
A more effective example of an online demonstration is the #CzarnyProtest, which saw Polish protestors gathering to demonstrate against the planned restrictive anti-abortion laws of the Polish government. #CzarnyProtest swept not only Polish Twitter accounts but was also to be found everywhere on Facebook and in many international newspapers, effectively becoming the slogan of the movement.
The movement was proved successful when the Polish government put the planned law on hold. It seems that awareness rising can be enough and crucial in some situations. Twitter is democratizing this process. No more need to fight for space on the front page of a newspaper; no more pressing need for long-read articles. 140 characters are enough, as long as you can think of a memorable hashtag.
Twitter activism is especially powerful in shining a light on structural racism and misogyny that often goes unnoticed when we focus on individual cases. Women, refugees and minorities have all stages various forms of online resistance. In response to president-elect Donald Trump, who brushed off accusations of being sexist and disrespectful towards women as "locker room talk" (as if sexist chats with other men would excuse being sexist in the first place), Canadian novelist and screenwriter Kelly Oxford launched a call asking users to "tweet me your first assaults." In Germany, #Aufschrei ["cry out,"Ed.] formed in 2013 in response to inappropriate remarks by Rainer Brüderle, a member of the Free Liberal Party (FDP). It is still being used to highlight any kind of subversive sexism.
My grandma still doesn't understand. She doesn't even have a computer, let alone any knowledge of Twitter or online petitions. But online activism is a continuation of the old traditions of protest she has taken part in. And she liked the picture we took in the office.