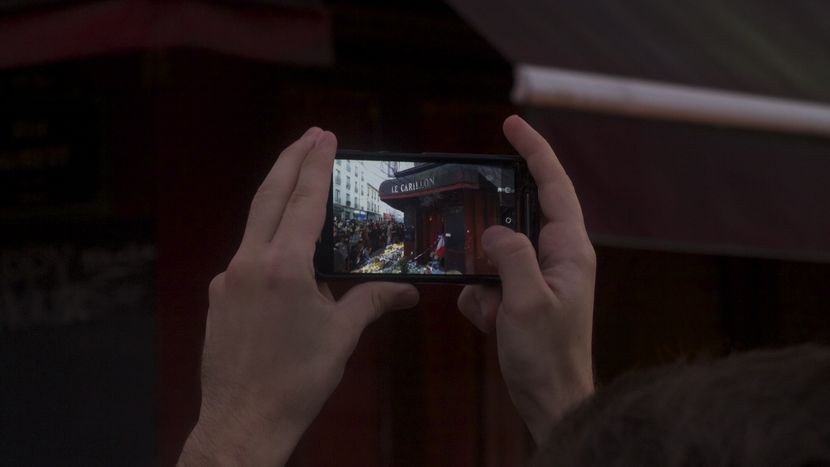 The Paris attacks and social media: Call me a hypocrite tomorrow
Published on
After the Paris attacks on Friday the 13th of November, social networks were overflowing with emotion, as well as social commentary. Many of these posts expressed solidarity with the victims, and their friends and families. Others, not so much…
I remember wanting to warn my parents over the phone, and an instant later, starting to receive messages on my mobile. I remember the moment I decided to publish a Facebook status to quickly let my friends know that I was alright. I also remember feeling grateful that one of my friends had signalled I was okay via the Facebook Safety Check feature, along with all of our other friends who we'd been with in the bar.
In addition, I remember the morning after, during which the French news channels became my sole source of updates, and my social media was inundated with tricolore flags and messages of support. I felt a new wave of gratitude, because even if I was still trembling, I knew that I was not alone. Then suddenly you arrived. You were too many to count, annoying me with hundreds of posts in which you branded as hypocrites all of those friends who had been so shaken up by these events, all those who had shown their support.
I'll admit that I was not best pleased with Facebook's French flag initiative, but I knew that the majority of those who chose the option did so because at that precise moment, they considered it the fastest and most effective means of showing their solidarity to the victims of the Paris attacks.
You were also talking about solidarity, but you did so with a different tone. You did it in order to accuse us, in your eyes, of not showing as much solidarity with other countries who were also recently subjected to terror assaults. I tell you this because I want you to know that I also felt attacked by events, on grounds I considered to be unjustified, and it was fast becoming one of the worst moments of my life.
We all have the right to feel pain, sorrow, frustration and fear. Each of these emotions arrive without warning, and it was not the best moment to try to convince people that they did not have enough solidarity. I prefer to believe that you didn't think about it, that you let yourself get carried away by your ignorance of a far off situation. And well, you need to be told that you were doing harm.
Who is the hypocrite?
My turn now. I assure you that I can count on the fingers of one hand those contacts that busy themselves with the daily tragedies of other countries. You did not make such thinking go away, you only have to glance at your Facebook wall to realise that. However, I am not going to brand you a hypocrite, nor deny you respect.
Why is this something I need to explain? I don't want to attack you because it is more than evident that we think the same thing. The majority of people who used the French flag on their profile picture wish, just like me, that there will come a day when the death of innocent people all over the world receives equal treatment, affecting us all just as deeply, wherever they are in the world.
But I also want to remind you that the current situation is not uniquely the result of unequal media coverage. Events that concern places or people close to us will always affect us more; it's for this reason that the Paris attacks touched us that much more deeply. It was targeted at people of our age, who were doing the same things that we were that night. You want to call this attitude hypocritical? Fine. But please, let's talk about it tomorrow?
In fact, in the week following the Paris attacks, an explosion at a market in Nigeria killed 32 people. I was indignant to have to plunge so deep into the media in order to find out more information. But I was also indignant to have to have barely seen mention of it on social media. Not on my page, not on yours.
Translated from Ataques en París: Llámame hipócrita mañana