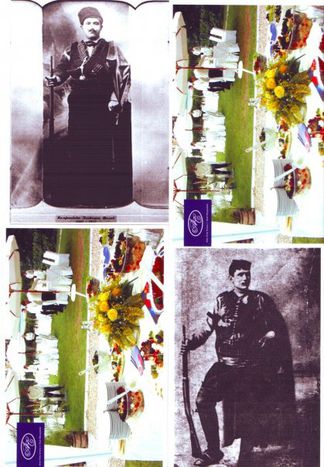 The 'M' word: breaking the Bulgarian complex
Published on
In January 2009, Sofia's then-mayor and current PM banned anti-government protests after citizen disillusion with the country's corruption; Bulgaria is officially the poorest EU state, according to Transparency International.
One year on, the remnants of a 'protest culture' lie in the urban, cultural and mediatic fragmentation of a society rooted in tradition, the past - and the mafia, to an extent
'Events like this are rare,' explains Elena Stoyanova Dimitrova in the vestibule of the national radio. 'They feel like the beginning of an underground, which started being a serious wave since spring 2009.' The actress and NAFTA (national academy of theatre and film arts) student, 28, is just one familiar face in the audience of the live punk jazz recording tonight who often attend Sofia's protests and marches. Though the last time there was a rally, it turned into a riot; one quote in Britain's The Observer ran: 'We're fed up with living in the most corrupt country. This unique protest unites people in their wish to live in a normal European country.' 'The police beat my friends,' explains sociology student Ljubo Pozharliev. 'Any protest behaviour in Sofia is smashed.' At a cafe across the street from the Alexander Nevski cathedral, two leather jacketed men in jeans joke with a blonde waitress. 'I mean, my friends go there,' Ljubo says. 'The mafia is everywhere, it's in us!'
Fabrics of the urban state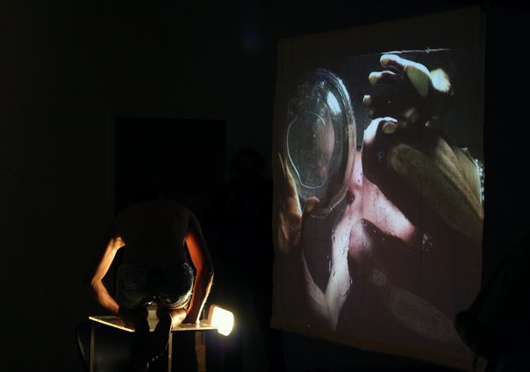 Elena works behind the bar at the Butcher's bar, where I meet the night's DJs, Studio Dauhaus. The Sofia-based collective's motto is 'art is/ as resistance'. Co-founder Yovo Panchev, 28, was paying a salary-sized rent at the factory space where he met Ivo Ivanov and Kalin Angelov, who chipped in with the funding and concept. The 'informal cultural development unit for instances of sustainable and independent culture' was the first to make warehouse parties and welcoming European musical, filmic and visual design talent a regular event in the capital. 'We started at the end of 2005 as a service to art and to our society,' explains Yovo. 'It ended up being a very generous deal in the moral aspect, as well as a 'service' of providing infrastructure for events and projects.' But the building was bought and demolished by a 'big oligarch' in May 2007. 'It's a mess caused by the change of system in 1989 - when the government cashed out the country and made the mafia keep the money which these folks used to get back in power democratically. The power is either economic or political. Back and forth.This is the fabric of this state.'
99.7% of land subject to restitution had been restored to its rightful owner by 2000 after the collapse of socialism, according to the national statistical institute. Other buildings like an old sugar factory behind the railway station, which made national headlines in November, are left to rot. 'It's an established monument of culture,' explains Courrier des Balkans editor Tristan Lefilleul. 'The company stopped working, and left the gates open with no guards onsite. TAB were part of the Cyprus Exelbi trading company, which has no number and no answer at the indicated address; a phantom company. You can suppose that they do not have the right to destroy the factory and rebuild it, but they can do - if it falls on its own.' Yovo experiences the frustration professionally in his role at the state institute for culture. 'People don't know how important culture is. I went to get help with a business plan for an EU project to make an artist's residence centre in a village nearby. The dude writes projects for a living and has EU money for 40 guest houses and 60 hotels - why the EU helps do this I don't know – but he just couldn't get it.'
Paper, plastic and rolling stone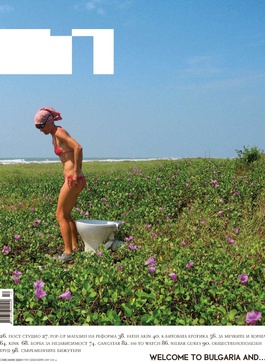 'The Apartment', a welcoming bar, chocolaterie and tea room at 68 Neofit Rilski, is proof that some alternative projects work. A huge Tibetan flag adorns the entrance of the 105-year-old building, a former birth clinic-turned-kommunalka which former millionaire Plamen has rented for six years. The private club became an association in 2007; A:part:mental is also an NGO for 'new culture development based on the creative process and the human interdependence with nature and society.' It regularly offers free, 'green' cinema screenings, as well as organic, vegetarian food and a library. Nestled beside a group of Spanish tourists on a shelf is a copy of One Magazine. The independent monthly magazine, created in 2001, is another cultural platform providing Sofia with an alternate identity. Every year, it launches Sofia Design Week, Sofia Dance Week and Sofia Architecture Week. 'We don't really talk about the establishment [the mainstream], so we are perceived as being snobs or an intellectual magazine,' explains art director Vassil Iliev.  'One Magazine is more appreciated by expats because Bulgarian society makes heroes from the past century,' explains culture editor Ivaylo Spasov.
Other medias, like Rolling Stone Bulgaria (RSB), an offspring of the US historical music magazine, agree. It was launched in November 2009 to campaign posters such as 'chalga is shitty', referring to the historical, political overtones of the popular pop folk music listened to by half of the population and which permeates the country's malls, taxis and clubs. 'Only now is society beginning to enjoy some of the liberating offerings of the western free media model,' explains chief editor Anellia Ilieva, 22. Former TV presenter Nayo Titzin contradicts this. 'Reality, in Sofia, is that the chief editor of the main paper used to be in the secret services. New medias are born in this era.' 'That may be true,' Anellia admits. 'But RSB wouldn't tolerate external pressures to interfere with the magazine. We're not a tribune for any political fraction.' One Magazine chief editor Bistra Andreeva sees potential competitor RSB as less experimental. 'It caters to the public, everything from Lady Gaga and Rammstein.' 'It is very close to the lifestyle of the people in Bulgaria,' retorts Anellia.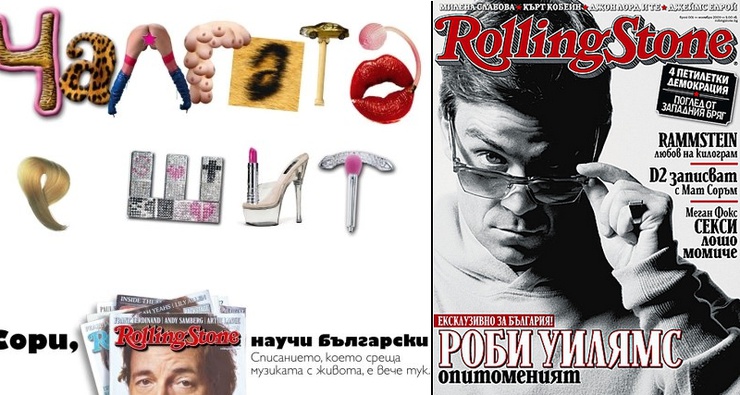 In the western world, Rolling Stone is derided for being out of touch with music. The third edition has just hit Bulgarian newstands, thus no statistics are available yet for how well it is doing. But its Balkan birth, complete with British pop star Robbie Williams gracing the cover, represents a shift in a country where chalga remains a dominant reminder of the shackles of the socialist past on society - there are six songs dedicated to the prime minister alone! Nayo Titzin, who quit journalism in 2003, disillusioned by the 'old guard', plans to use the surgically operated chalga singers as inspiration for an upcoming documentary. As young couples pass us by at the large cafe windows on the Boulevard Vitosha, he explains how The SILKON Valey, currently in research with his production company Spotlight, will investigate the phenomenon of families who pay for their daughters to have cosmetic surgery, and ultimately be eligible for the nation's mafiose men. The state fund for cinema probably won't be supporting that. 'Capitalism is difficult in this quasi-traditional society,' says Yovo, who is currently on the lookout for another factory. 'We hardly have bourgeoisie. No aristocracy. A poor social memory and mostly instincts. They say every country has a mafia, but here the mafia has a country. I don't think so.' The mafia keeps society working.
Read this article in Bulgarian
Many thanks to Clea Caulcutt, Camelia Ivanova, Lyubo Pozharliev and the cafebabel.com team in Sofia. Read their blog here
Images: ©Jan Machacek ©Studio Dauhaus/ Rolling Stone Bulgaria official Facebook page; video from September 2009 ©SofiaDanceWeek09/ Youtube