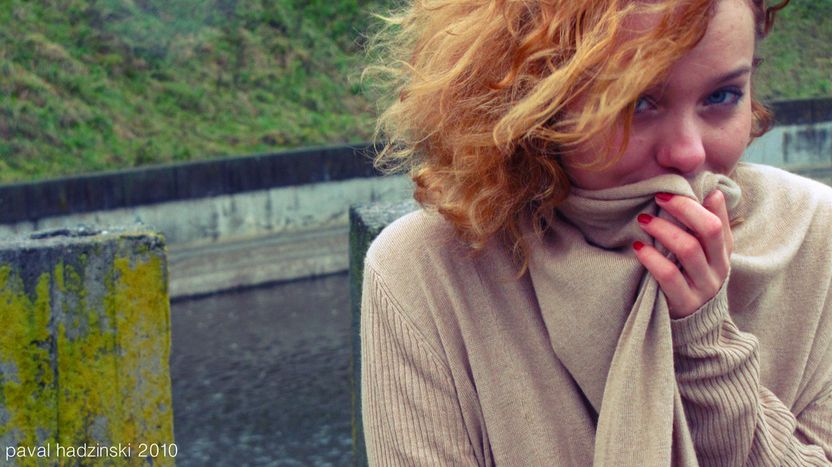 The lost art of speaking Belarusian in Belarus
Published on
Since independence from the soviet union in 1991, remnants of Belarus' titular language stay mostly in the cultural sphere, with around 300, 000 speakers in the country. Young musicians, poets and writers, often from the left end of the spectrum, still try to speak Belarusian against the more popular Russian
The skirl of the 'duda' livens up the vast green landscape stretching out over the village of Ozertso (Aziartso in Belarusian), outside Minsk. Accordions sound alongside the pipers swaying with the duda - the small black national bagpipes traditionally fashioned out of cow stomachs. Under the branches of a tree Veronika, 23, and Max, 20, make for a mythical couple. For her third visit to the Kamyanitsa folk festival, Veronika made the traditional 'stroy' or dress she is wearing guided by pictures in a book and her mother's hand. 'We save traditional music, talk to the older generations, take pictures and reconstruct these stroyas,' explains the student at the Belarusian culture institute. Behind us, the wailing gets louder as Veronika thanks me profusely for taking an interest.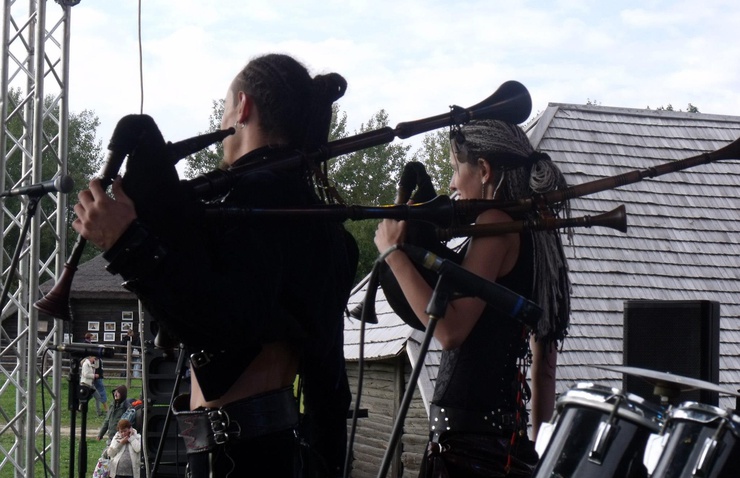 The switch
'Thank you' in Belarusian is 'dziakuj', not 'spasiba'. Secondly, it's 'Belaroosian' - the name encourages imperial claims, but there's no Russian heritage there. Belarus' soviet cord was cut in 1991. Independence brought one official titular language until president Alexander Lukaschenko came into power in 1994. Still influenced by its neighbour to the right, Belarus has had two official languages since a well-timed referendum in 1995. The new two-line metro map and bus stops bear the daily signs of this pithy transition: you can read in both languages. However, the population of 9.49 million generally speak in Russian. A small proportion practise Belarusian, comparable to Scotland's Gaelic population. Government statistics put the figure to be 20% of the population, whilst independent agencies rate the statistics to be more likely 3-5%. Why should young people speak it if their grandparents don't, typically having shunned it post world war two when economic conditions sent them off to work in Russia?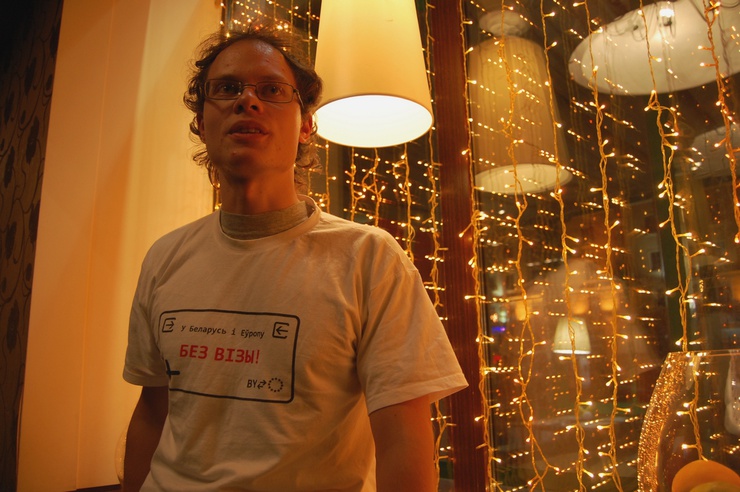 Ales Herasimenka, 25, studied Belarusian for an hour a week at secondary school, in the suburbs of Minsk. His 'transition' happened at university. 'It's step one,' he says. 'You realise it's possible, meeting people to practice with.' Step two is using it in daily life, step three with family. 'After university you need Russian to get a job, unless you are a journalist, poet or have a business. Step four is ensuring your wife or husband speaks it.'
'It's hard meeting another person who doesn't share the same vision for the country that you have'
Volia Chajkouskaya seems to have followed this unofficial model for speaking Belarusian to a tee. The 24-year-old works at the Belarusian-language state newspaper Zvyazda, is a published poet and enjoys a successful marriage (and band) with her Russian-speaking husband. She did beat the unofficial advice for step one, though. 'I was born near Vitebsk, on the Russian border, but rejected my childhood language after entering a Belarusian linguistic contest at school,' she says, as we sit in a cold but sunny park not far from the iconic Victory Square. Volia gets by speaking Belarusian to her in-laws, but emphasises how Belarus is divided into two realities. 'The Russian speakers are often pro-Lukashist, Belarusian is the 'language of the opposition'.' What does this mean in her daily life? 'It's hard meeting another person who doesn't share the same vision for the country that you have,' she smiles.
Don't need no education
Herasimenka works at the Belarusian-language youth magazine generation.by, founded as Student.by in 2003 before changing its name in 2007. 'It won't go the same way as 34mag.net,' he says, of a similar webzine which ended up publishing a small portion of their content in Russian. 'Our 200 writers and core staff of ten, mostly students, try to build our own world in a dictatorship. We speak freely about the government. We could lose our freedom, so we never reveal our address on the phone.' As a culture columnist, Volia finds that politics enters the realm naturally. Her boss is a 'Lukashist'. Typically she writes about the lack of film funding or galleries, but her work risks 'corrections'; a director who has made a controversial film, for example, could have his name edited out of a final draft.
Volia's future children will be bilingual, she says confidently, but the challenge is providing that education in a country where just over 20% of pupils learn Belarusian according to data in 2006. Andrus Klikonou, a member of a Belarusian language group for parents, admits that raising children in Minsk is a challenge. Whilst Lukashenko's mascot, heir apparent and third son Kolya was wielding a gold-plated gun at the tender age of six, Andrus' three children are meeting in clandestine groups organised by word-of-mouth. 'You could also send your children to Poland,' offers Ales. As with 'second cultures' in other societies, whether children will end up practising the language they are educated in is another story.
Girls and money
At a small food kiosk, a group of young men seem indignant at hearing foreigners in the night. The subject is swiftly changed. They shuffle on. 'They were speaking 'prison dialect',' says our guide. Lukashenko is much mocked for speaking this 'Trasianka', or pidgin Russian. At the Graffiti Bar ten minutes later, Belarusians and Russian tourists dive to the sounds of funk as James Brown screams off a wall. A black dancer speaking in English steals the scene, the gay community mingle freely and formerly indicted journalists walk around with their caps down low.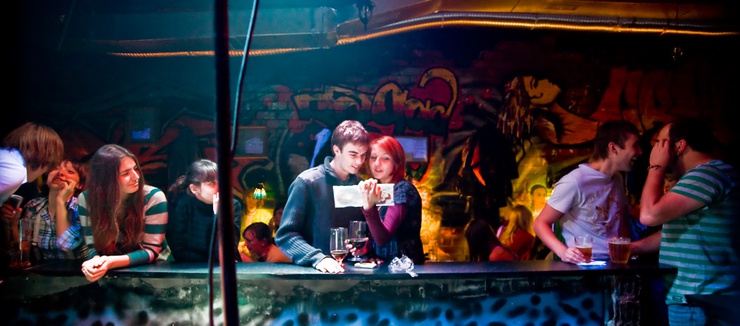 Artistic director Andrew Lazuk, 22, puts paid to the rumour that the nightly, mostly acoustic concerts at the 'pub-club' favour Belarusian-language bands. 'We can't afford bigger artists,' he says bluntly. 'They are friends who need a break; you can't make big money or become popular in Belarus at all. That's why people come here.'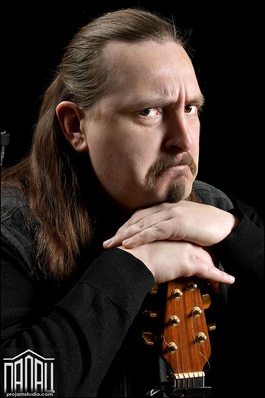 Back in the village of Ozertso, or Aziartso, the hill leads down past low black wooden houses and police officers to a huge stage and scenes of folk revelry. The wind whips us past the trees to a tent backstage, where we meet the jolly Aleh Hamenka, clad in a velvet coat. The lead singer of the 90s-era folk band Palac is creative programmer at Kamyanitsa; the 2012 fourth annual edition is being held by the vernacular architecture and ethnic heritage museum. 'The festival has gone from being simple to braver,' he says, with a nod towards the heavy police presence. 'It was almost banned because one of the bands sang about a politically sensitive topic at another concert; others have been blacklisted, like Krambambula.'
AleksanderDemidenko and Vladimir Kozlov are members of post-metal band Relikt, one of eight bands performing tonight. 'As we got older, we started to feel a Belarusian intensity,' they say. The twentysomethings from Svietlahorsk in the south-east of the country laugh that they speak in both languages depending on the situation and people. 'We like singing in Belarusian, it's our own thing,' explains Aleksander. 'When we travelled around Europe people asked why Belarusians speak Russian. We can represent our country in the world, and create a musical background with our own culture and history. NRM was the first legendary rock band to sing in Belarusian. We wanted to be more than a band of guys attracting girls and being cool playing rock. Belarus has deep roots and its own soul and nature - forests, swamps, lakes, fields...' As for Aleh Hamenka, he stays politically neutral; he has just come offstage after duetting wildly with a set of dancing Russian grandmothers. 'Language is not a criterion here,' he offers by way of explanation.
*Graffiti, Lane Kalinina 16, Minsk

This article came about with the support of the Lithuanian ministry of foreign affairs, in the framework of the 'Made in Belarus' project. An extra special thanks to Maryia S, Dmitry K and AH
Images: main (cc) Paval Hadzinski/ flickr/hadzinski.livejournal.com/; duda bagpipes courtesy of © Aleh Hamenka via his official facebook page; portraits of Volia and Ales © NS; Graffiti Bar courtesy of © the folks at the pub-club; Aleh Hamenka courtesy of © palac.org; video courtesy of (cc) Re1ikt