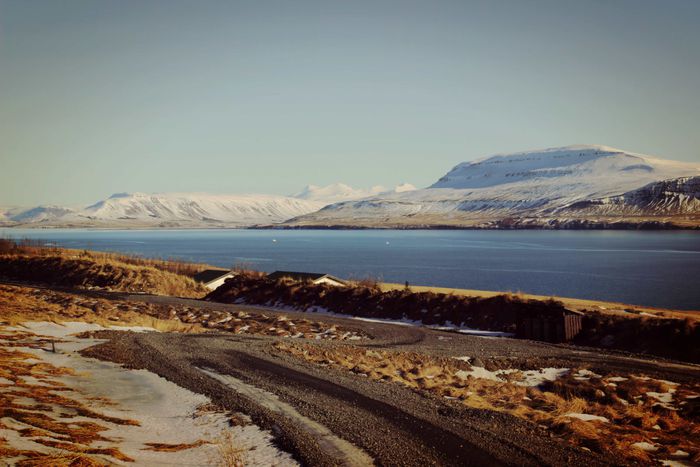 The Land of Ice and Fire
Published on
or: "We almost died and I still love this country."
I can assure you, we did not travel to Westeros to marvel at the utter massiveness of the Wall, nor did we drive to the edge of the Flint Cliffs, near the Iron Islands, to gaze at the Sunset Sea. So, why do these amazing photos look exactly like those places, you may ask. Because we have travelled to a land of sheer beauty, breath-taking landscapes and biting cold. We are not characters out of George R. R. Martin's novels (I would be Tyrion), but journalism students from many corners of this planet we call earth and we have decided that Aarhus, Denmark was not cold enough – no, we needed to experience a "Game of Thrones"-like cold. And being frozen to the bones and still happy about it…well, I would make a strong argument that is only possible in Iceland. Seven days, five friends, one Peugeot 108, zero legroom. We were in for an adventure.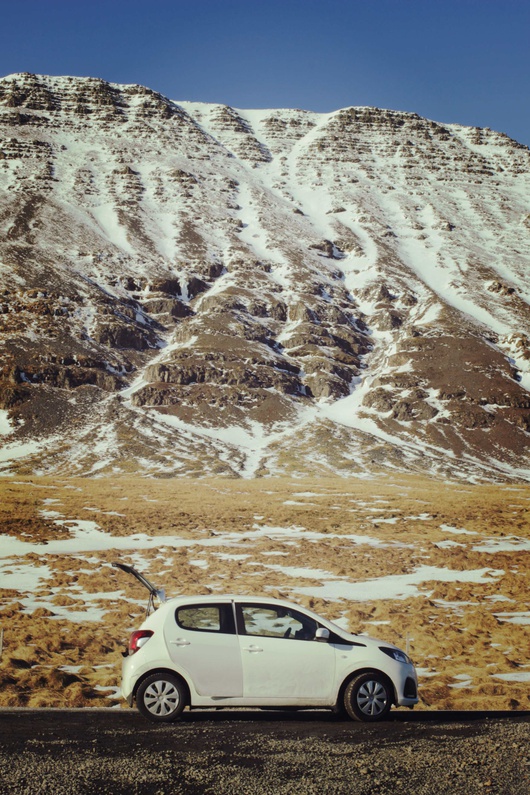 Snæfellsnes peninsula
Driving through this country you are constantly reminded of movies and books. I can't count how many times I yelled out: "Guys, this looks exactly like that scene when Aragorn, Legolas and Gimli arrive in Rohan" – much to the annoyance of my own fellowship. Of course, this stems from the fact that many authors have been inspired by Iceland's landscape, which is infused by old legends and sagas. Jules Verne even made one of the volcanoes – the Snæfellsjökull – the starting point for his adventure tale "Journey to the Center of the Earth". And that is exactly why it was also our first stop. The peninsula Snæfellsnes has not been called "Iceland in Miniature" for nothing. It compiles all of the major sightseeing spots Iceland has to offer in one strip of land: rugged cliffs, windy beaches, quaint villages and a volcano. Major plus point on top is, how easily it can be reached from the capital Reykjavík. Here you can really get lost in the raw magnificence of the countryside, looking at long stretches of lava debris which suddenly turn into massive mountain passes covered by snow and as soon as you have passed those, you suddenly drive down into a valley of green pasture, always in the direction of the wild sea.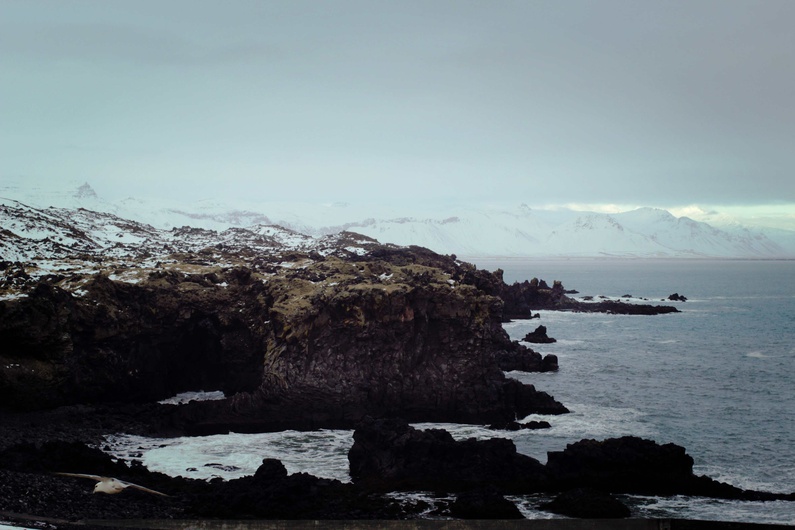 The cliffs between Arnarstapi and Hellnar seem tucked away under the grasslands leading up to the North Atlantic, but you only need to drive close enough to the edge and then you will see them. Preferably, to the soundtrack of Damien Rice's "The Blower's Daughter" as we have done – goose bumps are guaranteed. On the way back you should definitely take a detour to see Stykkishólmur, a village that is repeatedly shown in "The Secret Life of Walter Mitty". Getting out of the car in this colourful but forlorn place seemed like we had stepped onto the end of the earth. And it is a lot of fun, watching the movie when you are back home and seeing those places you have been to.
Golden Circle
Another must-do in Iceland is the quite touristy Golden Circle. The most impressive here was the Gullfoss Waterfall, the golden waterfall. Though in winter it looked more like the frozen waterfall. I have never seen this many shades of white and blue and I have never been this afraid of walking on a common tourist trail. I saw so many people fall on the ice, it almost wasn't funny anymore.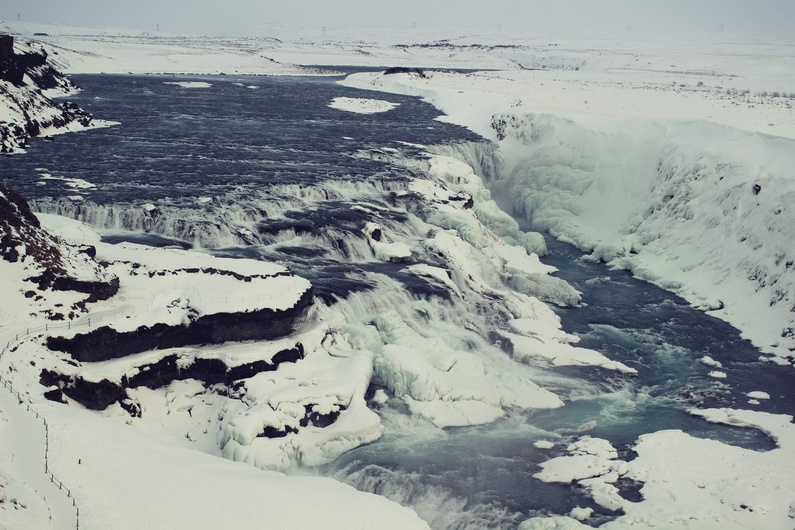 Thingvellir, an earlier stop on the circle, also stuck with me. The canyon there marks the place where the Mid-Atlantic Ridge lies, separating the Eurasian and the North American Plate – or as some American tourist pointed out to us: Europe AND the U.S. in under five minutes…bucket list completed, am I right? Driving through the snowy vastness of the Thingvellir National Park you should put Sigur Rós on repeat and just try to take it all in. What rather disappointed me was the Geysir. It did not erupt. Of course, Strokkur, the fountain geyser right next to it, erupts every ten minutes or so. Still I was not impressed due to the closeness of the actual Geysir. The geothermal area in itself though looks straight out of a fantasy novel, while smelling a bit peculiar. All in all the Golden Circle is worth the drive, just be prepared for actually encountering other human beings.
Reykjavík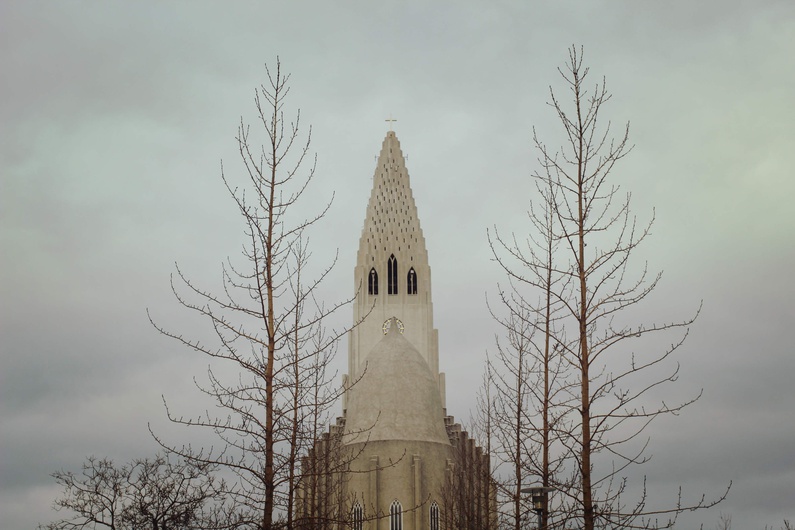 The northern most capital in the world is smaller than my hometown, even smaller than Aarhus. With its small colourful houses, the old harbour, its many cafés and the Hallgrímskirkja it is definitely worth a daytime visit. But it is most alive when it gets dark. Then, it suddenly turns into a thriving and bustling town, full of opportunities – to drink rather expensive beer, have a hazy conversation with a crazy Icelander or dance until the sun comes up. We had a lot of fun in a gay bar called Kiki, where the music was fantastic and the people some of the most open I have met in Scandinavia (of course, this could lead to a whole discussion on whether or not Iceland is actually part of Scandinavia – just for argument's sake I say it is). Please, don't miss out on a night of partying in Reykjavík, even if it seems really expensive to get drunk here. Make a game out of getting drinks without paying, which is always fun.
Northern Lights
We got stuck in the snow in the middle of the night, we were almost blown away by the force of the wind, we lost our way in the dark and we tripped over a lot – all in the name of chasing the aurora borealis. We were very lucky and saw the polar lights twice in one week. On the very first night and on our last night. It was like aurora decided to welcome us and bid us farewell, magic on an entirely new level. The first night we just started driving away from the city into the dark, got lost on the way and ended up being stuck because our car was just too tiny for all the snow. Pushing a Peugeot out of a pit in the middle of the night with an ice-cold wind blowing in your face sounds like pure horror, but it wasn't.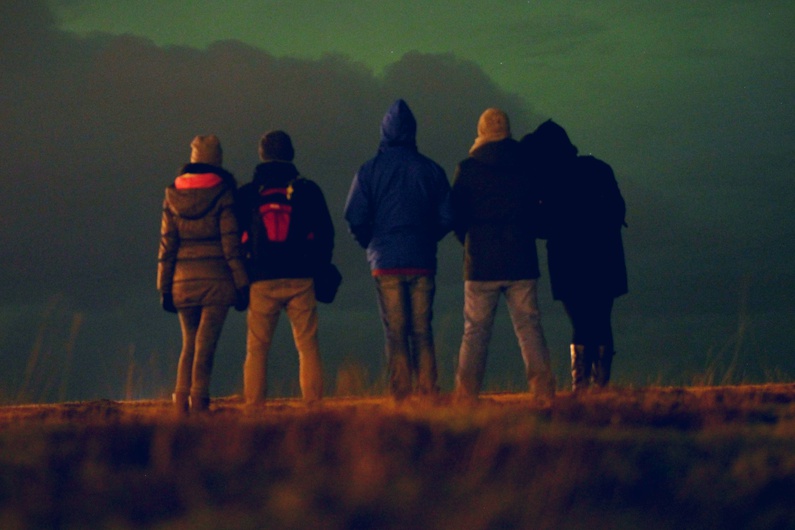 And when on our last night, which we spent at Keflavík airport (not a good idea, google it!), one of our friends discovered that the northern lights were visible just a few minutes from the airport, we started running. With all of our luggage we hurried across the snow-covered grounds, always towards the darkness. And then when you finally see the green light, out of breath and bruised from slipping and falling on the ice, it is the most indescribable feeling of triumph and wonder. A fitting end to an amazing trip.
Travel Tips
From Aarhus we took the bus to Copenhagen airport. From there, WOW air offers the cheapest flights to Keflavík airport.

We booked a Peugeot 108 with a Toyota engine at Green Motion, which by itself was an amazing car, but in Iceland you really should invest in a bigger car, preferably with a four wheel drive. Also: use every gas station available, in some areas they are quite a rare sight.

When you are as many people as we were, it definitely pays off to look at the Air BnB listings, although the hostels in Reykjavík also offer reasonable prices. What you should take into consideration is the time you spend driving in and out of the city, is it really necessary to stay inside the center or will you spend most of your time on the road anyway?

For a half-day trip from Reykjavík drive south towards Selfoss and continue onto Stokkseyri. These are some enchanting villages with the famous black sand beaches that even look amazing during winter.