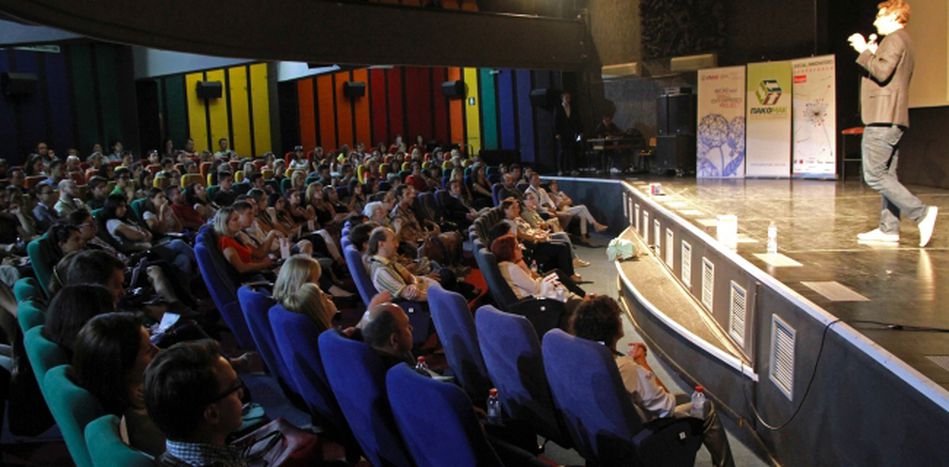 The Importance of Having Courage to be First
Published on
There are builders, and there are users. There are creators, and there are supporters. There are leaders, and there are followers. And it is never easy to be in the first group.
There are builders, and there are users. There are creators, and there are supporters. There are leaders, and there are followers. And it is never easy to be in the first group. But in this case, the Association for education Mladiinfo International once again was not afraid to set a foot forward and take a leap while jumping into a new field, all for support of the Macedonian ecosystem. On September 5th, together with Friedrich-Ebert-Stiftung (FES) Macedonia, Impact Hub Skopje and Association Public (Magazin LiceVLice), they organized the first edition of Social Innovators Conference.
The format of the conference was similar to a TEDx Conference, where speakers shared personal stories in the field of social impact in a format of 10-15 mins. There were 8 speakers, coming from different European countries (Germany, Poland, Slovenia, Bosnia and Herzegovina, Serbia and Macedonia). They poured their soul on stage, providing insight unto their life and business. From stories about what it is to live with homeless people, told by Barbara Sadowska, to how a person can find the need to create organic diapers, experienced by Sonja Dakic, and why opening a museum filled with items dating from the war times matters, masterminded by Jasminko Halilovik, this stage heard it all. The whole day event was also enriched by small expo of social businesses in Macedonia, providing stories and products to the participants, as well as Impact booth with different engagement games. Jakob Detering, one of the speakers on this conference, characterized this event as "support for students to develop impactful ideas and bring them to life."
And why even try something like this? The importance of social innovation for development has been already widely recognized. Yet, the benefits of innovation are not equally distributed among or within countries. Unfortunately, Macedonia is one of those countries where support on this level is lacking. Therefore, the aim of the Social Innovators conference was to raise awareness and inspire discussions around the topic of social innovations, empowering people from Macedonia and the region to drive change through entrepreneurship and engage in solving different societal problems.
Industries are changing, new markets are evolving, and the competition on the job market is fiercer than ever. Many young people, although blessed with talent and creativity, not always have the means, or know what it takes to have a business on your own. We constantly hear about the few great success stories around the world, but we always forget about the hundreds of not so great startups that do not have a shinning path, as well as the countless hours of sweat and tears behind the curtains. Jose Antonio Morales, entrepreneur born in Peru but living in Slovenia, had his own vision why this conference is of great importance for the community:
"Building an ecosystem of social entrepreneurs requires identifying its members. This conference meant a thunderous "we care about social entrepreneurship" message, sent directly from the participants. At the same time, the set of speakers I met were in fact very well in agreement with their core message: entrepreneurship isn't about fast results, but meticulous work, patience and evolution. I honestly wish Macedonia will not follow blindly the example of other countries, but find a cohesive vision that will unite their wonderfully diverse Nation."
There is no easy start. As the famous Robin Sharma says: "all change is hard at the start, messy at the middle, and gorgeous at the end". The same thing is here. Once the efforts are recognised, the results come as a blessing not just for the ones who make those efforts, but also for the community as a whole.
Author: Dimitar Chatleski
Original article @mladiinfo.eu