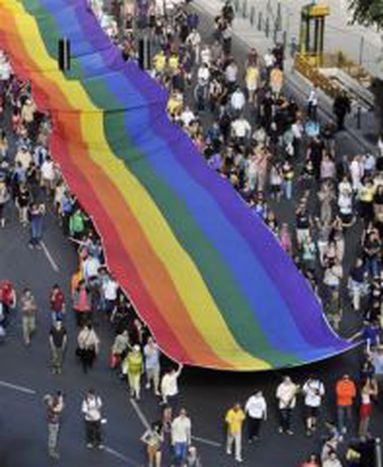 The gay community of Budapest still stays hidden
Published on
As capitals in general, Budapest is famous for its liberalism, but the LGBT world evolves secretly after all. Parties here do not crop up in every corner; they have to be searched for. After looking for programs for gays on the internet, I came across the Budapest Gay City homepage, which is the "no.
1 gay portal of Hungary", but the writing below contradicts it saying that the domain name is for sell. This page recommends bars, baths, cafés and even restaurants (however a gay restaurant looks like), but obviously this idea was not feasible. Being more aware of the LGBT world but almost completely in the dark it is hard for me to suggest any place for foreigners visiting Budapest. But without any research two places come to my mind: Capella and Alterego. Capella was very popular 5-6 years ago, because the uncrowned queen of drag queens, Lady Dömper used to be a regular performer there. The commercial media dealt with him a lot, so Capella had more rubbernecks than real visitors those times. Heteros were tempted to go there not just for peeking into the alternative world, but like one of my friends said also because Capella's DJs "are a half year ahead of the future trend in music". Capella's homepage is currently out of order, maybe also the club itself, because Alterego bar&lounge has monopoly position now. Alterego's putsch was enhanced by the fact that unlike Capella on the Belgrade quay it is in downtown, it has modern and clear design and Lady Dömper transferred there to hosts the parties. My gay interviewee tells me that it is pointless to open new "contraclubs" even on the same street, because they fail one by one.
However, I would like to know where do those scared away by Alterego's shop-window parties go. It becomes soon obvious that the right person has to be asked about the best gay places and parties in Budapest, because there is no official forum for this. The Na végre! (Finally!) program magazine used to be a good starting point but newsstands do not have it for a long time. Consequently those who would rather skip Alterego, can enjoy themselves in illegal parties. These are not literally illegal like the occasional electromadness parties at Normafa, but are theme parties. "There are ones that are organized in hotels and they have Facebook profiles. If you wish all your friends to know that you participate you can push on "I'm attending" but I usually don't do that" – tells my interviewee. The most illegal and the most "counter alterego" is the "brutkó diszkó" (brutal disco), where the DJs of Tilos radio play the music. "Brutkó" has three different forms, the first is the Bad taste party which name allegedly does not refer to its standards. The newest of the theme parties is the Confetti, which is held in a hotel, and like Alterego parties is expensive and posh.
Thus Budapest has many LGBT amusements as well, but they are scattered. The concept of a gay quarter in Budapest was on the agenda but the current economic and political circumstances do not favor the LGBT world. My interviewee discloses another cause: "There are many western cities which architecture better fits the creation of such quarters. They usually have a distinct art or party quarter where people are more relaxed and responsive and they don't consider rejecting gays a solution to their everyday problems." Of course gay activists still continue with their work, but since the scandalous 2008-2009 gay pride parades they seem to be out of the limelight. The biggest Hungarian mainstream LGBT event, the Budapest Pride film and cultural festival is happening now and despite the precursory prohibition there will be a Gay Pride March on June 18th. It is still a question whether there will be more conclusions or results at the end of the festival.
Written by Linda Krajcsó, translated by Mária Ballai (Photo source: newshopper.sulekha.com)