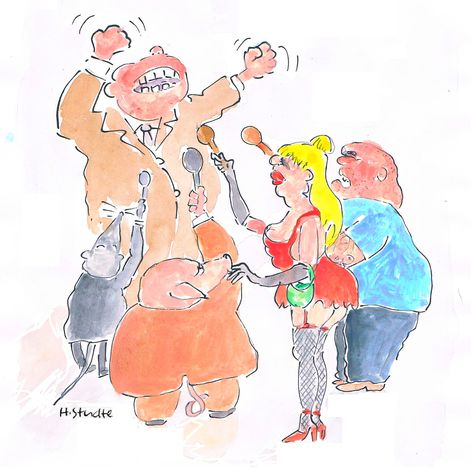 The European politicians who insult journalists
Published on
Translation by:
Amanda Mulligan
Media and politics has always been a love-hate thing. From Livingstone to Berlusconi, a brief outline of some of the most memorable insults that Europe's elected officials have directed at both defenceless and sometimes-deserving journalists
Since records began there has been an inseparable link between journalists and politicians, but their relationship is often pushed to its limits. It is well known that in their eagerness certain members of the press often go too far with their questions. That is when we witness the wrath of the politician. Jean-Luc Melenchon, a French MEP and leader of the Parti de Gauche (PG, French left party) proved the theory recently. When a budding student journalist asked him some burning questions, Melenchon accused him of having a tiny brain (petit cervelle) and rotten head (tête pourrie) and described journalism as a foul job (métier pourri), to which the unfortunate journalist responded with erm, thank-you! (eh bah, merci!).
One blog has even compared Melenchon's style to the former mayor of London: 'Style Ken Livingstone at his most acerbic'. In February 2006, the then-mayor asked Evening Standard journalist Oliver Finegold if he was a nazi war criminal: Finegold is Jewish. It seems a common trend in the UK: in April 2008, BNP politician Robert Baileycalled local journalist Sally Lowe a nazi. Bailey apologised, whilst Livingstone was suspended for four weeks and fined.
Meanwhile, the French weekly satirical magazine Le Canard enchaîné ('The Chained Duck') reported another alleged quote from French president Nicolas Sarkozy to members of his government in March: Journalists are good for nothing crooks. At least crooks have morals (Les journalistes, ce sont des nullards, il faut leur cracher à la gueule.Ce sont des bandits. Et encore, les bandits eux, ont une morale). What a way to make friends in the media!
Even Germany is not immune to the problem. Let's go back to the eighties and the statements made by Franz Josef Strauss, then-leader of the christian social union. Strauss claimed that journalists were like vermin around shit (Ratten und Schmeißfliegen). Joschka Fischer (green party) revealed himself to be just as vulgar when he referred to poor journalists as cheap whores (5-Mark-Nutten).
In Italy, politicians seem to attack the press without a moment's hesitation. During a recent press conference current finance minister, Giulio Tremonti, called a journalist a dickhead (testa di cazzo) because he was guilty of asking a difficult question.
During a PDL (people of freedom party of prime minister Silvio Berlusconi) press conference in Rome on 11 March, the Italian leader verbally attacked the persistent journalist Rocco Carlomagno, shouting you boor, shame on you! (villano, si vergogni!). He continued to poke fun at the reporter's baldness as defence minister, Ignazio La Russa, manhandled the shameless left-wing journalist.
Finally, how can we not mention Maurizio Gasparri, who is from the same party (PDL)? With smile intact and subtle irony the senator insulted a reporter from the Italian TV show Ballarò (broadcast on RAI Tre), openly calling him a loser aka sfigato - the vulgar word literally means 'unlucky'. He then changed his mind and apologised; the two made amends. As the saying goes, the course of true love never did run smooth.
Illustration: ©Henning Studte/ Youtube video: Melenchon sounds out; ©MrHautmaillegaude; ©ermes91
Translated from Il giornalismo? «Un mestiere marcio!»