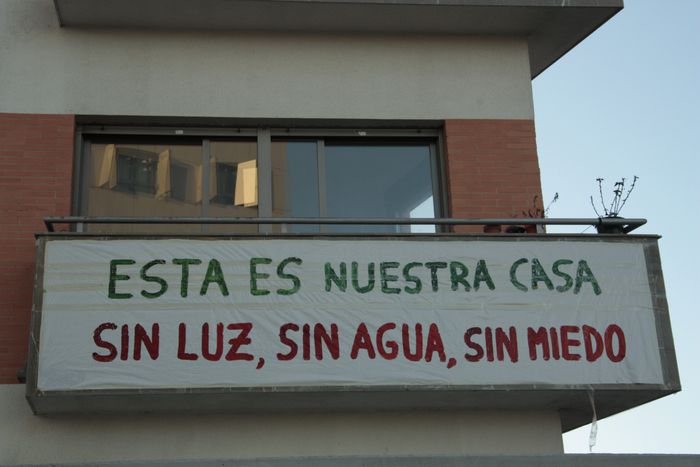 The Corrala Utopias Bringing Seville Back to Life 
Published on
Ravaged by the economic crisis which spread unemployment, poverty and homelessness, the people of Seville are fighting back with ingenuity and joie de vivre. The Corrala movement is taking back empty properties, not only giving people a place to live, but also a community to value...
 "Some time ago a French pho­tog­ra­pher came to shoot a photo re­port on life in our Cor­rala. He took us all, seated us one fam­ily after an­other on a couch and shot pic­tures. In my fam­ily's photo my daugh­ter is sit­ting on the sofa, my wife is stand­ing to her right and I am stand­ing on her left hand side." Al­though the res­i­dents of Cor­rala Utopia got used to pho­tos and media at­ten­tion, they be­came tired of the media sen­sa­tion­al­ism. "Upon see­ing the re­sult of this ses­sion I dis­cov­ered that the pho­tog­ra­pher had pho­to­shopped our faces to make us look sad­der. My face was edited and I looked like I was cry­ing. I also looked ten years older," sighs Al­varo. Sit­ting on the pave­ment out­side the Cor­rala, in the work­ing-class, north­west part of the city, we meet Al­varo, a swarthy, ro­bust-look­ing mes­sen­ger sent by the oth­ers to an­swer our ques­tions. There is no point in see­ing any­one else as "every­one would tell you the same story," claims Al­varo; and we can­not go in­side the build­ing so "the po­lice won't know what we have been doing in­side for the last few days".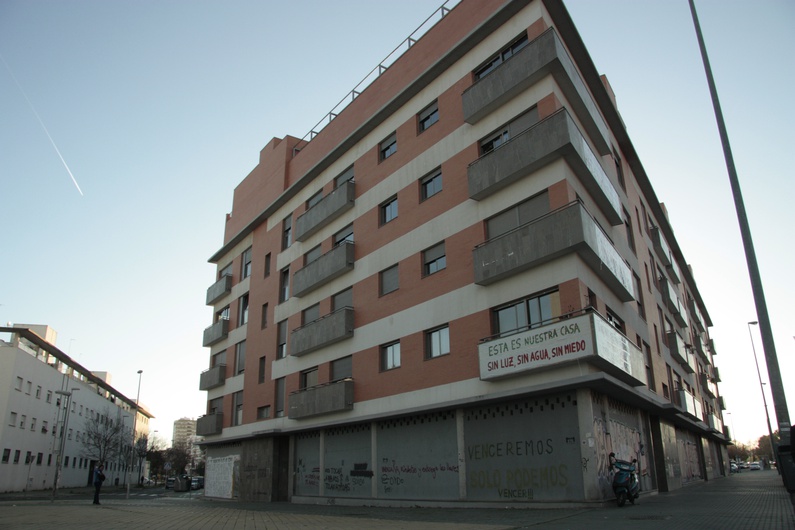 MEET THE RES­I­DENTS
Es­tab­lished in May 2012, Cor­rala Utopia was the first va­cant apart­ment block oc­cu­pied by the vic­tims of the on­go­ing eco­nomic cri­sis. It is in­hab­ited by var­i­ous peo­ple from for­mer hair­dressers to clean­ers and brick­lay­ers who found them­selves job­less overnight, who were kicked out of their homes and who, by and large, still have mort­gages to pay off. Al­though many other Cor­ralas have emerged through­out An­dalu­cia since then, Cor­rala Utopia is one of the few which has sur­vived. How­ever, its fate is highly un­cer­tain nowa­days. On 15 Feb­ru­ary, the Court of Jus­tice or­dered an im­me­di­ate evic­tion of Utopia's res­i­dents, fol­lowed by con­ces­sions that al­lowed the fam­i­lies to find a "pas­sive so­lu­tion" to the prob­lem. Con­se­quently, the com­mu­nity of Utopia will most likely be dis­solved on 5 March. Its res­i­dents will need to find new homes.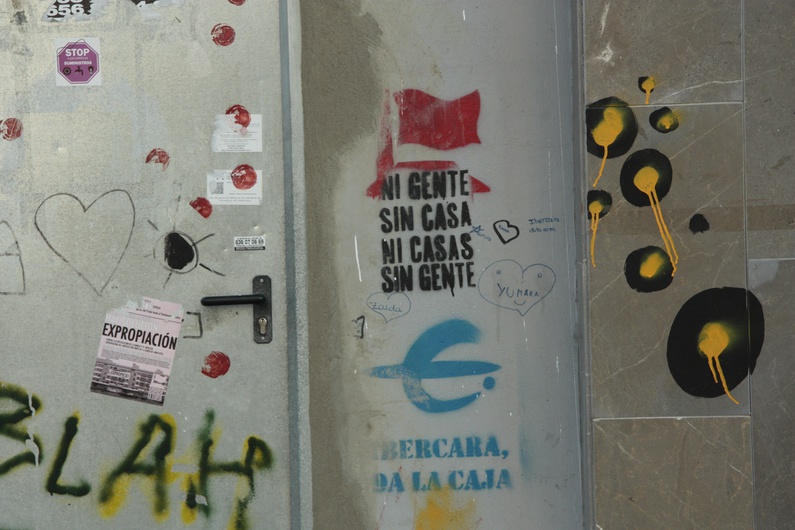 This is a para­dox­i­cally hard task. De­spite Seville hav­ing an es­ti­mated 130,000 empty hous­ing units, none of them have been of­fered to the fam­i­lies. "We want to pay a so­cial rent, ac­cord­ing to our in­di­vid­ual in­comes, but the Gov­ern­ment does not want to hear about it," ex­plains Al­varo, "More­over, they have been doing all they could to make life harder for us." Just a few weeks after they had moved in, the city cut off the water and en­ergy sup­ply. "They spent 40,000 euros on that op­er­a­tion," re­calls Al­varo with a cer­tain res­ig­na­tion, "We have been liv­ing here with­out water and en­ergy since al­most the very start."The Cor­rala res­i­dents take water from the pub­lic foun­tain across the street and use petrol gen­er­a­tors to pro­duce power. "We also asked the Gov­ern­ment to allot us huer­tos so that we could grow our own fruit and veg­eta­bles. Only one fam­ily has been granted a plot of land."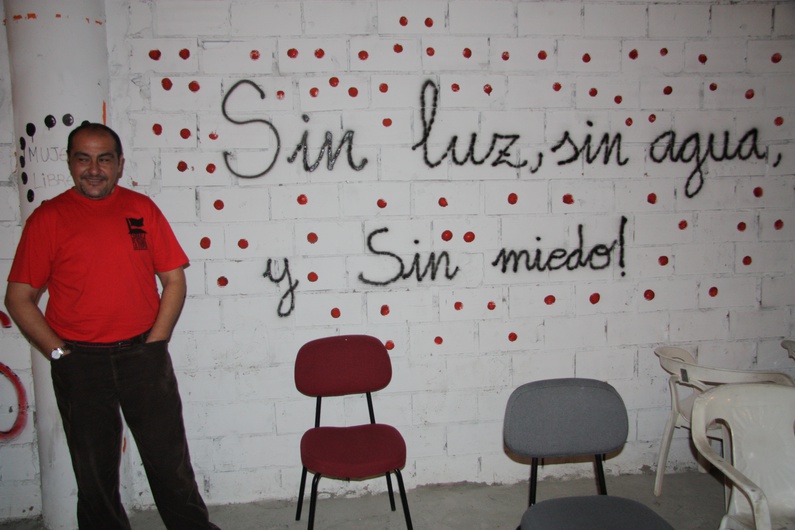 It's all about the peo­ple
"Be­fore com­ing here I worked in a nau­ti­cal club. I earned 2,500 euros per month, I bought a house; I was well off. Today I don't have a house, nei­ther TV nor radio, but I am hap­pier. Money can't buy hap­pi­ness," ex­plains Al­varo, "Now I have more time with my fam­ily, we spend the evenings talk­ing with oth­ers and play­ing with our kids. We are like one big fam­ily." In their free time, the res­i­dents of the Cor­rala, sup­ported by vol­un­teers, or­ga­nize ac­tiv­i­ties for chil­dren, learn to dance fla­menco and or­ga­nize events in sup­port of their move­ment. "We or­ga­nized Cor­rala Rock last year, a se­ries of con­certs in sup­port of our Cor­rala; we took fla­menco classes and used it for an es­crache [a type of peace­ful demon­stra­tion pop­u­lar in Spain, Ar­gentina, Uruguay, Paraguay, Ed.] in­side the Iber­caja bank, the cur­rent owner of the Cor­rala. We even asked the Gov­ern­ment to help us fi­nan­cially in the or­ga­ni­za­tion of a sol­i­dar­ity cen­tre where we could ad­vise peo­ple from our neigh­bour­hood, and then open a so­cial can­teen. We never got an an­swer."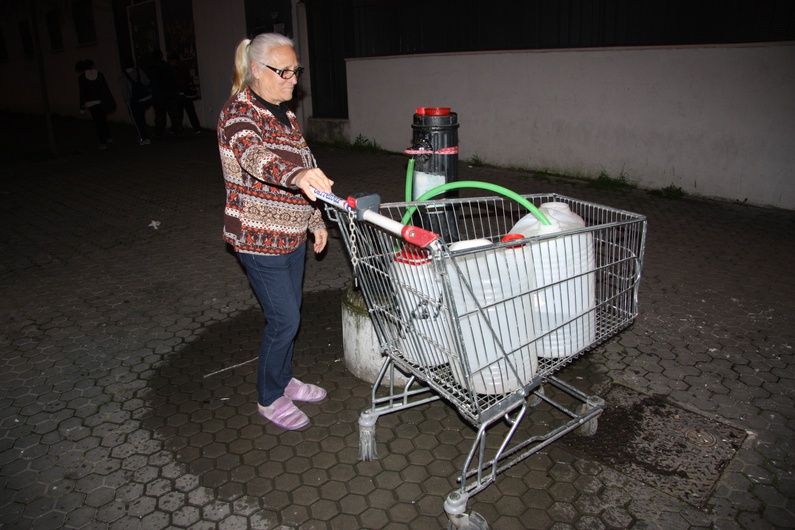 MAKE some NOISE!
"Power is peo­ple united", de­clares Al­varo and his be­lief is nowa­days shared among peo­ple all across the coun­try. We meet the mem­bers of the Plat­forma de Afec­ta­dos por la Hipoteca de Sevilla (plat­form for those af­fected by mort­gages in Sevilla, PAH) dur­ing a demon­stra­tion in the build­ing of an­other local bank, Caix­a­bank. It's noisy, the demon­stra­tors can be heard a few streets away. Trum­pets and whis­tles are nec­es­sary arms to show sup­port for the right to "de­cent hous­ing" and draw at­ten­tion to a need for "a real so­lu­tion to the mort­gage prob­lem" - there are four mort­gage cases that are cur­rently being dis­cussed by the bank's man­age­ment. These peo­ple have been camp­ing in shift for eleven days to demon­strate their un­wa­ver­ing de­ter­mi­na­tion.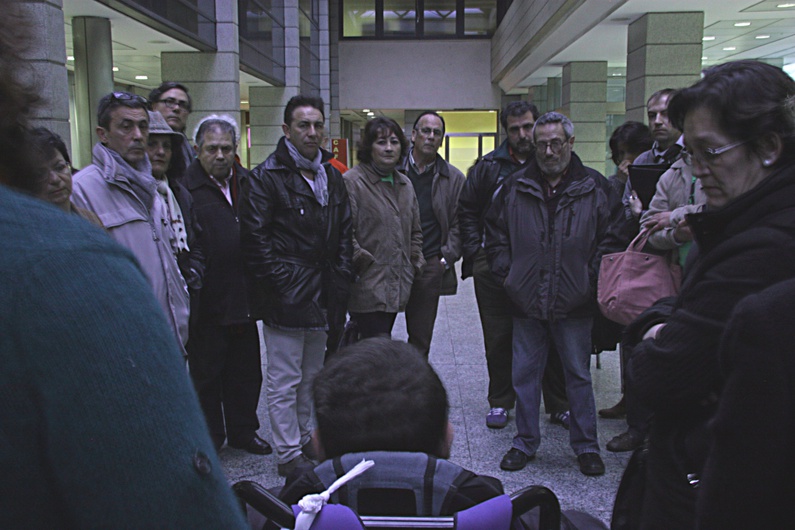 "The PAH is di­rectly linked with the In­dig­na­dos move­ment, or the 15M (the Oc­cupy move­ment born 15 May 2011). Back then peo­ple with the same prob­lems joined forces, started to or­ga­nize weekly as­sem­blies dur­ing which peo­ple in trou­ble with mort­gage and evic­tion would come to dis­cuss their prob­lems, re­ceiv­ing coun­sel and sup­port. In the Sevilla branch of PAH, we meet twice a week and gather about 280 peo­ple with non-solved mort­gage is­sues." Is­abel is a so­cial worker who de­votes her free time to co­or­di­nat­ing the PAH ac­tions. "Our biggest suc­cess is that we have man­aged to avoid evic­tions," Is­abel ex­plains with a smile, "Be­sides, we are not fight­ing for in­di­vid­ual cases. We work to­gether in solv­ing a com­mon cause. Here peo­ple lose their sense of guilt, they know they are not alone any­more. Thanks to PAH, peo­ple re­al­ize that they are fel­low cit­i­zens, not just con­sumers," she proudly points out. In fact, this seems to be the rai­son d'être of all the grass­root move­ments of civic sup­port in Sevilla, and prob­a­bly in Spain as a whole. As Al­varo puts it: "We are look­ing for a so­cial vic­tory, not a po­lit­i­cal one."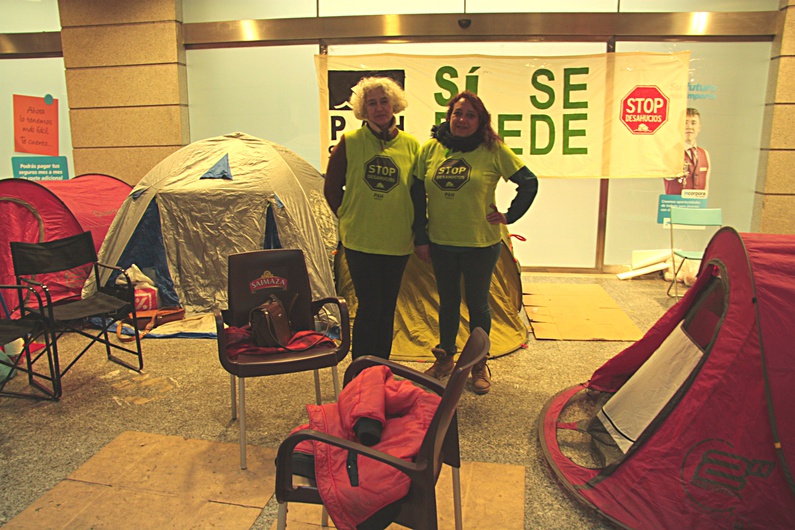 A HUGE THANK YOU TO CAFEBA­BEL SEVILLA - ELENA URBINA SO­RI­ANO AND CLARA FA­JARDO AS WELL AS TO PABLO GON­ZA­LEZ JIMENEZ.
THIS ARTICLE IS PART OF A SPECIAL SERIES DEdicated TO seville. IT'S PART OF "EUTOPIA: TIME TO VOTE", A PROJECT RUN BY CAFÉBABEL IN PARTNERSHIP WITH THE HIPPOCRÈNE FOUNDATION, THE EUROPEAN COMMISSION, THE MINISTRY OF FOREIGN AFFAIRS AND THE EVENS FOUNDATION.