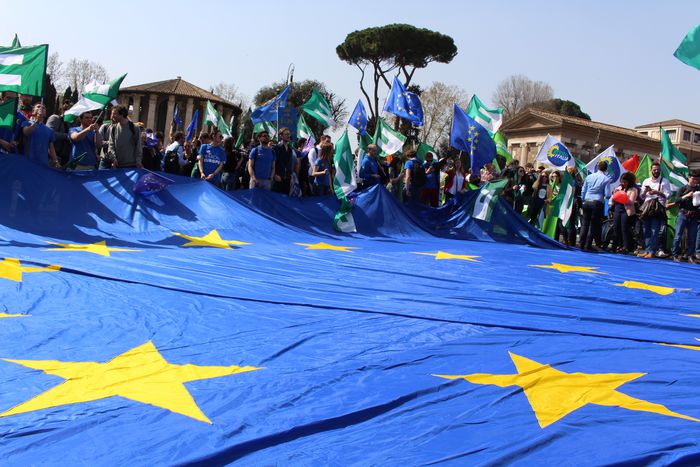 The colorful march for Europe.
Published on
On 25th March, five thousand people gathered in Rome to celebrate the 60th anniversary of the Treaty of Rome with a peaceful march, joined by all the citizens that wish for a more united Europe.
Sixty years ago, on 25th March, Europe took two fundamental steps in the building of the European Union with the signing of the two Treaties of Rome: the EEC (Euroropean Economic Community) and the EAEC (European Atomic Energy Community). For the occasion, there was a march in Rome, full of flags, colors and pro-european slogans.
The media panicspreading and the fear of terrorist attacks and of the Black Block could not spoil the young Europeans' party. Right after the London attack, people thought that there were "too many marches in Rome". That weekend, the city was indeed empty, armored and, in some zones, not open to the public, but the March for Europe was an exultation of songs and colors.
According to the police, there were five thousand people; according to the organisers, there were ten thousand. Still, other pro-Europe demonstrations gathered bigger crowds. For example, that same weekend, the event "Pulse of Europe" gathered forty thousand people all over Europe.
For - maybe unnecessary - security reasons, a lot of people had to give up on the meeting held by "Our Europe" at the Colosseum. The demonstration is organised by trade unions and by DiEM25, a democratic, pan-European and borderless movement created by Varoufakis, who has been finance minister under the first Tsipras government. "We'll join them later" had promised the European Federalists, authors of a demonstration that gathered a plethora of organisation for European integration.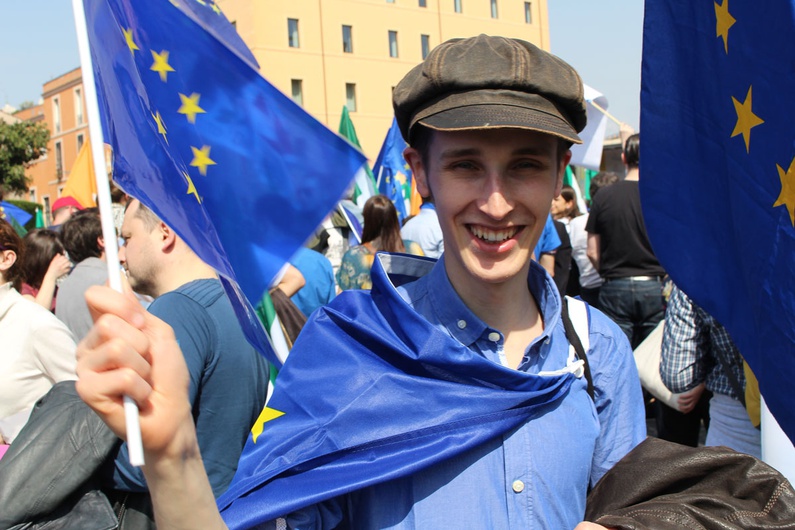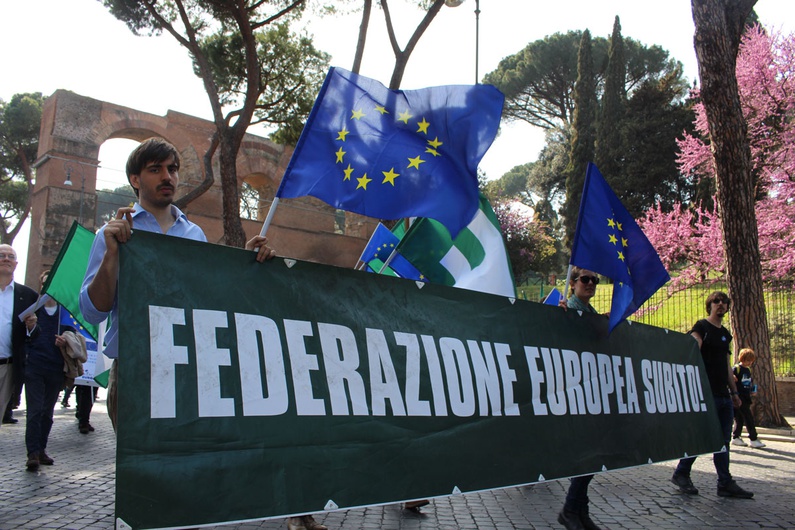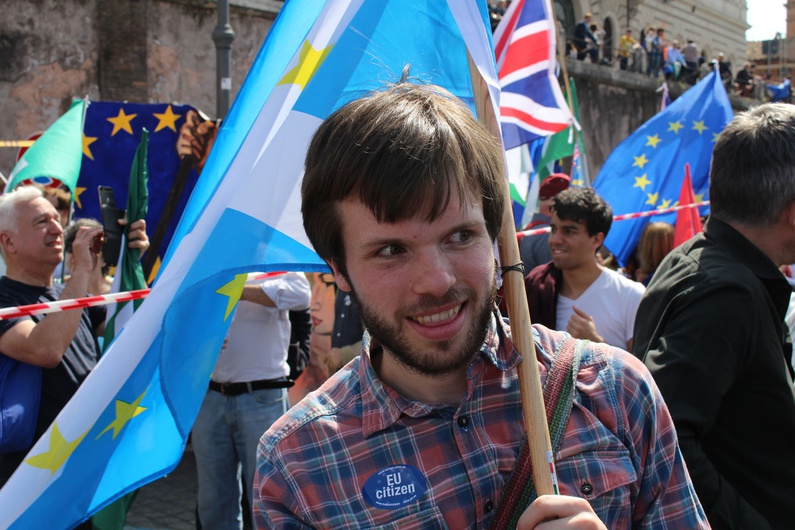 What was most striking of the gathering held at the Mouth of Truth was the number of Ukrainian and Scottish flags. Marianna, who studies in Rome but was born in Lviv, is sure there will be a future for her country in the EU "because the crisis is momentary and we'll overcome it, like we did with the other ones". Natt Paterson, 24, from Edinburgh, recently translated Primo Levi's biography: "It helps me remember the past, the wars. It's the reason I'm here to defend Europe. After Brexit, I wish for a EU that recognizes Scotland as a new European country even if the UK doesn't.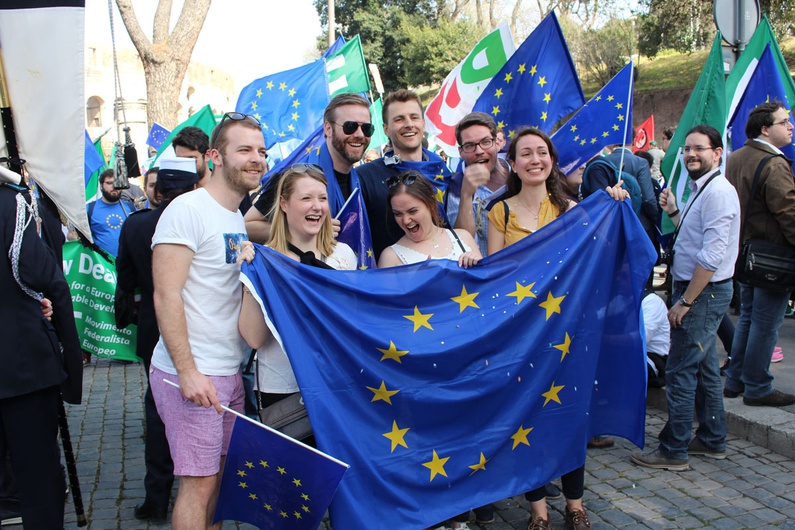 People that joined this event are former students in Europe Affairs, insiders in Brussels or campaigners; the so-called "Europe Bubble" is here and won't hide. Laurin, 25, from Germany, spent his childhood between Europe and the Middle East; he too holds a flag: "I'm here because lying politicians joeopardize the European project. We want a stronger and more united Europe". Simone Fissolo, 27, is the president of Young Italian Federalists. "Our presence is strong, in Italy, but we need to involve more common citizens in our activities, like Pulse of Europe does in Germany. I'm sure there will be other marches all over Europe, in occasion of the next national elections"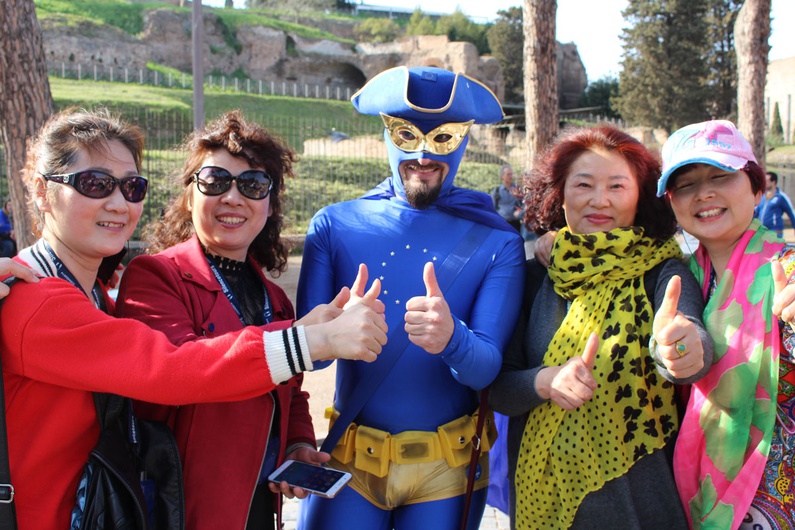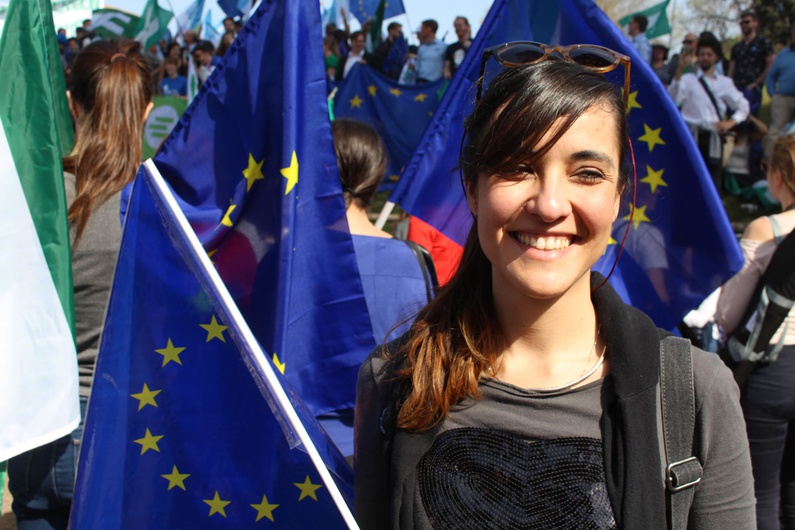 In the crowd, though, there's also someone who has no ties with the organisations and is here just out of civic duty. Irene, who studied in France and now works in Rome as an engineer, speaks with her heart on a sleeve: "Sometimes, I think that the only positive legacy our parents' generation left us is Europe. We need to learn not to take it for granted and to defend it". Andrea, from Pisa, holds a sign to remember that all citizens are free to travel: "My mom taught me to travel. I still remember how surpised I was when we couldn't go from Wien to Budapest just because I didn't have a passport". Some other people even brought their parents, like Ewa, whose parents, Suaevz and Kasia, come from Wroclaw, Poland: "We are here because our country wouldn't otherwise represent us. We want to spread a positive message, we want more Europe."
Translated from Tutti i colori della marcia per l'Europa