The burden of virginity and censorship in Uzbekistan
Published on
She is one of few women involved in documentary filmmaking and photography in Uzbekistan today. And she speaks about herself not as a dissident, but mainly as an artist. We talk with Umida Akhmedova about her life, being monitored by the authorities, virtually and metaphorically, in conservative Uzbekistan.  
Umida Akhmedova graduated from the Institute of Cinematography in Russia in 1986. Her problems started because of her interest in documenting rural life in Uzbekistan. Two documentaries and a photo album - these were the formal reasons given to begin court proceedings against her and her husband Oleg Karpov (the couple work together on their projects) in 2010. She had been charged under Article 139 "Defamation" and Article 140 "Insult" of the Criminal Code of Uzbekistan. An expert panel ruled that she and her husband, Oleg Karpov, had discredited and disrespected the traditions and values ​​of the Uzbek people, presenting "negative information, which may negatively affect the moral and psychological state of youth."
Less than a month after the case had opened, Umida received a conviction for six months or imprisonment from two to three years in a labour camp. Protests against the sentence began in Moscow and Paris. Later, she received amnesty and was released on the day of anniversary of independence of Uzbekistan. Her ban on leaving the country was lifted. However, life is not easy at present for Umida and her family, but she does not consider emigration for now. Oleg Karpov, once a director of the Museum of Cinema of Uzbekistan, was removed after signing a petition in support of the protests in Ukraine.
There was no massive Western support after the pressure on the family grew, as one might imagine. Now, Umida's life is marked by efforts to try and work within her current constraints.
The conclusions, made by 'experts' on the matter of religion, spirituality and psychology, determined that your work undermined and presented the spiritual values ​​of Uzbekistan in a negative light. What do you think this panel didn't actually like?
The so-called "expert commission" does not do anything alone. There is a group of people, carrying out "orders". Officially, we have no censorship, but when something is not approved here, some "commissions" and UZASI (the Uzbek news agency) gets orders to "monitor." These experts are picked up when they are needed. The criminal case is not initiated by them.
You were accused of showing Uzbekistan to be a medieval state. What would you say to such a judgment?
In short, the people who initiated the criminal case against my work possess medieval brains!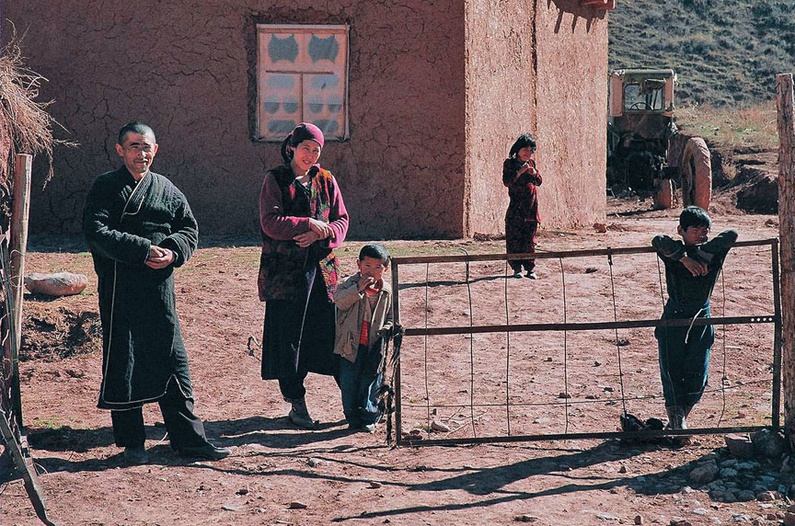 Can we talk about the movie The Burden of Virginity? How was the idea of it born and what was your experience during filming?
It's been a long time since I had the idea about ​​a movie about how in Muslim countries they make checks for virginity. It is not a film about the inspection itself, but about the people who fall victim to this ritual. When we began shooting, almost 10 years ago, people were not afraid to express themselves, the filming took place calmly. But at the time Oleg did not want the names of the people who spoke in the movie to appear (ed. In the second part of the movie, the filmmakers talk to anonymous individuals on issues related to disgrace and conservatism). Later we realised that he was right.
What would of happen to these people if they were not anonymous?
In any case it was good that they were anonymous.
In which areas did you film it? Can we talk about your trips in the rural parts of Uzbekistan?
I have always photographed many folk rites and rituals (ed. in a documentary about her, Umida says she still feels different from the people from traditional communities). In the film, episodes from weddings are used which were shot mostly in the Tashkent Region, where I was born. Weddings are more in the background and have no connection to the real characters. In the beginning we hear the story of the mother of a real girl who had been subjected to this 'verification' and who was expelled by the relatives of the groom after it.
There is an interesting moment, when we observed in the region of Andijan (ed. the fourth-largest city in Uzbekistan) how children bathe and there was a girl who did not jump from a bridge into the water. We used this image as a metaphor. The verification of virginity is not something that happens only in the villages.
In the film there are two ordinary women talking about it. One of them lives in a remote area in southern Uzbekistan, and she said that there this custom of virginity checks does not exist. Indeed, in some villages (kishlatsi) there is no such custom. Elsewhere, people can have a fully civilized wedding, very similar to a European one, and the same time again they can organise an inspection of virginity.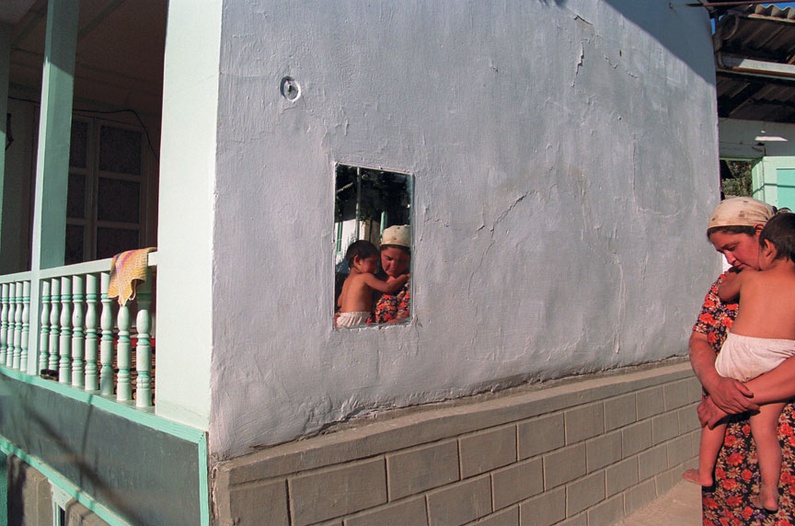 What is your feeling – are you popular in your country?
I am known primarily as the first woman photographer in my country. The first woman who to have received vocational education in Moscow. Before they opened a criminal case against me, I had appeared many times on Uzbek TV. I even received awards in Uzbekistan. I'm now known in my homeland as a dissident artist. Most people who had a good relationship with me before are now afraid to communicate. Especially after the Uzbek "Maidan" (ed. context below).
What rescues you and your husband from the everyday struggle? And do you feel any supervision or control in your everyday life?
Unfortunately, now we don't make many movies, and they took away the post of my husband in the "Museum of Cinema" club. They hampered him when he held video art festivals with his own money. There could be greater control since they took it all from my husband! Especially after the Uzbek "Maidan" when we, a group of people, went to the Embassy of Ukraine in Tashkent with a petition. Then we took a picture of ourselves at the monument to Taras Shevchenko in Tashkent.
My husband signed the petition, but did not come to the embassy. I was there with my son. But there, they decided that a punishment should be handed out to my husband as well and they took everything from him... We cannot show our work here, and what's worse than that? They control us... although they do not sit day and night by our windows.
How big is the community of creative people like you? How do they manage to express their views?
In Uzbekistan I am no longer into any community, after the chairman of Uzbekistan's Academy of Arts ordered for some of my students' works to be removed. Then, after the Uzbek "Maidan" most of the participants in my photography group 'turned' against me and I finally realised that a web of fear has strongly entangled people and that it makes no sense for me to work and communicate with these people. The official film studio here just performs orders.
It is not interesting for me with the colleagues here and I do envision any development. There are very few people that I communicate with, but they do not influence the times. And thank God there is the Internet and social networking groups. My husband and I collaborate with artists from Kyrgyzstan and Kazakhstan. We participate in festivals in Uzbekistan.
Have you thought of emigrating and if so, why do you stay?
I have never thought of emigration, and I do not plan such things - hopefully not. If it becomes very dangerous to live here, if there is a threat made to my family, then of course I would have to emigrate. However, I am optimistic!
YouTube: The Burden of Virginity