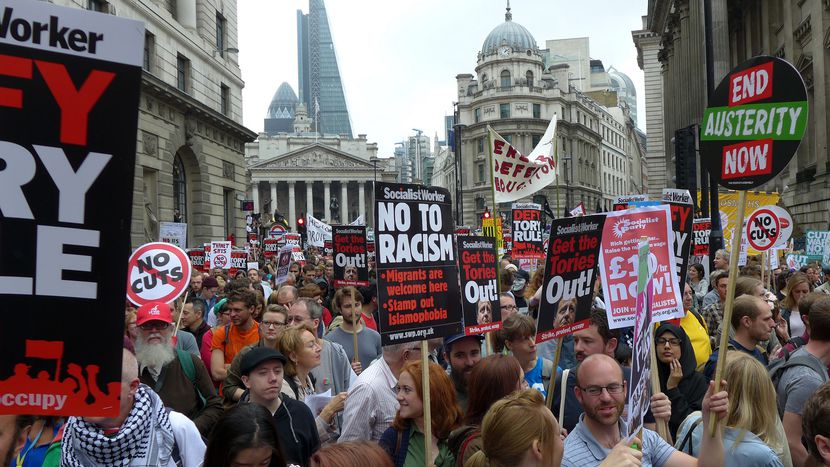 The British anti-Austerity movement goes on 
Published on
On Saturday June 20th, 250,000 people marched in the streets of London for the "End Austerity Now" demonstration, organised by the People's Assembly Against Austerity.
Composed of and supported by trade unionists, party members and activists, The People's Assembly Against Austerity's protest of June 20th assumed the role of showing Prime Minister David Cameron's Tory Government that the austerity agenda that they are planning to pursue will face opposition from an active citizenry.
While protesters in London were crossing the streets from the Bank of England down to Parliament Square , demonstrators were also rallying in Liverpool and Glasgow.
A clear element of the rally was the broad appeal of the call; it was possible to spot the banners of the National Union of Teachers (NUT) and Unite the Union, the largest British trade union, others from Standing Against Racism and Fascism, Keeping Our NHS Public and the Students' Assembly Against the Austerity.
The presence of a diverse opposition to the austerity agenda was echoed in the words and speeches of trade unionists like Martin Powell-Davies of NUT, Len McCluskey, General Secretary of Unite, as well as Sam Fairnbairn, the National Secretary of the People's Assembly.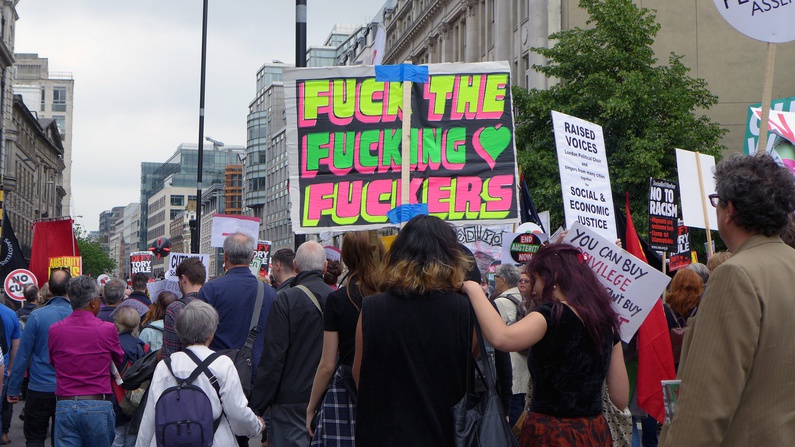 On the political front, it was possible to notice the banners of the Green Party and Left Unity, while Natalie Bennett, leader of the Green Party was also standing among the crowd.
In addition, there were also left-wing Labour MPs such as Diane Abbott who is planning to run for the Labour Party as Mayor of London next year. 
At the end of the rally, many speakers addressed the crowd ranging from the comedian/activist Russell Brand to the journalist Owen Jones, the singer Charlotte Church and the MPs for Brighton Pavillion, Caroline Lucas (Green Party) and Islington North Jeremy Corbyn, who is currently running on a leftist ticket for the Labour Party leadership.
On the political ground the answer to this mobilisation was harsh as George Osborne and Iain Duncan Smith announced their plan to slash £12bn a year from public expenditure.
Though the platform and focus of the various groups may be different, opposition to austerity is the common ground that connects this assortment of movements.
The next appointment for the British anti-austerity movement will be on the 8th of July, when the Chancellor of Exchequer George Osborne will officially announce the Tories' Budget Bill.
It is still early to know for sure, but it is possible to expect that given the Tories willingness to pursue their agenda, regardless of widespread popular opposition will create a fertile context for a long set of mobilisations (after all, 76% of voters did not vote for the Conservatives, but the illegitimacy of the UK's electoral system is another issue).