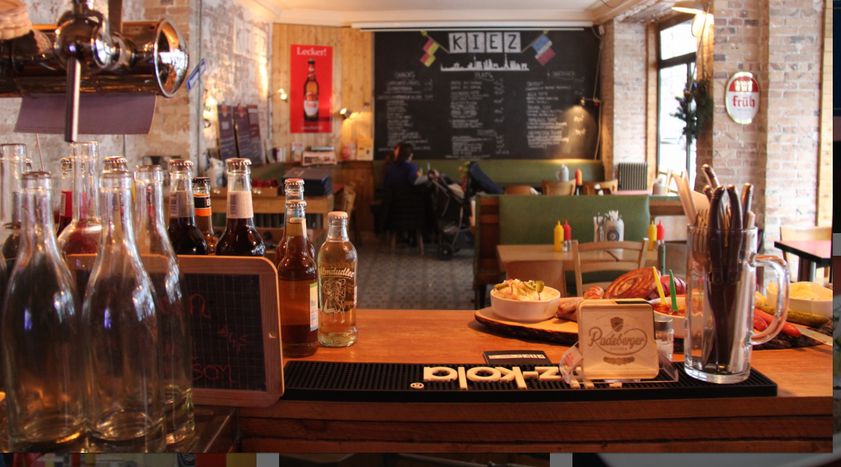 The Best of the Wurst: 5 German eateries in Paris
Published on
Spring has long since sprung, and what better way to spend the season than sitting in a Berlin beer garden? Actually, even in the middle of Paris it's not hard to indulge in a bit of German culinary culture. Here's five places where you're guaranteed to find the best of the wurst.
Wunderbär: Fast Food "Bärlin Style"
Just round the corner from the legendary Place de la République in the 10th Arrondissement lies the recently opened, and charmingly absurd, Wunderbär – featuring "Teddy Bier", named for the bar's mascot, chosen after coming out top in a Facebook poll that also included the names Bärlin and Bärney. Alongside the tattooed city hipsters – Berlin oblige – sipping their Club Mate or Fritz Cola, there's a generous selection of sausages from every corner of Germany and the obligatory side dish of potatoes or – Berlin oblige encore – Quinoa salad. "€12 is all you need," says Matthieu. "A really good place for the gourmet, with generously sized déjeuner. Simply put: Wunderbär!"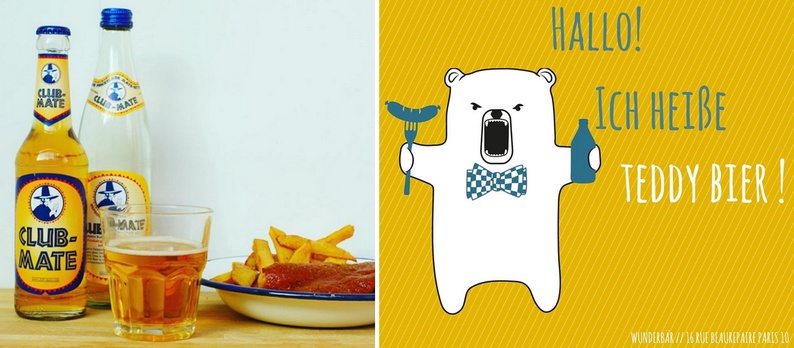 Café Titon: Classic Franco-German 
It's not just for the football games shown on the big screen and during Oktoberfest that German expats and French fans flock to the grass green Café Titon on Rue Titon in eastern Paris. The menu ranges from Sauerbraten to Hawaii Toast, everything that makes German stomachs pang for home. Even if Germany's Reinheitsgebot (Purity Law) isn't quite intact these days, German beer, of which there is a wide selection here, remains popular. For the hardcore enthusiast, there are workshops on how to make your own Weissbier. The obligatory currywurst and chips costs just €6.20.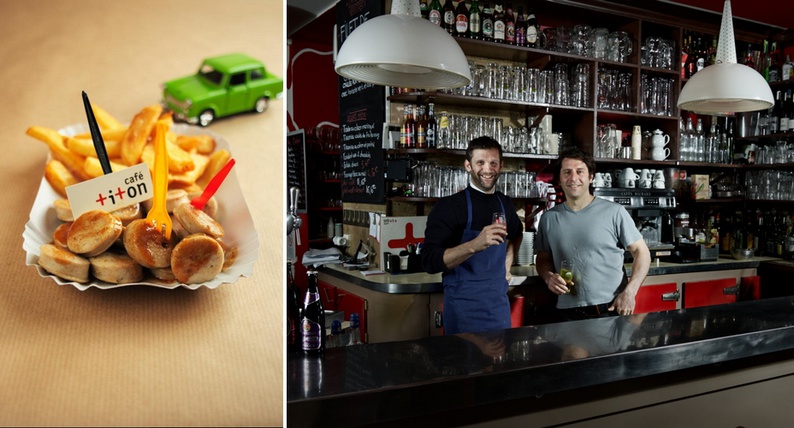 Udo Bar: Night Owls love a currywurst 
Udo could easily become your new regular. For six years now it's been part of the Parisian furniture. Situated in the party corner between Oberkampf and Parmentier in the 11th Arrondissement, this small black-painted bar is so busy from Thursday evening all through the weekend, that it's sometimes almost impossible to get inside the building. "Bar, bière, currywurst, vodka, musique électronique," that's Udo's perfect mix for a Parisian soirée, Berlin style. €10 will get you a vodka and a currywurst, and you definitely have to try a Moscow Mule.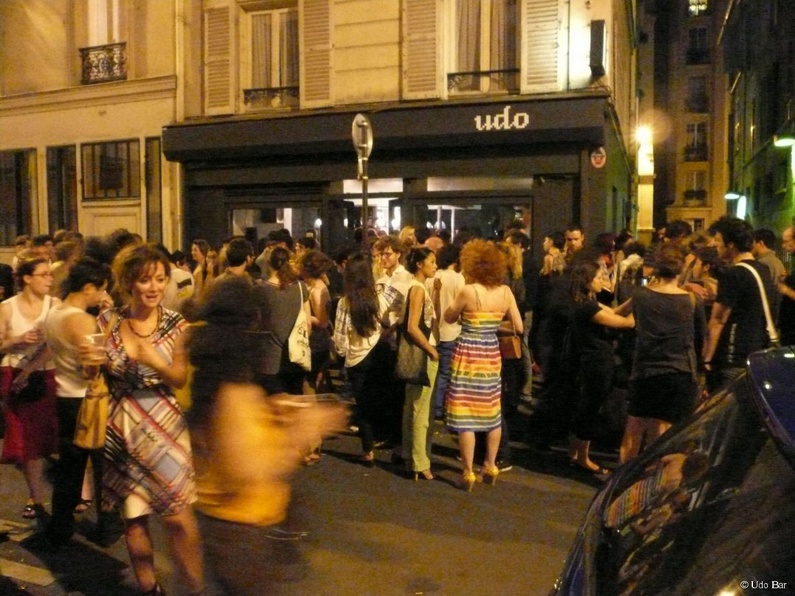 Kiez: Biergarten de Paris
If there's one thing I miss about Germany, it's Beer gardens. But not long ago Paris' first ever beer garden – das Kiez – opened in northern Paris, between Montmartre and les Batignolles. Here you'll find the works: wooden benches, mustard and ketchup in plastic squirty bottles, and beers from every corner of Germany. Both the happy freelancer and the avid procrastinator will find Kiez the perfect place to pass an afternoon sitting in the open air with an Apfelschorle and a fast Internet connection. At the weekend they do breakfast, or "brunch" as some call it. Chef Maximillian stands over the stove preparing the Plat du jour, which can include dishes such as Spätzle (a type of pasta), Schweinebraten (roast pork) or Königsberger Klopse (meatballs). And after you've finished digesting delicious German food, there's also table football.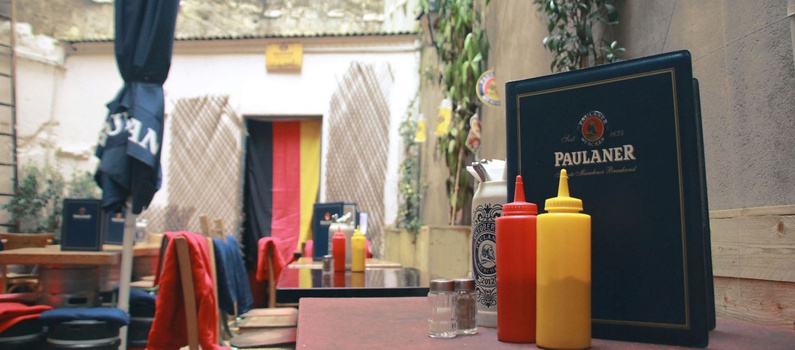 Le Stube: Coffee and cake just like Grandma used to make
Even though it's the last entry on our list, Le Stube was actually the first German location to open in Paris. In his bakery slash coffee shop, Gerhard, who originally comes from Hessen, has everything that a German needs to cope with coffee and cake cravings: Black Forest cake, poppy and apple strudel, Sachertorte (we cheated a little – that last one is actually Austrian). He could make a Currywurst in his sleep. Whenever a German cultural event takes place, he's there as the man with the curry powder. A Currywurst-to-go is €8.50, or alternatively you can eat in, in close proximity to the Palais Royal-Musée du Louvre.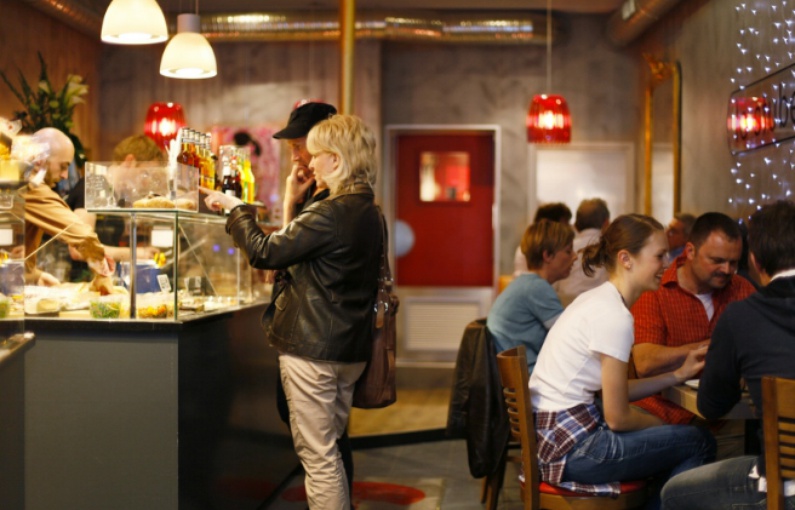 Translated from Udo, Wunderbär, Kiez - 5 deutsche Locations in Paris