The art of saving lives at sea
Published on
César Dezfuli is a freelance photographer who decided this summer to turn his camera on Jugend Rettet, an NGO operating out of the ship Iuventa that rescues migrants who try to cross the Mediterranean Sea.
There are situations that put you to the test. They push you to the limit and define what type of person you are. If you haven't got what it takes they chew you up and spit you out, leaving no trace of the good intentions you set out with. You need certain qualities of character, and you need to be willing to put everything on the line. You follow the rules as best as you can, take the punches on the chin when they come, and find new strength to carry on.  
This is a story that starts with the tragic death of 800 people in the Strait of Sicily; On 19 April 2015, a large boat sunk in the Mediterranean Sea. Its cargo? Human beings, hopeful and afraid.  The boat set out from Libya and was headed for Sicily. There were no survivors.
It was the straw that broke the camel's back. Jakob, a 19-year-old German, was pushed to take more concrete action. He founded Jugend Rettet and set up a crowdfunding campaign to buy a boat, the Iuventa, with the intention of personally helping all of those who attempt the crossing from Africa to Europe in search of a better life.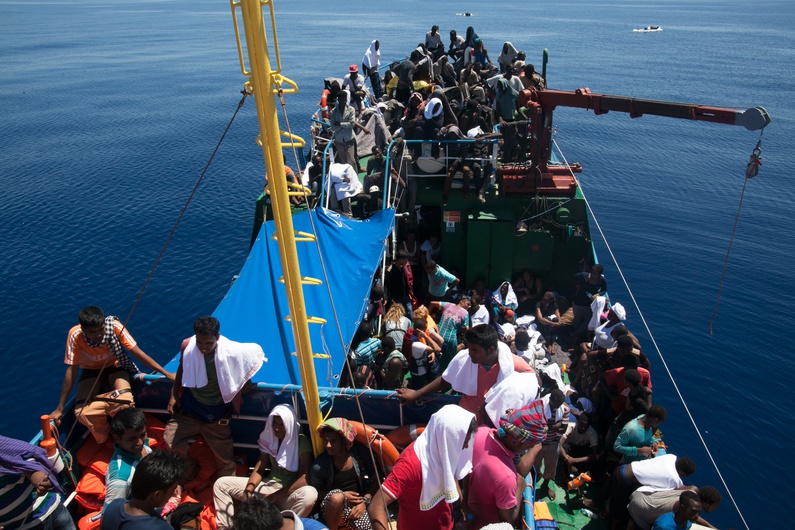 It seemed a crazy idea, but in a year it had become a reality. The Iuventa took to the sea to begin its new mission. César, a Spanish photojournalist, was among the first crew members. He decided to offer his services to the organisation, documenting one of the boat's first outings.  "I had a number of reasons to come aboard. Of course, as a journalist, the opportunity to document this undertaking was a major factor. But above all it was the desire to do something that could really make a difference to the situation that made me genuinely consider the opportunity. My brother, who lives in Berlin, told me about it: a young crew, a new organisation and the opportunity to do something good for myself and others. I said to myself: 'why not?'"
A week's training in Malta was followed by 16 days at sea, and then two more days ashore to help train the next crew. "There's not too much time to get settled," says César. "You start with the rescue missions straight away. While at sea we rescued 19 boats filled with people. I hadn't experienced anything like it in my life."  
Despite the limited prior experience the organisation has of saving lives at sea, it went better than anyone could have imagined. "The truth is I was a bit surprised by the preparation of the entire crew, it really was incredible. Sure, there are things that could be improved, but it really couldn't have gone any better."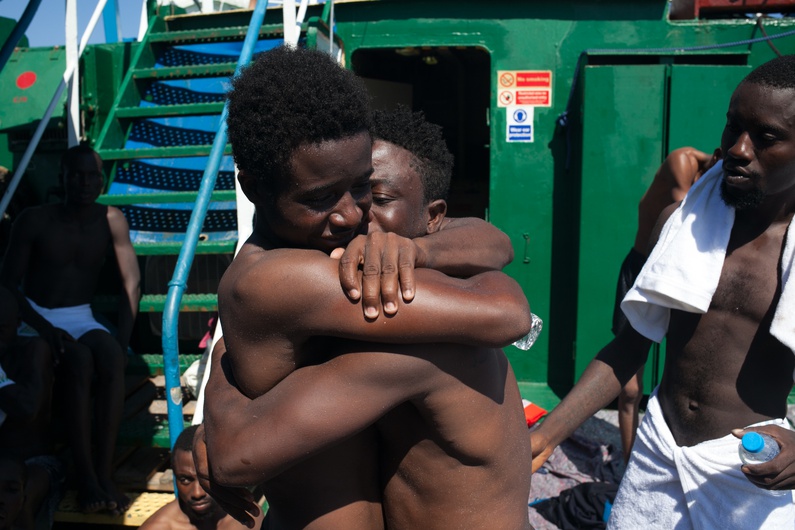 César knows firsthand that the situation for these migrants is incredibly complicated. "The number of people that continue to cross the Mediterranean is the same as last year, and nothing suggests it will drop in the near future. It's completely absurd. The NGOs try to help these people, but until European governments adopt a united position it's impossible to imagine an improvement of the situation. Many European governments want to block Libyans from entering Europe, but they too people are fleeing from war. By doing so governments do nothing more than trap Libyan refugees.       
"I think that I helped the organisation, with my work. They needed somebody to photograph the work they do, and I believe that I did so in a very personal and human way: telling their stories, explaining their work, talking with them and documenting their effort and commitment. Above all what I've taken away from this experience is their stories, so many stories. Completely different lifestyles and even more diverse ways of viewing life. And it made me realise how much help is still needed. It's never enough."
---
This article is part of our series on The Other Side of Summer: shining a light on people who've sacrificed their holidays to help others.
Translated from L'arte di salvare la vita in mare: i giovani della Iuventa