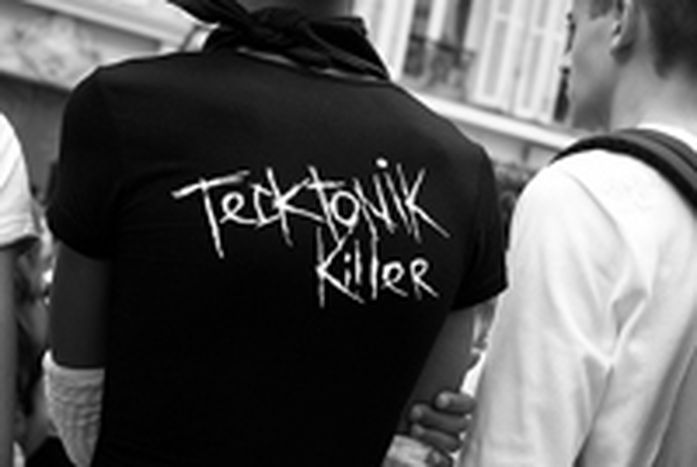 Tecktonik - arm-splaying, mullet hair dance craze
Published on
TCK. Three letters that stand for a phenomenon: tecktonik. Similar in style to electro, it has been a sensation amongst teenagers in France, Belgium and Holland over the last six months - and is also a registered trademark
'Jeyjey', 19. His alias probably means nothing to you. However, more than four million internet users have viewed the 'tecktonik' style of this young Frenchman. At just a minute and a half long with an electro soundtrack under the neon lights of his garage, his dislocated and repetitive movements executed at a frenzied pace, have made him a star and incidentally, the spokesman for the tecktonik movement that has French audiences falling all over themselves.
The same can be said for Treaxy, the French champion of tck in 2006, who was picked to dance in a music video for French singer Yelle's Belgian remix of À cause des Garçon, or equally for the dancers of the Dance Generation Collective. Thanks to the internet, notably Youtube, in scarcely a few months the movement has taken off on a massive scale and spilled out onto the street of Europe's capitals.
'Aprems' on the streets of Paris
'You just cross your arms in front of you and turn your wrists … like this!' The atmosphere is one of concentration in the surrounding area of the Pompidou museum in Paris. Like all Wednesday afternoons, the dancers have taken over. The 'aprèms' (abbreviation of 'apres-midi' or 'afternoon'), as such events are named, are an opportunity to perfect a certain move or to take part in a 'battle' against other dancers. tyles and looks vary - Milky Way, electro poppin', jumpstyle revisited. A mohican for some, skinny jeans, bat-wing sleeves and pink fluorescent streaks in their hair for others. The whole thing has an air of Mad Max and David Bowie about it.
'Tecks' borrow a lot from the eighties and mix together styles from the last twenty years in a completely unstructured way. It provokes amused looks from passers-by, but no one cares: the enthusiasts are there 'for fun' with no rules and nothing imposed on them. 'Everyone dances the way they want to, with their own look, style and personality,; explains a fair-haired girl who looks like she's escaped from the music reality show, the X Factor. They have a single motto that applies to everyone, especially beginners: 'don't look at your feet or you will crash to the ground.'
Tecktonik, registered trademark
The origins of the movement could be found in Belgium at the end of the nineties before it exploded recently in France, following in the wake of Hardtech and Hard Trance. In 2000, two 'Frenchies', Alexandre Baroudzin and Cyril Blanc, wanted to emulate the spirit of these classic techno club nights by transporting the 'joyful environment of a rave' into an enormous nightclub complex in a Parisian suburb: the Métropolis.
'Tecktonik,' they explain, 'is a reference to the geographic movement of the tectonic plates; specifically, the meeting and clashing of different musical cultures.' The two partners therefore founded their company 'Tecktonik events', and registered the name with the INPI trademarks office ('Institut National de la Propriété Industrielle'). In addition to this they then created a clothing line and an energy drink, 'Tecktonik Killer.' For enthusiasts who have no intention of taking drugs, it gives you energy to burn off on the dance floor.
Every weekend, close to 6, 000 fans are let loose on the dance floors of the Métropolis nightclub. Tecktonik boutiques are the only vendors of t-shirts bearing the official logo: an eagle with its wings spread. They are priced at thirty euros (twenty pounds) each for a 'simple' branded cotton t-shirt! To dance freely but with style clearly comes at a price. Amateur tecktonik lovers in other countries can no longer use the term, in fact the Belgian site www.tecktonik-belgique.com has been renamed 'ligue belge electro style'!
Standardised mullet cut
The giants of the music industry, EMI, have jumped at this chance, duly churning out the official compilation albums. In the charts over the last fortnight, 'Tecktonik vol.3" was the second highest selling album in France. 'Tecktonik vol.2' did equally well. And the phenomenon is starting to expand further.
Internet videos made in Spain, Japan and Morocco have ensured the movement's successful exportation. Thanks to admirable Tecktonik marketing, resident DJs – like DJ Dess and DJ RVB - are appearing on the trendy Parisian branch of Radio FG to publicise their European tours.
The next stage is the opening of Tecktonik hairdressing salons, in association with a famous brand of hair gel for those who want a 'tecktonik' hairstyle, a trend with 'great potential.' Those who consider themselves to be 'anti-mullet' had better watch out!
Jey Jey, one of the pioneers of the tecktonik in France
Translated from Dansez 'électro', consommez Tecktonik