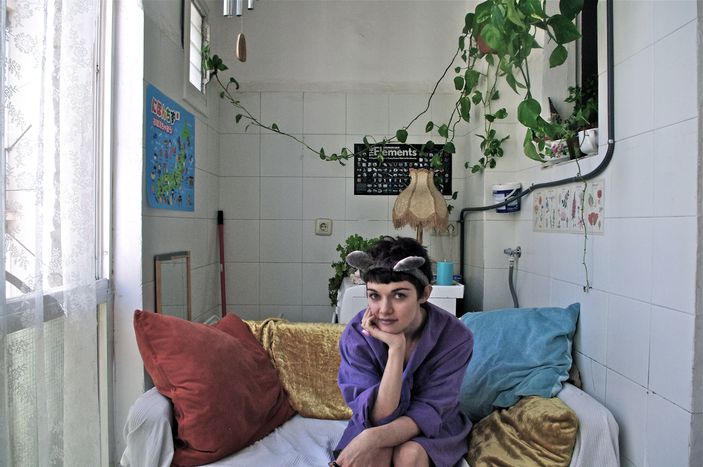 Tea with Maïa Vidal: Barcelona became the seed of my musical inspiration
Published on
Born and raised in the USA by a French father and a German-Japanese mother, singer and musician Maïa Vidal is now based in Barcelona. The multifaceted artist lives in a cosy flat in Sants, a residential district in the Catalonian capital. Over a cup of tea she talks about music and life on both sides of the Atlantic
'I'm from all over the place.' Maïa Vidal was born in California and grew up in a little town in New York State, her father is from France and her mother is half Japanese with German roots. These different backgrounds flow into her work and music and make it an exploration of diverse cultural influences. She started with punk, but now her music is closer to being folkish world music with touches of electro. Maïa states: 'My first album is a pop-folk one with a French-European flavour.'
The artist discovered music at a very young age through watching television. At the age of seven she started playing the violin, which she was taught using the Suzuki method which promotes learning by listening. This approach made it easy for her to learn other instruments afterwards. She plays a diverse range of instruments, all taught autodidactically - 'I learn how to play instruments for specific occasions' - including the accordion, piano, keyboard and clarinet.
At the age of 15 she had her first songwriting moment and then started a punk band called 'Kiev'. It was a three-girl-band performing ironic sweet covers of punk songs. 'We had our band in the early millennium years when there was no culture of accepting feminity in music, at least where I grew up. I only saw Britney Spears or something hyper-aggressive, no middle way.' Back in these days the band was even touring  with Bad Religion, Anti-Flag and Gogol Bordello.
Through art to music
After some years with the band she took three years off of music and studied visual arts in Montreal. 'It helped me to learn how and why to express myself, I learnt to thinkabout my art.' Through this experience Maïa finally found her way back to music, coming to Barcelona where she started to write her own songs again. 'Barcelona happened to be a place where you could develop your thing,' she explains. 'It became the seed of my musical inspiration. It pushed me to do music and therefore kind of chose me.'
When asked where home is, she responds wryl that 'when I'm in Barcelona I get homesick for New York, when I'm in New York I get homesick for Barcelona.'
Maïa works together with her mother and she generally prefers working with people she is close to. Her partner in music is Giuliani Cobelli, or Gius, who has been her boyfriend for the past three years. They recorded the albums 'God is my bike' and 'Spaces' together.
'We always have these little fights. I'm team music, he is team sound. In the end our courses combined make our music complete.'
A further example of the artist's collaborative work is the production of the video to her song 'Follow me' produced by Joana Colomar. Joana is also based in Barcelona. The two met on a video-making course and ended up making a music video together. 'Follow me' is a song about seduction and the video deals with the aspect of trickery in a somewhat creepy way. The video, which references fairy tale The Wolf & the Seven Little Goats, gained unexpected success. It was nominated at the UK music video awards as the best European album of the year in the category of Best Pop Video next to those of Lana del Rey, Rihanna and Justice. Consequently Joana and Maïa worked together again on Maïa's  latest music-video  'The Big Shift.'
Favourite things
cafebabel: What was your favourite song when you were 16?
Maïa: Celebrity Skin by Courtney Love's band Hole
cafebabel: Your favourite food & drink?
Maïa​: Hummus and red wine
cafebabel: Your favourite smell?
Maïa​: Laundry
cafebabel: Your favourite obsession?
Maïa​: Expressing myself. My new favourite thing is making GIFs
cafebabel: Your favourite song out of your own ones?
Maïa​: 'Everything is beautiful'. It describes me best and it totally makes me happy listening to it.
cafebabel: Your philosophy for life?
Maïa​: Live every day as if it was your last. My favourite quote is one by the USA writer Kurt Vonnegut Jr: 'Everything was beautiful and nothing hurt.'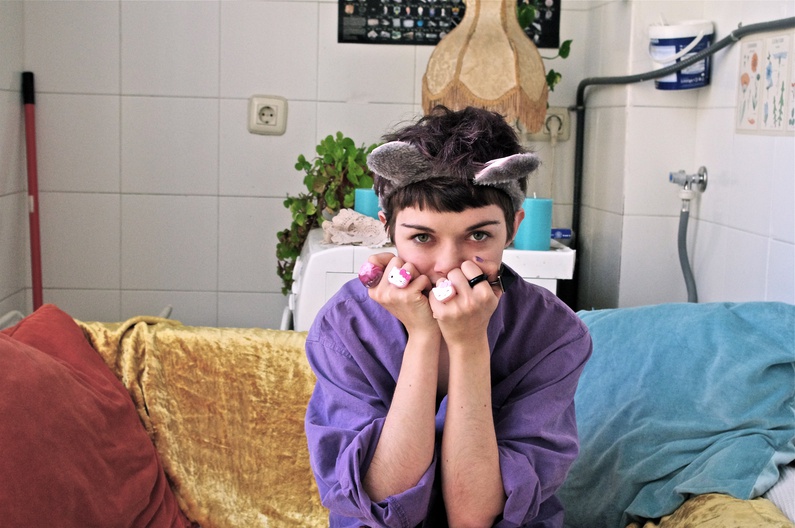 You can find the artist's tour dates on www.crammed.be