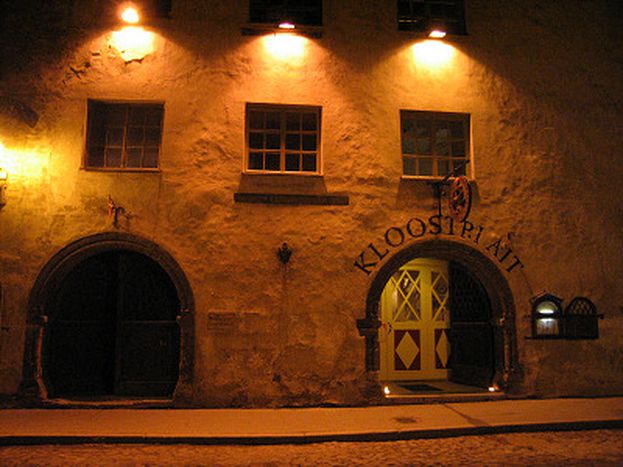 Tallinn Guide: Restaurant Kloostri Ait Review
Published on
Service: 4,5 For the couple of times we have been there, I have to say that the service always seemed to improve and this gave us go a great opinion of, probably, the best feature of this restaurant.
Personnel is kind, polite, perfectly Estonian, Russian and English speaking, and is ready to cuddle customers with discretion and smiles, even when some annoying people –  me, tried to tease them to death: when I asked to make an espresso by myself and I took the direction of the counter for dealing with a machine I have never used before, I did not have any real complaint.
We will see what happens when I will try the same in Double Coffee.
Place: 3
Nothing bad, really.
But also not one of the most impressive places I have ever been into.
The big room is well enlightened - and, believe it or not dear fellow Europeans, the darkness of some restaurants is becoming a serious issue here in Tallinn. Even till the point that I got the impression that some people do not want me to look into my plate.
But the whole restaurant is actually not more than just one big room with nice-but-not-fancy interiors. Which, in a way, is could also be considered as positive.
Kloostri Ait did not make me feel dumb when I went there with a dark suit nor when I have been wearing an horrible red t-shirt under a blue shirt ornate by an aesthetically-arguable small, black tie.
And this because the place is relaxed enough to make everyone comfortable and there are no big mirrors all around.
To be mentioned, also, is the big -and not fake! - fireplace and the stage where different kind of performers plays during weekends.
Food: 4
Once tasted, the oven baked baby trout is something that can hardly be forgotten.
I have to say that I will be really partial on this point and I also admit that, talking about the food, Kloostri Ait gets "only" 4 just because giving the maximum already since the first review might be bad seen and it might affect the first impression on the whole guide.
But, personally, I consider that dish as a real "must have" for all the fish lovers whom will happen to be around the Estonian capital.
The menu, obviously, is more rich and does not offer only that: starting from the soups and getting to the crème brulee I think people will hardly leave the table hungry or disappointed: I will not say that here you will find the finest novelle cuisine ever  -don't even open the wooden door if you fancy that -, but I, every time I happen to sit in this place, I always got the impression that the people in the kitchen know their job quite well.
Price: 4
As this guide is not meant to give hints on the most luxurious dinners ever, the standard menu we always try is the combo main dish+house wine+dessert+coffee and I have to say that, with around 300EEK (ar. 20Eur.)/ person, we always managed to leave the table satisfied.
Overall: 4,5
Not a place for VIPs, this  is sure, but Kloostri Ait is probably one of the best spots we happened to be in the Old Town. Quite, warm, comfortable and familiar, it always offered us what we expected, including the feeling that our privacy was completely respected.
Definitely a place which should be in everyone's list, especially for those people who do not mind dining with a candle and some soft jazz live music in the background.
Restaurant Kloostri Ait
Vene 14, Tallinn
Tel. 644 6887
Email. info@kloostriait.ee
www.kloostriait.ee